Local Card Shop of the Week: Sports Cards KC, LLC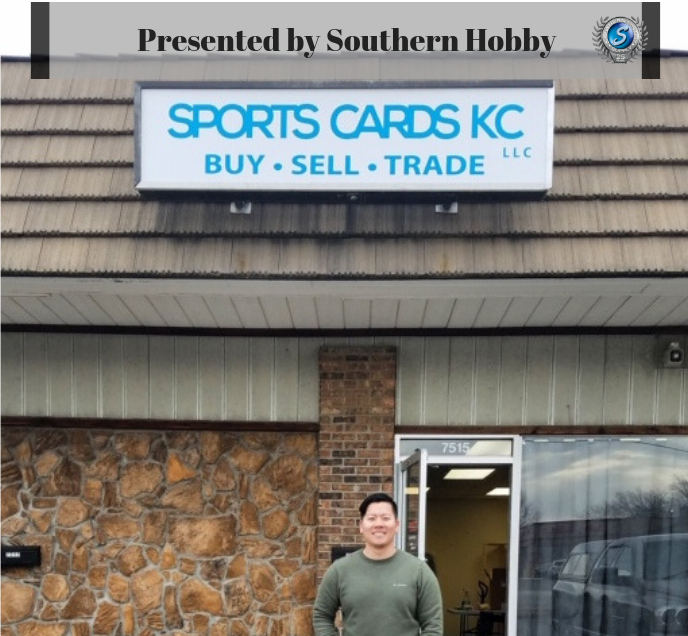 Jake Silliman has been collecting trading cards since the very young age of 3. As many collectors do, he took some time off as a young college student but he came back strong. Not only is he back collecting, he is now the owner of a Local Card Shop, Sports Cards KC, LLC. I recently caught up with Jake to discuss his shop and what he is doing to make an impact as a shop owner in his area.
Local Card Shop of the Week is brought to you by Southern Hobby, who has been serving the collecting community for nearly 30 years.
JS – Thanks for taking the time to talk with us Jake. You have been in the Hobby since 1996 but only recently opened your sports cards store in 2018. What led you to a career in the sports card business and opening your store last year?
KC – Absolutely, Joey! Thank you for giving me the opportunity to share with the Beckett community. Football and football cards were my life since I was 3. All money I had and presents I received were football cards and/or went to football cards. I took a hiatus between high school and college, but got back into the Hobby with a friend from work in 2016. I thought that owning a sports card shop would be something I'd do after I retire, but my wife and I were in a place where we could give the shop a go sooner, so I took it and ran with it. I love coming to work and have sincerely enjoyed the people that I've been able to meet and build relationships with, and look forward to what the future brings.
JS – Can you tell us a little about your store? Can you talk about your setup and what type of inventory you carry? Also, what services do you provide?
KC – My shop is about 1,200 sq. ft. and is in a small strip mall with three other businesses in the northern Kansas City area. As it pertains to my services, I buy, sell, trade, conduct breaks, and sell a little online. I mainly look for 2010 and newer higher end cards to buy and trade for, while most of my sales come from football, baseball, and basketball hobby boxes.
JS – Kansas City has been pretty hot recently with the emergence of Patrick Mahomes. It is also the home to a very storied baseball franchise in the Royals. When it comes to sports card collecting, what would you say the make-up of your customer base at the shop is? When it comes to the "Home Team", what is most prevalent in your area?
KC – I'd say that my customer base is fairly even when it comes to baseball and football cards. I do have some customers that like basketball, but it's definitely in the minority. One of my favorite things about Kansas City is how much support they show their home teams, so it's hard to choose which team is the "Home Team." Like you said, with the emergence of Patrick Mahomes and the amazing year he and the Chiefs had this past season, I'd say the Chiefs take the ticket as the local team that people are most excited about. The Royals are still in a rebuilding phase, but have some promising young talent coming through the farm system (i.e. Khalil Lee, Nick Pratto, Nicky Lopez, MJ Melendez, etc.), so that's something that a lot of people are looking forward to. Sporting KC (Kansas City's soccer club) also has a very dedicated following and have been one of the top teams in the MLS for the past several years. Though my customer base isn't really into soccer cards, the club still receives a large amount of support from the locals.
JS – Let's talk about players for a moment. The Royals and Chiefs have some esteemed players in the organizational history. Bo Jackson is one of my all-time favorite athletes and I have a ton of his cards from his Royals days. Who would you say are the "Mount Rushmore" of players in your area?
KC – While Kansas City has a great history of great individual athletes, I'd have to say that Tony Gonzalez, Len Dawson, Bo Jackson, and George Brett would be on Kansas City's "Mount Rushmore." If I were to make a "Mount Rushmore" out of current players, though, I'd say Patrick Mahomes, Travis Kelce, Salvador Perez, and either Tyreek Hill or Whit Merrifield would make the cut.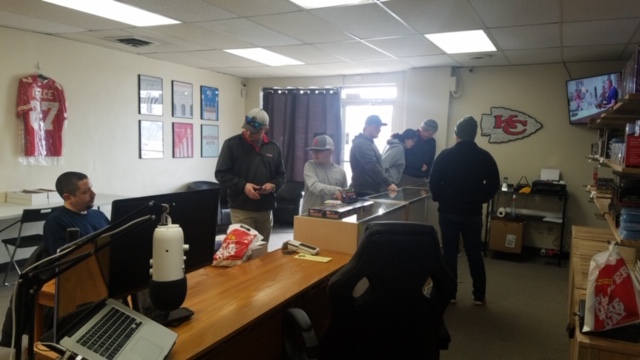 JS – As it relates to particular products, what performed very well in 2018 and what made those products so popular?
KC – Everything football did well for 2018. As we've discussed before, the Chiefs recent success has made 2017 product very desirable considering. That, accompanied with my customer base, made football hard to keep on the shelves. For baseball, Bowman, Bowman Draft, and Bowman Chrome were undoubtedly the most popular products for 2018.
JS – Are there any products that are on the release calendar you are really looking forward to in the next few months?
KC – I'm looking forward to any and all football product. I was elated when Kyler Murray decided to pursue football instead of baseball because it made 2019 football product more appealing. In addition, my customers enjoy anything Bowman related, so I'm looking forward to that as well.
JS – Your Facebook page features event notifications, product releases, and photos. How important has social media become for you as a small business owner?
KC – Social media has been huge for me thus far, however, there are a number of ways that I can utilize it better. I usually post when new products are about to release and when I receive them, which is helpful for those who like and follow my page. Additionally, I've posted big pulls from the shop and customers opening boxes as a way to add content to my page. There are a lot of advertising features within Facebook that I haven't taken advantage of yet, but will look to do this year.
JS – I see a breaking group, SCKC Breaks, linked to your Facebook page. Can you tell us about breaking at your store?
KC – If I have the appropriate inventory, I try and offer a break every Friday. With baseball and football being the primary sports in Kansas City, I've only offered football box/mixer/case breaks (group page is only a couple months old), but as baseball season starts to roll in and 2019 product releases, I will offer baseball breaks as well. The majority of the people that get involved in my breaks are local, so it is also been a great way to connect people in the area who enjoy cards.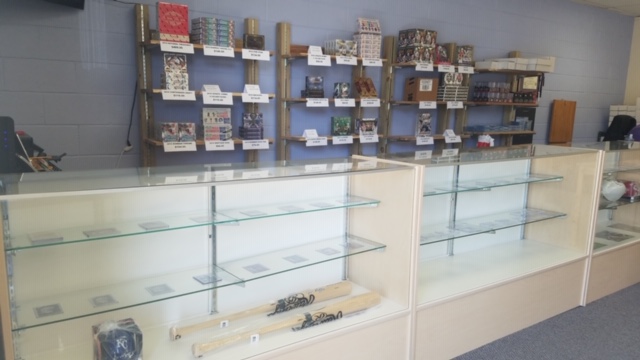 JS – What are some of the major positives within the hobby and industry right now? What are you hearing from your customers right now in regards to the industry? What do they really love seeing from a product or support standpoint?
KC – The Hobby is a great place right now. Whether it is hobby shops opening up or people getting involved with online breaks, cards are becoming relevant again. People who collected as kids are now getting back into the Hobby with their kids and folks now have a disposable income to buy the cards that they couldn't before. Stating the obvious, my customers love the on-card autographs, game-used memorabilia cards, and color refractors.
JS – Are there any in-store events you can tell us about? Have you had any autograph signings, trade nights, or gaming events? Is there anything upcoming?
KC – I currently don't have any events planned, however, cultivating a community of card collectors is important to me. As my customer base grows, I will look to host more events.
Sports Cards KC, LLC
Jake Silliman
7515 North Oak Trafficway
Kansas City, MO 64118
Hours
Sunday – Monday – Closed
Tuesday – Saturday – 11AM:6PM
Facebook – Sports Cards KC, LLC
Email – sportscardskcllc@gmail.com
Website – www.sportscardskcllc.com