Local Card Shop of the Week: Showtime Sports Cards & Collectibles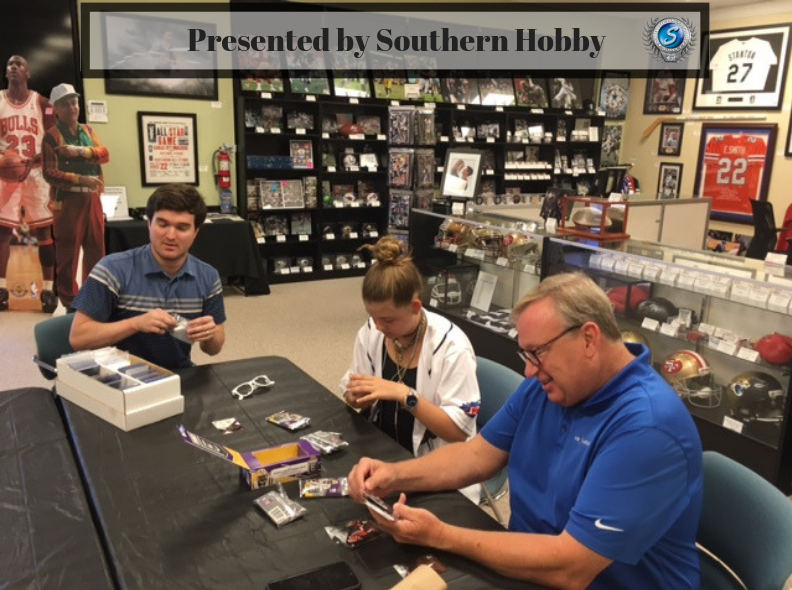 Richard Miller got into collecting cards back in the early 1990's when his grandfather would take him to the local store about three miles down the road. His grandfather was a 50-year collector of stamps. Jacksonville had not yet been awarded the Jaguars so he was more into the NBA with Michael Jordan and the upstart Orlando Magic. From there, collecting branched out to pogs, Pokemon and Jaguars cards. In 2018, he is now the manager of Showtime Sports Cards & Collectibles in Jacksonville, FL. I caught up with Richard to get his take on the state of the Hobby in Florida.
Local Card Shop of the Week is brought to you by Southern Hobby, who has been serving the collecting community for nearly 30 years.
JS – Thanks for taking the time to talk with us Richard. Can you tell us what led to opening Showtime Sports Cards back in 2016?
RM – The store's owner Eddie Davis has been a life-long collector. He had the idea after traveling to card shows all over the Southeast. Having sold cards for nearly forty years, he wanted to create a sports store where "it's like a card show every day." The store is made up of a few full-time vendors as well as select vendors that participate in our monthly in-store card shows.
JS – There is a great video on your Facebook page of your store. The store looks really big and is loaded with selection. Can you tell us a little about your store: products available, size, etc?
RM – Yes, it's a very large store with 4,000 square feet. It is the size of the store that allows us to host the vendors, have in-store shows and house quite a large inventory of cards and memorabilia from all eras. We carry all the top wax products and supplies. In addition, our relationships with autograph vendors around the country, including TRISTAR, Creative, Fanatics and Panini, allows us to have a broad array of memorabilia.
JS – What has the collector market in Jacksonville been like over the last few years? I spoke with a card shop owner in Georgia about his attendance at a card show in Jacksonville earlier this year. How popular is the Hobby right now in your area?
RM – Jacksonville is a very strong, growing market for collectors. The First Coast has grown so much in the past 10 years and the Hobby has been on the same course. The unique thing about our area is there are so many people who have relocated from other parts of the country that we see a variety of different sports and teams fans.
JS – As it relates to Jacksonville, the Jaguars had a pretty solid run in the playoffs last year and they are expected to be very competitive again this year with that stellar defense. Has their success correlated to more popularity in the store?
RM – Yes, the fans have fallen in love with Jalen Ramsey, Calais Campbell and that defense. Another favorite is second-year running back Leonard Fournette. We've been fortunate enough to have Ramsey, Allen Hurns, Marqise Lee, Josh Lambo and DJ Chark in for autograph signings.
JS – Aside from the Jags, what are some of the other popular teams or players in your store?
RM – We get fans of many teams. When people travel to Florida to visit family, we have Yankees, Red Sox and Eagles. Our younger shoppers look for the flashy football players like Odell Beckham, Julio Jones and Antonio Brown.
JS – Do you have hockey collecting base? I know there are teams in Tampa and Miami but do you have a demand for hockey cards in Jacksonville?
RM – Last season was the first year having a minor league hockey team back on the First Coast. The ECHL's Ice Men have been popular, but, for us, it's not so much Lightning and Panthers fans. We see more Capitals and Red Wings. We have one showcase dedicated to NHL and try to have four to five boxes of newer hockey wax in stock.
JS – You began collecting as a kid in the middle of the so-called "Junk Wax Era". I think of it as an endearing term but many collectors still write off those years as oversaturated and watered down. I have seen somewhat of a resurgence in the desire for cards from that era on social media because of the great players that were available. What is the pulse of collectors in your area when it comes to "Junk Wax"?
RM – We have a love-hate relationship with the Junk Wax era. Each week at least five to ten people call us wanting to unload anything late 80s/early 90s. If we see Derek Jeter or Michael Jordan cards in the lot, we usually buy it in bulk since Jeter and MJ are still the two most consistently popular players in our store.
JS – When considering products overall, what sets have been the most popular in your store? What do you base that popularity on?
RM – Sets are typically for the folks looking for birthday gifts. A lot of parents and grandparents will buy Topps baseball sets for the year the child was born and then potentially every year after that to give to their son or grandson. Some older collectors prefer putting the sets together over the factory sealed version. Like anything else, it depends on the collector.
JS – Are there any products you have circled on the calendar that have yet to be released that you feel are going to be big for the shop?
RM – Bowman Chrome baseball is a big week for Showtime. It seems though like every week a new NFL wax product releases, we get a surge of regulars chasing the hot rookies, Patrick Mahomes, and Jaguars autograph cards. TRISTAR Hidden Treasures does well because of the excitement of not knowing what you will pull. People love the TRISTAR autographed jerseys and mini helmets.
JS – You mentioned that DJ Chark and others have come to your shop to do autograph signings. Can you tell us about that and any other guests you've had?
RM – Our staff at Showtime tries to schedule an autograph signing once every two to four months. We've had 17 total signers from football, baseball, basketball, golf and hockey. Six of them were Jaguars players with rookie wide receiver DJ Chark being our most recent. Outspoken cornerback Jalen Ramsey was one of our more popular signings when he came here back in the spring of 2017.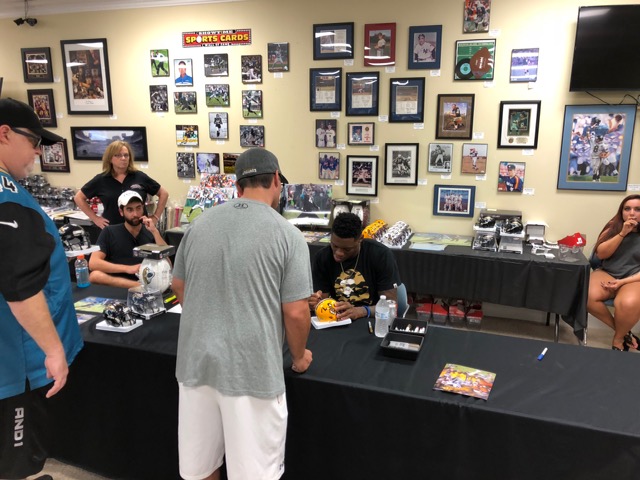 JS – How important do you find social media to be in your efforts for success in 2018?
RM – Social media has been an essential aspect of keeping everyone – not just the regulars – in touch with what is releasing whether that's new Beckett magazines or wax hobby boxes. Facebook is good for answering people's questions of what we buy and sell and promoting our in-store signings. Twitter is a more intimate way of connecting with collectors and following other local shops around the United States. But Instagram has turned into the cool new kid at school. Its ability to provide videos and easy-access pictures of big hits helps us reach the under-35 crowd. However, you have to bundle it all into a smart, uniform, ever-growing plan of attack.
JS – How do you feel about the relationship between card companies and shop owners at this time? What are your thoughts on the current promotions like National Baseball Card Day?
RM – National Baseball Card Day was a blast at Showtime. Customers of all ages were coming in throughout the day. We even had a semi-regular shopper pull a Ronald Acuña autographed numbered card. He's been on cloud nine since, and we keep in touch with him over Twitter. We love special days and events that the card companies help promote to assist in local card shops thriving.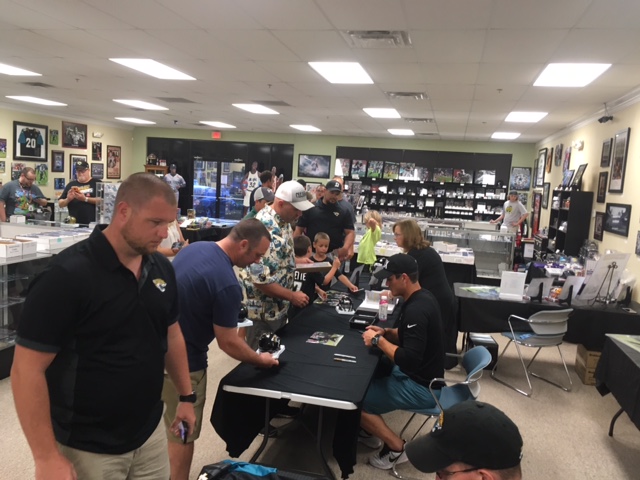 JS – What do you think about the current state of the products that are being released? What are your thoughts on license exclusivity, redemptions, Panini points, or any other product features? 
RM – The beauty and uniqueness of each product can draw in different age groups. Our customers are not big fans of redemptions and Panini points. We have to explain to most people how to acquire the future cards and redeem points. From polling our hockey regulars, they miss the Panini hockey products.
JS – In closing, can you tell us about any regular events you hold in your store; i.e. breaking, trade nights, etc? Are there any coming up in the near future you would like to mention? 
RM – We have been discussing our 2019 plan of social media, marketing, radio advertising and in-store signings since The National ended. We have multiple new aspects of the store experience we have teased to our regulars the last month.
Showtime Sports Cards & Collectibles
Owner – Eddie Davis
Store Manager – Richard Miller
(904)527-8980
9365 Philips Hwy, Suite 106
Jacksonville FL 32256
Hours
Tuesday-Saturday – 10AM:7PM
Sunday – 11AM:5PM
Closed Mondays
www.showtimesportscardsofjax.com
Facebook – Showtime Sports Cards & Collectibles
Email – showtimesportscardsofjax@gmail.com
Twitter – @SSportscards
Instagram – @showtimesportscardsofjax