Local Card Shop of the Week: RBICru7 Sports Cards & Collectibles, LLC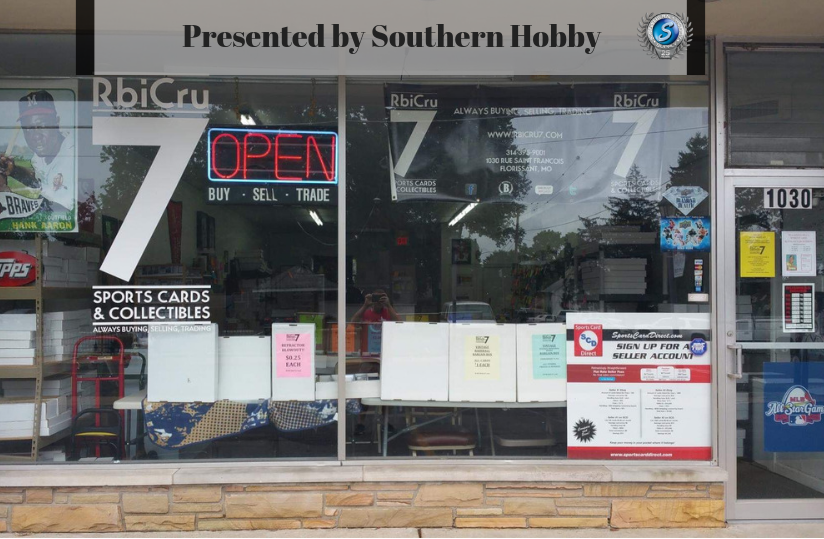 Ryan Bannister began collecting right in the heart of the "Junk Wax Era", very similar to many of us within a certain age range. He had been in and around the industry side of the Hobby since 2010 when he began a career as a card dealer. In 2012, he realized his dream of becoming a Local Card Shop owner and he and Neil Kinworthy opened up RBICru7 Sports Cards and Collectibles. I caught up with Ryan to discuss the Hobby and his shop in Florissant, Missouri.
Local Card Shop of the Week is brought to you by Southern Hobby, who has been serving the collecting community for nearly 30 years.
JS – Thanks for taking the time to talk with us Ryan. You have been collecting since 1990 so you have experienced a lot of card collecting over the years. What led you to a career in the sports card business and opening your store in 2012?
RB – Cards have never left my life, ever since I was introduced to them in 1990 by my father. After graduating from college in 2010, I moved back to St. Louis to pursue a career in being a card dealer by traveling the US visiting card shows and shops. At the end of 2011, I visited my LCS in Florissant, Missouri to conduct our normal dealings and he informed me that he would be closing his doors by the year's end. I asked him what he had planned to do with all of the inventory, and he told me that he would be selling it since he would no longer have use for it. After a week, we ended up coming to terms to buy his entire card shop out. After searching for nearly a month, we found the location that we are still into this day, 7 years later. It was always my dream, as a child, to one day own my own card shop and now I can say that dream has truly come true.
JS – Can you tell us a little about your store? Can you talk about your setup and what type of inventory you carry? Also, what services do you provide?
RB – We have a 1,000 square foot shop where we specialize primarily in singles, hobby/retail boxes, supplies, memorabilia, and collectibles. When you walk in, you will notice our .10 boxes to the left, followed by .25 and $1.00 bargain boxes. Moving farther down our store you will find our $1.50-$20.00 bargain boxes, along with our Rookie Card half-off box. Bargain boxes have been the backbone of our business since before our shop, and customers to this day come out weekly to see what we have added to them. Our display cases of cards from $25 up to several thousands of dollars are always a hot spot. We have a long wall full of hobby/retail boxes that are stocked weekly with new product, along with restocks. In the middle of the shop is table space for collectors to not only open their boxes but to hang out and trade with one another.
Obviously, there is so much more to our shop, but I'm just focusing on our main key spots. Since day one, our saying has been "Always Buying, Selling, Trading" and to this day we have never steered away from that. For those who follow our social media, RbiCru7, you know how much we acquire on a regular basis from buys and trades. We recently implemented online box breaks by our great friend Dave "Mr1of1", who breaks on Instagram live Wednesdays & Fridays from 11am-2:30pm CST. This has blown up to more than we have expected in the little time it has been going and we are truly grateful for everyone's support of us, along with having Dave break for them by ordering on RbiCru7.com. We also host BGS group submissions and have done so for several years. Not only can you buy from inside our store or our website, we also sell on eBay under Scarceinserts and COMC under RbiCru7 & Cru7.
JS – Florrisant is a suburb of St. Louis, located just to the north of the city. Of course, St. Louis is the home of the Cardinals and Blues, as well as several minor league sports teams. You also aren't terribly far from Kansas City, Chicago, and Cincinnati as it relates to NFL teams. When it comes to sports card collecting, what would you say the make-up of your customer base at the shop is? When it comes to the "Home Team", what is most prevalent in your area?
RB –St. Louis has been called baseball heaven by many so it's easy to say the St. Louis Cardinals without a doubt is the home team for us. Second would be the Blues, as their fan base is extremely loyal, not only to the team, but card collecting. Even though St. Louis no longer has a football team, and hasn't had a basketball team in a long time, we sell quite a bit of not only product from those 2 sports but several singles. Then again, we have had great rookie classes in both sports over the past few years.
JS – Let's talk about players for a moment. The Cardinals and Blues have some esteemed players in the organizational history; from Stan Musial to Ozzie Smith to Brett Hull and a bunch of players in between. Who would you say is on the "Mount Rushmore" of players in your area?
RB – In our opinion, Stan Musial is the most beloved St. Louis athlete of all time and if you ask anyone about a Musial story, you hear nothing but amazing things about the former Cardinals great. When it comes to the Mount Rushmore of St. Louis greats, I would have to say Musial, Ozzie Smith, Yadier Molina and Bob Gibson.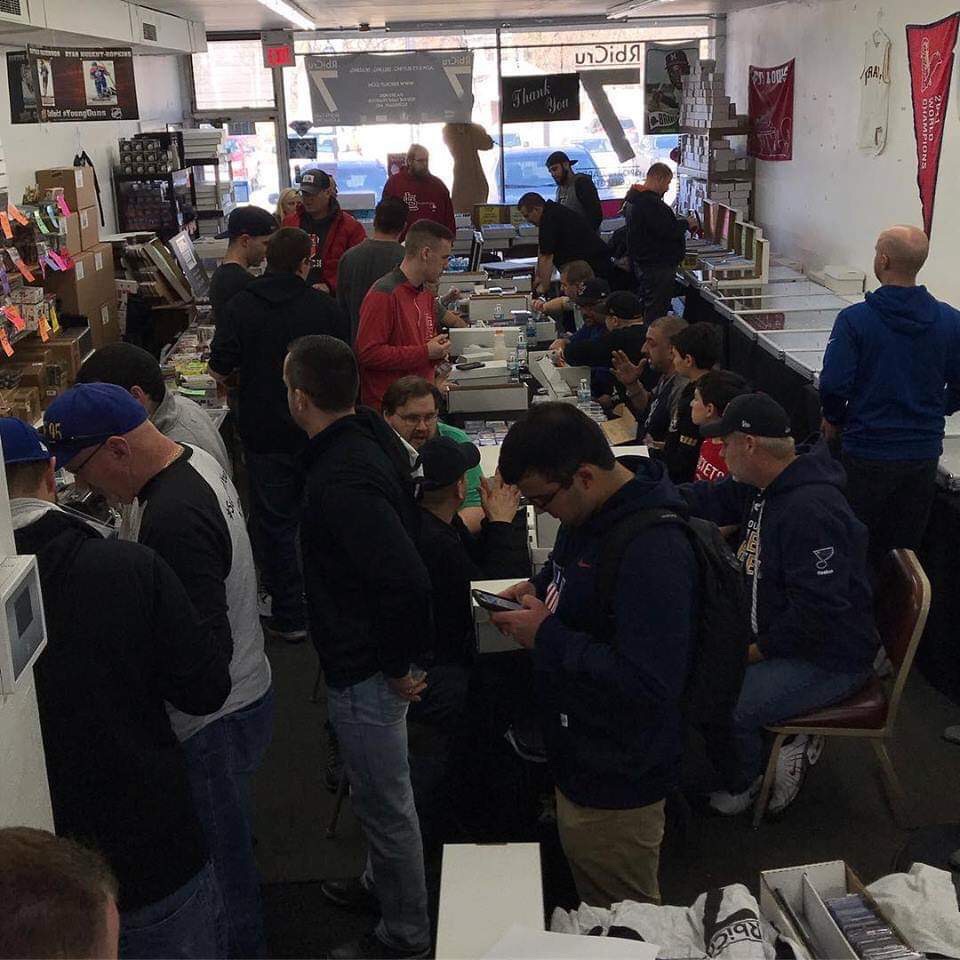 JS – As it relates to particular products, what performed very well in 2018 and what made those products so popular?
RB – What products didn't perform well for us? Most, if not all, football products did amazing for both us and our customers. Baseball has to be any product that has the name Bowman behind it or prospect/rookie related product. Basketball has to be Prizm, Optic, Contenders, heck anything with a chance to pull Luka. Hockey was SP Authentic, SP Game Used, and Splendor. Rookies/Prospects have driven the interest in all these above products.
JS – Are there any products that are on the release calendar you are really looking forward to in the next few months?
RB – National Treasures football/basketball, Bowman baseball & SP Authentic hockey.
JS – Your Facebook page and other social media pages stay very up to date with event notifications, open/close updates, and product releases and photos. How important has social media become for you as a small business owner?
RB –Outside of our customers, we feel social media is the backbone to the success of our card shop and what has helped us to propel to the next level in allowing us to grow as fast as we have grown. Social media is free and easy to use so if you aren't using it then you are truly missing out. It's easier now than ever to update your followers/customers with product releases, trade night and card show events, big pulls by fellow collectors, cards acquired, and so much more.
JS – You advertise some breaking activity on your social media pages as well. How much breaking have you incorporated into the business and how has it helped?
RB – As stated earlier, we just started breaking two days a week during the day with our great friend Dave "Mr. 1 of 1", who is also well known at the shop by our followers/customers. It has really taken off fast and been amazing for Dave to do something he truly loves as well as us reaching other collectors across the US.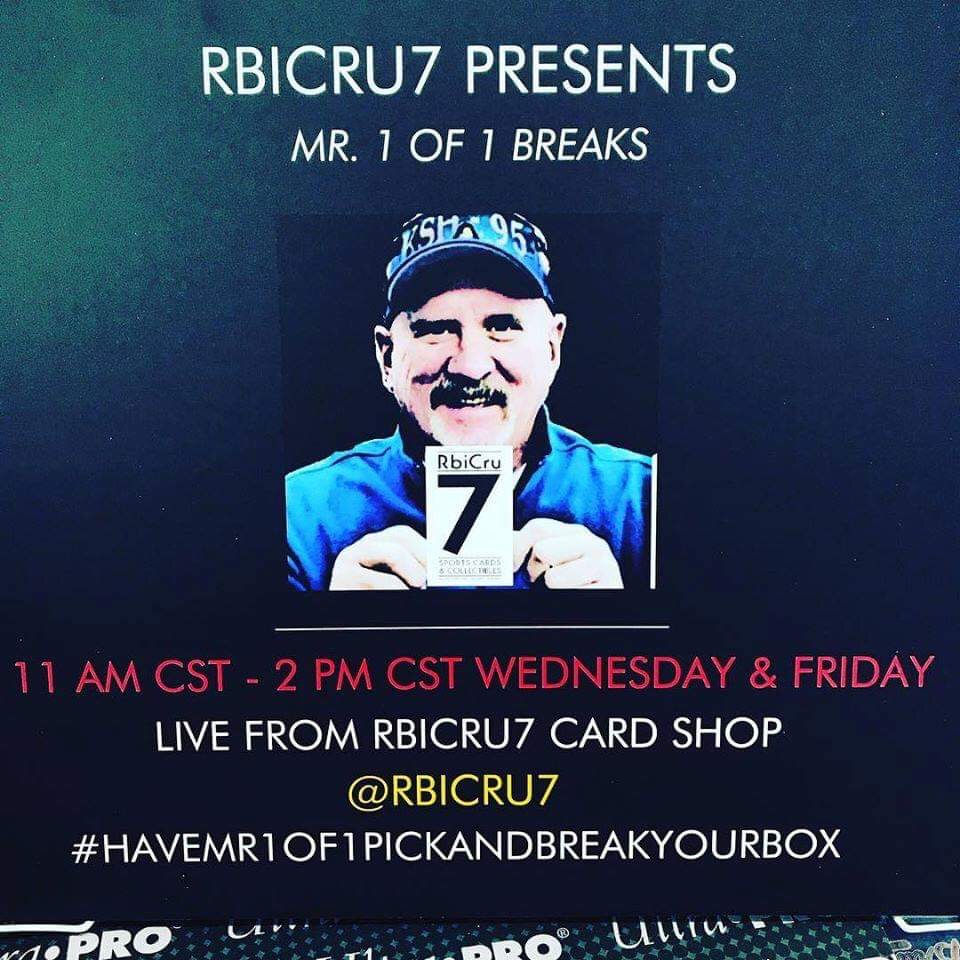 JS – You have information about upcoming shows you will be attending on your site. How prevalent are shows in your area in today's market?
RB – I have been setting up at card shows ever since I was 12 years old, and to this day feel card shows are important to this industry. It brings collectors together in one area to share something they love with one another. With the amount of products being released weekly, it's great for collectors to check out all the new cards at these shows. We cross promote the local Machinists Hall Sports Cards & Collectibles Show that is held bi-monthly on Saturday's, with free admission to anyone attending. Then, once a year we co-promote the St. Louis Show, which is a three-day show (April 12-14, 2019) where we sell out over 130 tables to dealers, not only locally but across the US. We also bring in BGS to RCR grade on site as well as JSA to authenticate on site.
JS – The way we collect has changed a lot since you joined the Hobby almost 30 years ago. What are some of the features of collecting you miss the most from the '90s that collectors would enjoy today?
RB – When I started collecting it was all about rookie cards, and to this day I think it's safe to say it's the same. However, players now have several rookie cards versus one or a handful. The most popular rookie cards are the autographed ones which weren't around when I was growing up.
JS – What are some of the major positives within the Hobby and industry right now? What are you hearing from your customers right now in regards to the industry? What do they really love seeing from a product or support standpoint?
RB – The Hobby is alive, well, and we feel better than ever! We not only see this on a daily basis but throughout the shows we still hit across the US, along with the biggest one of them all, The National Sports Collectors Convention. We just came off a record setting National in Cleveland for us. Social Media and Breaking have truly taken this industry to the next level. Customers are all talking about not only this year's rookie classes, but always talking about the future. Collectors are always looking ahead to the future of the new athletes coming into leagues as well as the products that carry them. What we feel grabs the collectors interest is how great the card looks from the autograph to the patch card. If the product is more Refractor/Prizm based, they look forward to all the parallels that the product offers.
JS – On the contrary, what are some areas you think could be modified to improve the customer experience? What type of feedback do you get from your customers in this area?
RB – I am all about on-card autos and know with that comes redemptions. Upper Deck has done a phenomenal job by producing redemption free products; and if they do have redemptions, it's one to a handful of players. If there were less redemptions, I think it would not only make the customer happier when they pull the card that is actually live, but could lead to them ripping more of that product. Also, by eliminating a good amount of redemptions, you would be able to sell a product a couple of years down the road without the fear of the collector pulling an expired redemption that won't be fulfilled. I also wish the leagues/companies would do a 101 with these young players and teach them to take more pride into their autographs. Instead of writing two letters or scribbling to fulfill more autograph stickers/cards, they could put more effort into it. I tend to stay positive about everything in this Hobby, but when collectors are paying good money to rip product in hopes to pull a great autograph, it's disappointing when it's not only a redemption, but after waiting to get that autograph in, you get JC or MC. Jeter, Griffey, Jerome Bettis, Jordan, and LeBron need to show these kids the proper way to sign and how it's done!
JS – Are there any in-store events you can tell us about? Have you had any autograph signings, trade nights, or gaming events? Is there anything upcoming?
RB – Since opening our doors in 2012, we have hosted Trade Nights bi-monthly. March 23 will mark our 42nd Trade Night since we opened. Since hosting trade nights, we have averaged 50+ collectors in the door throughout the day, many who stay all day and night. We open our doors at 10am and close at 10pm on the Saturday night of an event. We can't wait to get to #TradeNight50! We might have to go over and beyond for that one making history at RbiCru7!
RbiCru7 Sports Cards & Collectibles LLC
Ryan Bannister/Neil Kinworthy
(314)395-9001
1030 Saint Francis St
Florissant, MO 63031
Hours
Sunday – Closed
Monday – Friday – 10AM:6PM
Saturday – 10AM:5PM
Email – rbicru7@gmail.com
Facebook – RbiCru7 Sports Cards & Collectibles LLC
Twitter – @RbiCru7
Instagram – @rbicru7