Local Card Shop of the Week: Playmakers Sports Cards, Memorabilia, and Gaming
Bradley Phillips has been collecting since the height of the "Junk Wax Era" of the late '80s to early '90s. He spent his youth attending card shows and trading with friends. As an adult, he decided to do the same thing, only on a bigger scale and opened Playmakers Sports Cards in 2017. Now Phillips is setting up his own card shows and trying to bring back some of the fun from his childhood, to share with others.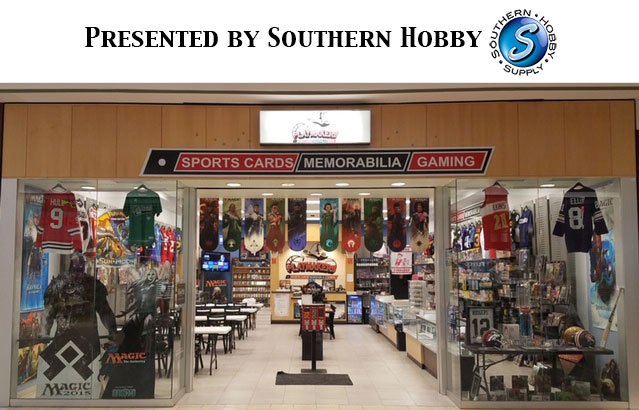 I recently caught up with Bradley to discuss the hobby and his shop in South Dakota.
Local Card Shop of the Week is brought to you by Southern Hobby, who has been serving the collecting community for nearly 30 years.
Joey Shiver: Thanks for taking the time to talk with us, Bradley. You have been collecting for over 30 years so you have experienced a lot of the hobby over the years. What led you to opening your store in 2017?
Bradley Phillips: Purely the love of the hobby is why this happened — mixed with, "I want this outta here" from the eyes of my girl.
JS: Can you tell us a little about your store? Can you talk about your setup and what type of inventory you carry? Also, what services do you provide?
BP: We have just over 3000 sq ft. We offer a large space for gaming with a variety of different games. We carry products from the four major sports and have an extensive selection of singles, memorabilia, supplies, and even gaming cards. We offer personal box and case breaks, as well as Beckett Grading Services to our customers. We also take consignments and offer an awesome kickback program to our youth for having good grades to get them involved in the hobby.
JS: South Dakota doesn't have any major professional teams but there are some colleges and semi-pro teams throughout the state. When it comes to sports card collecting, what would you say the make-up of your customer base at the shop is? When it comes to the "home team," what is most prevalent in your area?
BP: Without a doubt, it is football. Our local fan base mostly consists of Bronco and Viking fans. We do have plenty of collectors who collect the others teams from other sports as well.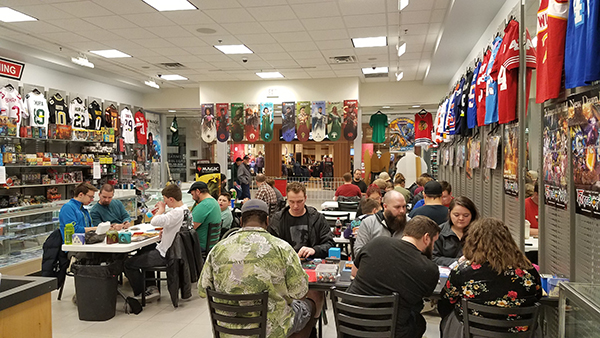 JS: As it relates to particular products, what performed very well in 2018 and what made those products so popular?
BP: Everybody loves the rookie autos! As far as the products, it's all hot. Strong rookie classes along with the demand for product makes it hard to single out a best one when you sell out of all of it.
JS: Are there any products that are on the release calendar you are really looking forward to in the next few months?
BP: I always look forward to Flawless, as does everybody. National Treasures is right there as well. Upper Deck has done a great job with hockey and signing key rookies that makes all of it desirable.
JS: Your FaceBook page and other social media pages stay very up to date with event notifications, product releases, and photos. Your store description also states that you "bring the hobby into homes through social media." How important has social media become for you as a small business owner?
BP: We live in a small community. Without social media, we are limited in customer base and honestly wouldn't have the growth we have had without it. Going into this, I knew it was going to be a must.
JS: I also saw an advertisement for the West River Card and Collectible Show. Can you tell us about that? How popular are shows in your area in 2019?
BP: When I was a kid, we had monthly card shows. It was one of my best memories, hanging out with a bunch of people that loved the same thing I did. Those came to an end with the passing of the man that ran them. Wanting to bring the hobby as a weekend activity for collectors in the area, we started this show in hopes of bringing card collecting enjoyment back and giving others an opportunity to buy, sell, and trade with others in the community. The closest shows around here are still four to six hours away without us having them. This will be our fourth show coming up, and we have vendors coming from Wyoming, Colorado, North Dakota, and Nebraska. If I had to take a stab in the dark, I'd say they are growing in popularity.
JS: The way we collect has changed a lot since you joined the hobby over 30 years ago. What are some of the features of collecting you miss the most from the '80s and '90s that collectors would enjoy today?
BP: I think the collecting part has stayed the same. People still want their guys and teams. I think collecting back in the day was more about the fun and the trading. I also believe today is still that way. It has just added many other elements to enjoy, for the better.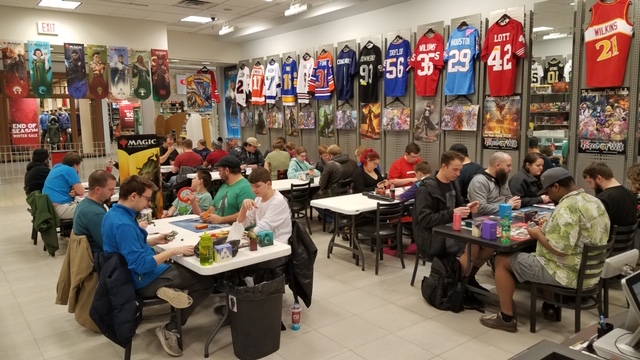 JS: What are some of the major positives within the hobby and industry right now? What are you hearing from your customers right now in regards to the industry? What do they really love seeing from a product or support standpoint?
BP: I think the timing of releases, design of products, great rookies, and great shop owners are positives. Customers love the bang. They look for honesty, efficiency, and fun. My collectors love the excitement, the interaction, availability and, most of all, the other collectors. The more hits, the more smiles!
JS: On the contrary, what are some areas you think could be modified to improve the customer experience? What type of feedback do you get from your customers in this area?
BP: The base card. Most, not all, give them away.
JS: Are there any in-store events you can tell us about? Have you had any autograph signings, trade nights, or gaming events? Is there anything upcoming?
BP: We do a few different things. We host gaming tournaments, trade nights, pay-per-view parties, and are hosting a meet and greet with UFC Hall of Famer and WWE superstar Ken Shamrock in a couple weeks. We have a few others up our sleeve to be announced at a later date.
Playmakers Sports Cards, Memorabilia, and Gaming
Bradley Phillips
(605) 716-2220
2200 N Maple Avenue, Suite 208a
Rapid City, SD 57701
Hours:
Monday: Closed
Tuesday-Thursday: 3 PM to 8 PM
Friday: 3 PM to 9 PM
Saturday-Sunday: 12 PM to 5 PM
Online: 24/7
Email: Playmakersllc3@gmail.com
Facebook: Playmakers Sports Cards, Memorabilia, and Gaming | Playmakers Breaks and Personal Boxes
Twitter: @PlaymakersRC
Instagram: @playmakersrc
YouTube: Playmakers RC
Website: Playmakersllc.com