Local Card Shop of the Week: Pine Tar Sports Cards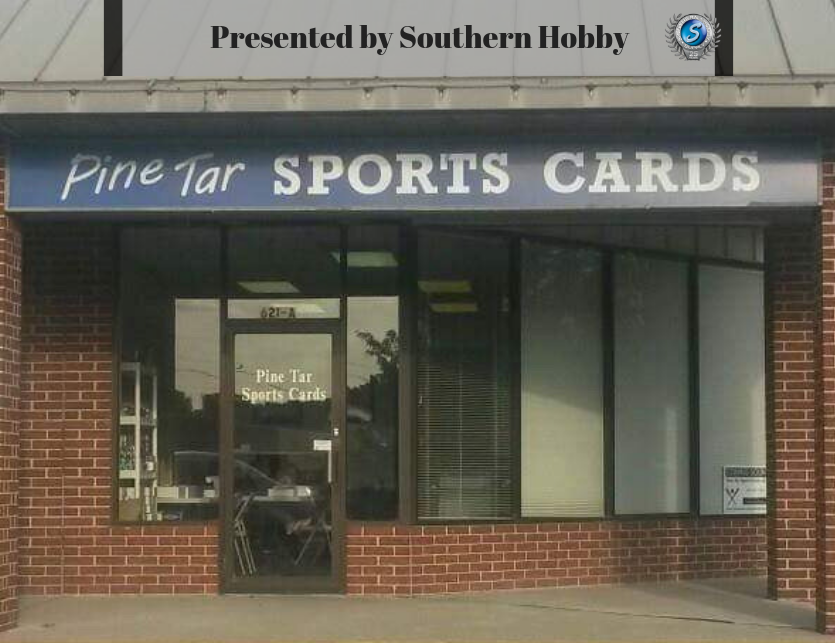 Scott Landers began collecting sports cards in 1980, just as the Hobby was about to surge to new heights. He has seen the highs and lows and everything in between since then. He is now the owner of a local card shop in the suburbs of Kansas City called Pine Tar Sports Cards. I recently caught up with Scott to find out about the Hobby in his area and get more information on his shop.
Local Card Shop of the Week is brought to you by Southern Hobby, who has been serving the collecting community for nearly 30 years.
JS – Thanks for taking the time to talk with us Scott. You have been in the Hobby since 1980 so you have experienced a lot of card collecting over the years. What led you to a career in the sports card business and opening your store in 2014? 
SL – Opening a shop was always my dream. I came into a little bit of money and decided to go for it! You will look back on your decisions and I wanted to look back and say "I am glad I tried" instead of "I should have tried".
JS – Can you tell us a little about your store? Can you talk about your setup and what type of inventory you carry? Also, what services do you provide?
SL – We buy, sell, and trade. We do Trade Nights every 6 weeks and those are big days for the shop. Collectors love it!
JS – Blue Springs is a suburb of Kansas City, located just to the east of the city. Of course, KC is the home of the Royals and the Chiefs, as well as several minor league sports teams. When it comes to sports card collecting, what would you say the make-up of your customer base at the shop is? When it comes to the "Home Team", what is most prevalent in your area?
SL – I opened the same week as the Royals Wild Card game against the A's in 2014. They won that game in 12 innings and would eventually make the World Series that season. It was uphill from there for Royals stuff! Then the Chiefs drafted Mahomes. Well, need I say more?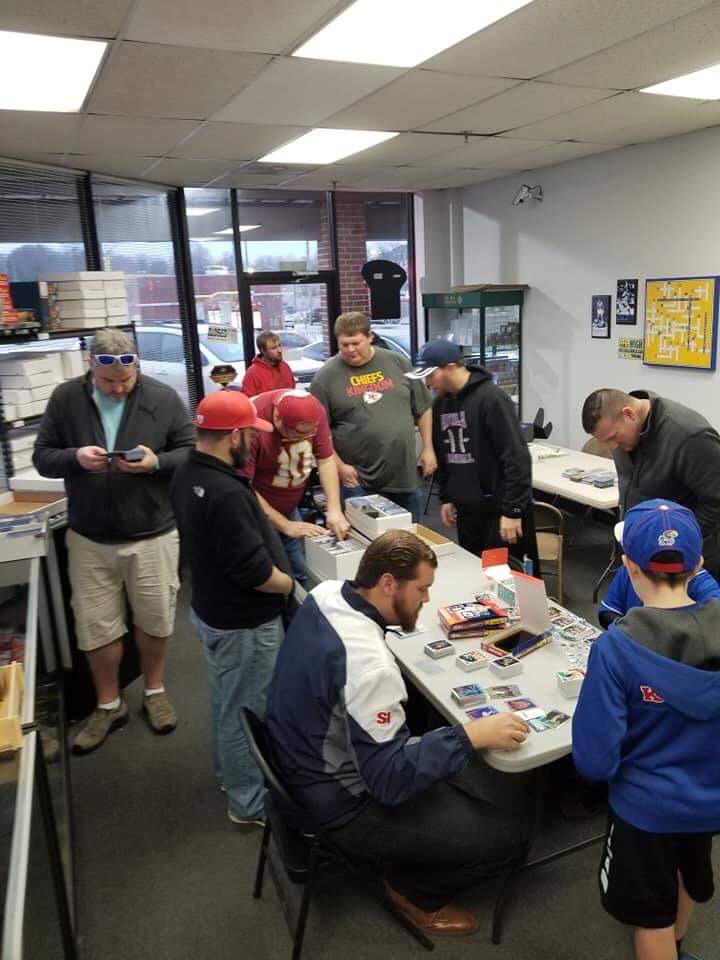 JS – Let's talk about players for a moment. The Royals and Chiefs have some esteemed players in the organizational history, from George Brett to Bo Jackson to Joe Montana. We have also seen a boom in the last 12 months with Patrick Mahomes. Who would you say are the "Mount Rushmore" of players in your area? 
SL – Salvador Perez is huge; he is such a likable guy! Mahomes is definitely huge as well! Tyreek Hill and Travis Kelce are also big.
JS – As it relates to particular products, what performed very well in 2018 and what made those products so popular?
SL – Any 2017 Football Product was big thanks to Mahomes. We do not have an NBA team but basketball cards are pretty big in the shop. Jordan, Steph Curry, and LeBron are all well liked.
JS – Are there any products that are on the release calendar you are really looking forward to in the next few months?
SL – New Baseball is always big. When baseball season hits, those collectors come out of the woodwork.
JS – Your Facebook page and other social media pages stay very up to date with event notifications, open/close updates, and product releases and photos. How important has social media become for you as a small business owner?
SL – I need to get better. Social media is huge as I can reach many people that may not be able to frequent the shop. Social media is very important to a business these days.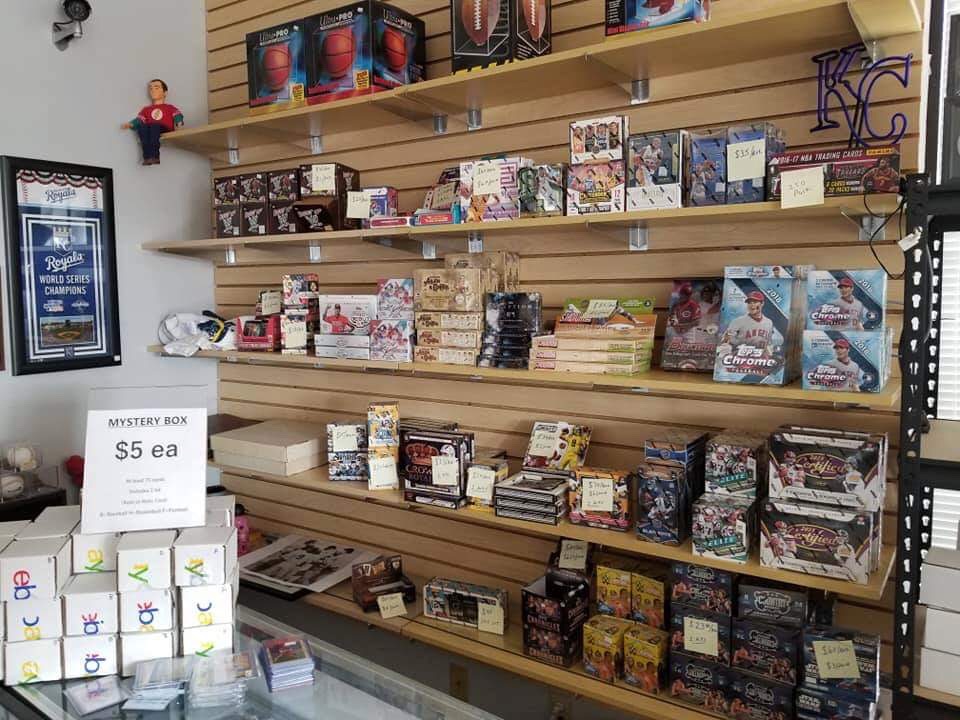 JS – The way we collect has changed a lot since you joined the Hobby almost 40 years ago. What are some of the features of collecting you miss the most from the '80s that collectors would enjoy today?
SL – I would say the prices. People miss buying 3 packs for $1. That is now gone and the products have changed. Some people say the Hobby died, but I disagree. It never died but it changed and if you didn't change with it, it may have died for you.
JS – How much of your customer base is made up of longtime collectors vs. new people coming to the Hobby?
SL – We have a good mix to be honest. I do get a lot of people coming in saying, "I used to collect, getting back into it." I love to hear that!!
JS –Can you tell us about some of the memorabilia items you have available? What are some of your favorite items whether they are items you have sold, pulled, or had walk in the store?
SL – We really don't do a lot of memorabilia. We do stock a few signed MLB balls of Royals and some photos, but that's about it.
JS – What are some of the major positives within the Hobby and industry right now? What are you hearing from your customers right now in regards to the industry? What do they really love seeing from a product or support standpoint?
SL – I love the Relics and Autos. I do have both types of collectors: those who love the hits and then some hate that and want the base cards.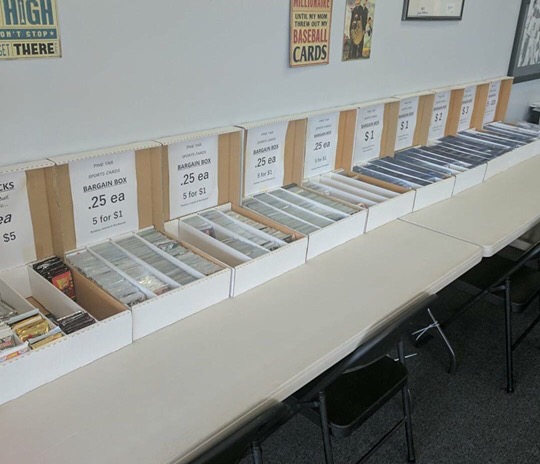 JS – On the contrary, what are some areas you think could be modified to improve the customer experience? What type of feedback do you get from your customers in this area?
 SL – Pricing on some stuff is getting HIGH. Also, some people are not a fan of unlicensed products. Some collectors just will not buy those products, no matter what.
JS – Are there any in-store events you can tell us about? Have you had any autograph signings, trade nights, or gaming events? Is there anything upcoming?
SL – Trade Nights are big! We have had a few signings. A local kid that graduated from BS South, Logan Moon, did a signing. We have also had former Royals player Jim Eisenreich in a few times. He is a local favorite and a great guy!
Pine Tar Sports Cards
Scott Landers
621 NW Mock Ave
Blue Springs, MO 64014
Hours
Sunday – Monday – Closed
Tuesday – Saturday – 11AM:6PM
Facebook – Pine Tar Sports Cards LLC
Twitter – @pinetarcards
Instagram – @pinetarcards