Local Card Shop of the Week: Orlando Sport Cards (Orlando, FL)
Having two kids, I have visited Walt Disney World in Orlando more times than I can remember over the last ten years. And while it is usually a family trip, this past year I decided to seek out a card shop before heading back home.
I found a great local shop named Orlando Sports Cards and I spent the little money I had left over from the trip on some of the great products they had on the shelf. Of course, because I had such a great time in the shop, I had to put them on the schedule for a future interview! I recently caught up with Kendall Loyd to discuss the shop in more detail and get his thoughts on the hobby in 2019.
Local Card Shop of the Week is brought to you by Southern Hobby, who has been serving the collecting community for nearly 30 years.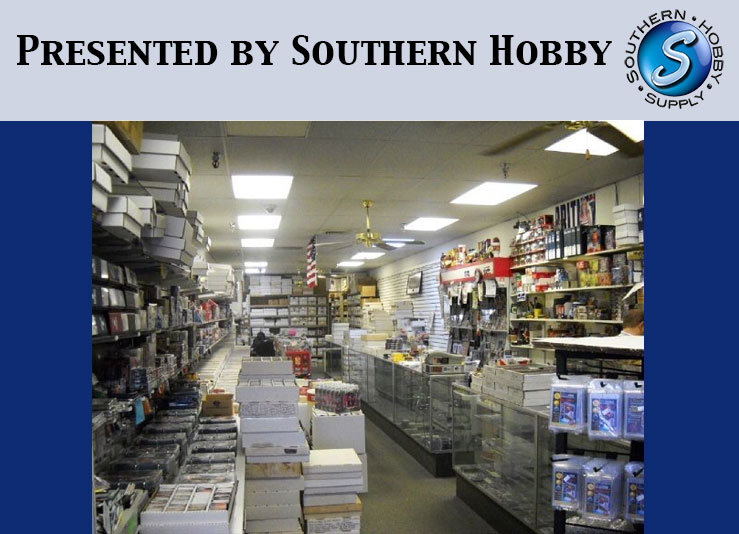 JOEY SHIVER – Thanks for taking the time to talk with us Kendall. Can you tell us a little about your collecting background? What made you decide to get into the sports card business?
KENDALL LOYD – I always enjoyed playing sports at a young age and actually started all four years in high school in baseball. After high school, I attended UCF for a couple of years and then ended up at FSU, graduating with a business degree in management. All through those years, I collected cards, mostly by trades and smaller purchases. After college, I worked at an investment firm before eventually having the chance to buy a small sports card shop near downtown Orlando. Almost 30 years later, I have a larger store in South Orlando with over 12 million cards in stock.
JS – Can you tell us a little about the store? Can you talk about your setup and what type of inventory you carry? Also, what services do you provide?
KL – I actually try to carry everything possible, from wax boxes ($5 to $2,500), packs, supplies, autograph items, non-sports, and thousands of cards to look through for all the major sports. As for services, I am always buying, sometimes trading, and even appraising collections on a weekly basis. JSA also appears at our store approximately every six weeks to authenticate any autograph items that may need to be looked at.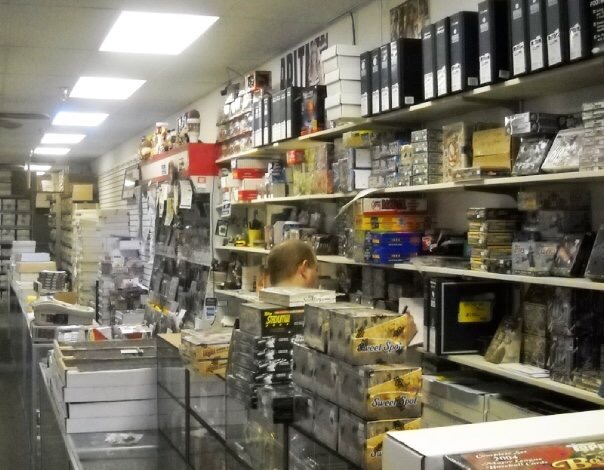 JS – Can you tell us about the showcase where you sell cards for customers who don't want to go through the process of eBay?
KL – Another service I have done for years is that I let customers (who support the store) sell some of their more valuable cards in my showcase at no cost. They give me a price and, as long as it is reasonable, I will sell it and they get the full amount.
JS – The shop is located in Central Florida, with multiple professional and college teams around the state. Who would you say is the "home team" for your collectors? Who would you put on your sports "Mount Rushmore" when it comes to players your collectors want?
KL – Having a card store in Orlando has been great for many reasons. However, the number one reason is diversity, in my opinion. I sell almost every team and almost any player. Between tourists and the people who transplanted here, I get collectors from all over the United States, and even outside of the United States. So even though our state has plenty of professional and college teams, you still sell more of the other teams that are outside of Florida.
If you ask me who sells the best at my store, it would be Patrick Mahomes, Tom Brady, Aaron Rodgers, Mike Trout, Aaron Judge, Ronald Acuna Jr., Lebron James, Michael Jordan, and Stephen Curry, to just name a few.
JS – As it relates to particular products, what has performed well in 2019 and what has made those products so popular? Are there any products that are on the release calendar you are really looking forward to in the next few months?
KL – It has been a banner year as most products have quite done well. Obviously ones to be specific include Bowman, Bowman Chrome, Panini Prizm and Optic. I have also seen a significant increase in sales of the higher priced products, such as National Treasures, Immaculate, Flawless, etc. Upcoming products that I am really looking forward to would be Bowman Draft and any of the Prizm Basketball products.
JS – What are some of the most memorable hits you've seen in the shop over the years?
KL – Memorable hits from the store is a long list, from several Babe Ruth Cuts (Legendary Cuts Baseball) to a Baker Mayfield 1/1 Contenders Autograph that sold for $14,000. However, the on that I will never be able to match is a 1/1 Game Used Patch Auto from UD Exquisite Basketball of Michael Jordan and Lebron James. That card sold for almost $90,000 back around 2005.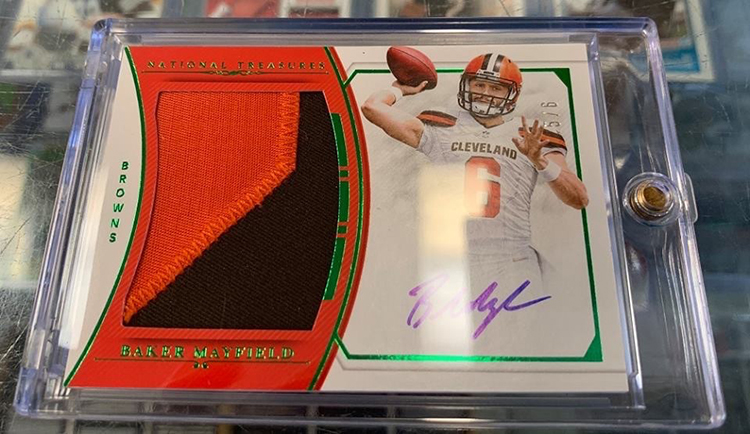 JS – Sports card shows were huge during the '80s and '90s and seem to be popping up more frequently today. How prevalent are card shows in your area in 2019 and how active are you in participating?
KL – There are not many card shows in Orlando at this time and I'm not really sure why they haven't worked as well as they did 20-plus years ago.
JS – What are some of the major positives within the hobby and industry right now? What are you hearing from your customers right now in regards to the industry? What do they really love seeing from a product or support standpoint?
KL – The sports card hobby right now is very strong. There has been an influx of new collectors that is really carrying the business to new heights. The card companies are continuously creating new products, new designs, etc., and are making sure nothing goes stale in our industry.
JS – On the contrary, what are some areas you think could be modified to improve the customer experience? What type of feedback do you get from your customers in this area?
KL – Customers frown on redemptions and point cards big time. Another problem I am seeing a lot more is the inclusion of no-name rookies or mid-level players in high-end products.
JS – In closing, are there any events coming up in the next couple of months you would like to share with the readers?
KL – Coming up, we will be participating in the Black Friday Card Promotion. We will also have JSA coming to the store on November 16th and again in early December.
Orlando Sports Cards
Contact: Kendall Loyd
(407)240-0384
9476 S Orange Blossom Trail
Orlando, FL 32837
Hours
Monday-Saturday: 11AM-7PM
Sunday: 11AM-4PM
Facebook – Orlando Sports Cards