Local Card Shop of the Week: Oliver's Sports Cards (Wichita, KS)
Vince Oliver began collecting in the mid 1980s, when the card industry was about to experience a tremendous boom. He's gone from buying cards at garage sales, chatting with Mickey Mantle as a 7-year-old and using allowance for his cards to owning his own card shop.
I recently spoke with Vince about his shop in Wichita and asked him to give us his thoughts on the hobby in 2019.
Local Card Shop of the Week is brought to you by Southern Hobby, who has been serving the collecting community for nearly 30 years.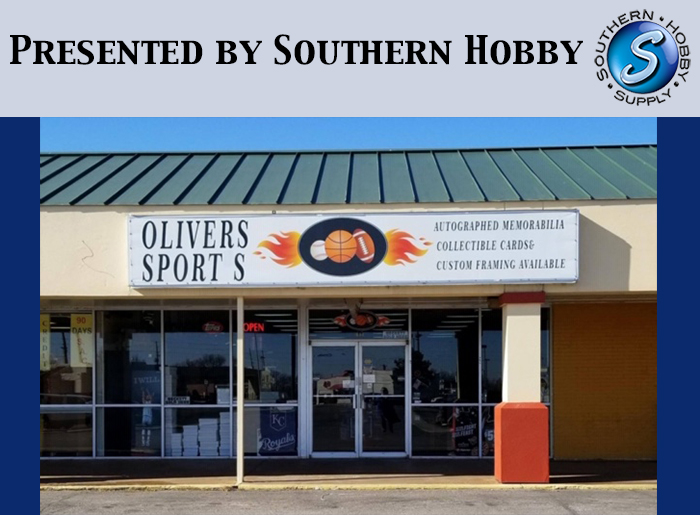 JOEY SHIVER – Thanks for taking the time to talk with us, Vince. You have been a lifelong collector, starting back when you were 6-years-old. Can you tell us a little about your collecting background and what led you to opening your store in 1997?
VINCE OLIVER – I just like the players. I used my allowance to buy packs when I could. In 1985, I did my first show setup as a dealer at the age of 7. I didn't really think I was too young, I just did my thing. There was an older man sitting next to me doing autographs, I didn't know who he was. We talked for a few hours after his line was down. We talked about Fielder, Ripken, Gwynn — guys like that. He kept asking if I wanted a free autograph but I declined. I found out a few weeks later that the man was The Mick. Yep, Mickey Mantle. I was then bummed that I had been talking to a legend and didn't even know it. That is why I started doing more and more of the autographed memorabilia like I do now, all from that one moment.
Then in 1991, at 13, I was mowing lawns to buy more cards. The house next to the one I was mowing was having a garage sale and she had a two-row box all taped up with a price tag of $600 on it. I wanted that box! I went home and borrowed $400 from my reluctant dad, but he let me borrow it. Inside the box were three Nolan Ryan RCs, a 1933 Goudy Ruth, Koufax RC, and a gorgeous 1952 Topps Mantle RC. I actually sold two of the Ryan RCs to pay my dad back and I went back to give the lady more money since it was worth way more than I had paid. She told me no and wanted it to go to a collector. She asked if I still had the key card. She knew what she had as they were her late husband's cards. I told her I did she and she then said that it was all good and to enjoy them. Unfortunately, the next year someone broke into our house and stole that box of cards with all of those and others in it. I was sad and mad all at the same time.
JS – Can you tell us a little about your store? Can you talk about your setup and what type of inventory you carry? Also, what services do you provide?
VO – I am now in my fifth location as I keep growing in store size. This location is approximately 3400 square feet. I try to keep it fairly open but my inventory keeps growing and growing so it is getting tighter and tighter even in that store size. Every autograph I sell in my store is certified by one of the three major authentication companies: JSA, PSA, or BAS. I feel those three are the ones that everyone should use and I am pretty sure I am one of the few shops in the country to make sure everything I sell is certified for my customers.
I believe that we, as dealers and shop owners, have to be the ones who help clean up our industry and I just try to do my part. I have over 20,000 certified autographs in my store, everything from the small 3 by 5 cut, all the way up to the large framed items, full-size helmets, mini helmets, jerseys, bats, balls, and everything in between.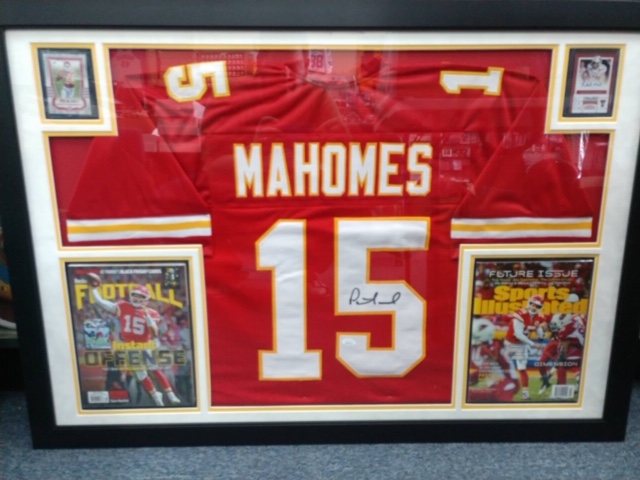 I also carry a full line of sports cards or wax from all the major carriers: Topps, Panini, Upper Deck, Leaf, you name it and I carry it. At any given time, I will have between 35 and 50 cases of unopened product on my shelf and floor.
At my store, I do buy from my customers. I will sell for my customers and I will trade on certain occasions. I do a monthly to bi-monthly Beckett submission for my customers and several other in-store promos. I do in-store breaks and also, on occasion, I will do online breaks. I used to do more and trying to get back to doing more of those but it is just hard, as I still have another business that I run besides this one a few days a week. I do a sports show in store every other month for my customers to come see my other customers/dealer items. I basically just try to have fun while working everyday.
JS – Your shop is in an area that, based on the map alone, could have a good mix of college and professional sports fans. When it comes to sports card collecting, what would you say the make-up of your customer base at the shop is? When it comes to the "home team," what is most prevalent in your area?
VO – Baseball will always be king in my store but football is another that my collectors enjoy to collect. Hockey is actually growing fairly well with our local hockey team getting affiliated with the NHL. I would say the best teams that sell and are collected by my clients are Cardinals and Royals for baseball and then Chiefs, Cowboys, and Raiders for football.
JS – As it relates to particular products, what has performed well in 2019 and what has made those products so popular?
VO – Bowman always does very well in my shop and we actually have a party on release day. We call it Bowman Day and my collectors love it. I bring pizza and soda and we just have a big party while we're ripping packs and boxes. With the relaunch of Prizm Baseball, that one has done well. Basketball has also done exceptionally well this year with most products. I can't say one stands out more than the other between Prizm and Contenders but they are always great products. I have several of my collectors who are very good at baseball prospecting, and that's what makes Elite and Bowman do so well. You have to know your prospects in order to do well on those products.
JS – Are there any products that are on the release calendar you are really looking forward to in the next few months?
VO – There are several products that I am looking forward to but I think everyone is in huge anticipation of the new basketball draft class. I think the relaunch of some of these products in all sports are going to make for a better year in the collecting world.
JS – Your Facebook page is very active with event notifications, product releases, and photos. How important has social media become for you as a small business owner?
VO – I try to be diligent and post on my social media page a few times a day but unfortunately it ends up being maybe a few times per week. I'm still working on that. I do try to always put on my Facebook page when I will be out of town at a show and where there may be an autograph guest. I have several collectors who may not be able to go out of town so I can get these autographs for their collection. All forms of social media have really helped my store because I can get new collectors from out-of-town and out-of-state. They can see things right here in the middle of Kansas and then I can ship to them as I ship all over the country several days a week.
JS – You participate in various shows, with the most recent being Project Pop Con. Can you tell us about local shows in your area?
VO – As far as local shows, as I stated before, I do one in my store every other month. I do a few different non-sports shows, or Con's if you will, in my area. I do one sports card show in Oklahoma City every other month and that one usually turns out very well. But I do travel quite a lot for some of these shows as I do Dallas, Houston, San Antonio, the National, and several others in other states.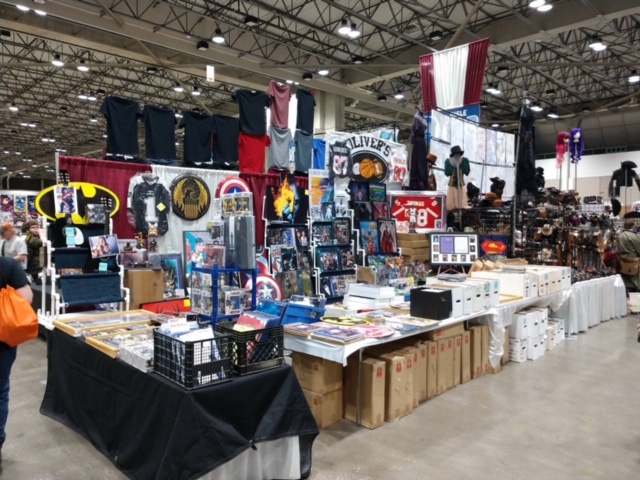 JS – What are some of the major positives within the hobby and industry right now? What are you hearing from your customers right now in regards to the industry? What do they really love seeing from a product or support standpoint?
VO – The biggest positive I am seeing is that we are getting a ton of new collectors that maybe used to collect, that are getting back into it with their own children. I think the industry is very strong. I think the next four to six years are going to be incredibly strong for our industry just with the draft classes we have coming out in baseball and football and basketball. There are such strong stars and strong players coming out in every sport. It's going to be amazing to watch.
Of course, everybody loves seeing the big hit — the one-of-one, the main-guy autograph, multiple autographs on the same card, that sort of thing. But most of my collectors understand that is not something that can be hit out of every box so they do not get upset if they do not get those cards.
As far as support, unfortunately I think the main companies are doing their best to get rid of us little guys and just sell directly to the customers. This is sad because nobody from those online stores are going to be there to show you what a new product is all about or tell your collectors eight-year-old kid what is cool about a particular card set and then try to get these people involved. We have to have local shops for the growth of our industry, in my opinion.
JS – On the contrary, what are some areas you think could be modified to improve the customer experience? What type of feedback do you get from your customers in this area?
VO – Redemptions will always be an issue. I believe that if the company cannot get them to sign then they should not be in the product. I still have redemptions from six years ago that are unfulfilled. This is sad when I have a collector buy a certain redemption card for that player and several years later they still do not have that card but they can buy a newer card of the same player already signed.
As far as the points program, I think it was a very good idea but I don't believe that I should have to pay shipping on a card that I picked with my points. Just like redemptions, if they get those in, they ship it to me for free, I think the points cards should be shipped for free. It's like I'm being penalized for getting a points card.
As far as exclusivity on licensing, I personally do not like it. I have certain collectors who do not want to collect cards because they do not have logos on them. There are some cards made by Panini that just look amazing but my collectors don't want to collect those because of that. I would love to see Topps Chrome Football once again as it was an awesome product.
JS – Are there any upcoming events you can tell us about? Will you be having any autograph signings, trade nights, or gaming events?
VO – As far as upcoming events, my next show in store will be July 13 and 14. I do several shows out of town. I have the National coming up, which I have been doing for years. That is always fun. At one of my next shows, I will once again have a certification company at my show and I would love to have Beckett there doing raw card revue.
Oliver's Sports Cards
Vince Oliver
2491 S Seneca St
Wichita, KS 67217
Phone: (316) 425-1938
Email: kooluof@cox.net
Hours
Wednesday-Thursday: 10AM-5:30PM
Friday: 10AM-6:30PM
Saturday: 10:30AM-6:30PM
Sunday: Closed
Monday-Tuesday: 10AM-5PM (summer hours: closed)
Facebook: Oliver's Sports Cards
Twitter: @oliverssports
Instagram: olivers_sports