Local Card Shop of the Week: Lundy's Sports Cards (Brazil, IN)
Jeff Lundy spent his youth collecting and building Topps sets with his father. This led to his lifelong passion for the hobby and, ultimately, owning a local card shop. Jeff operates Lundy's Sports Cards in Brazil, IN. I recently caught up with him to talk about that passion and his shop.
Local Card Shop of the Week is brought to you by Southern Hobby, who has been serving the collecting community for nearly 30 years.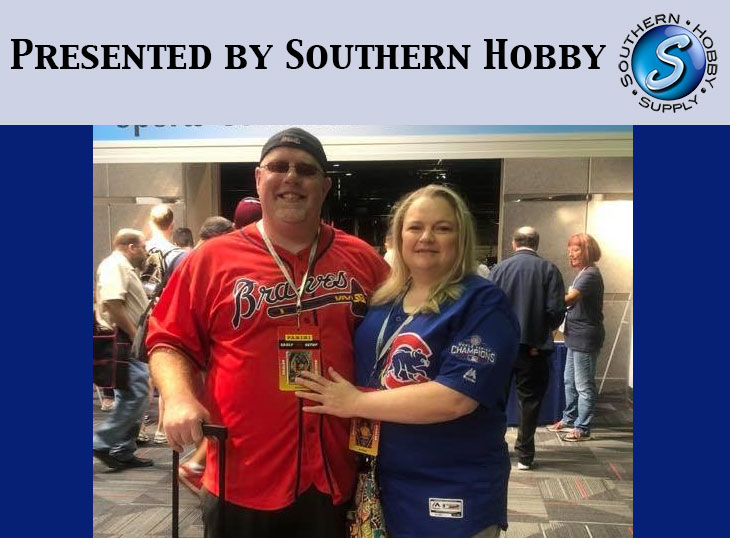 JOEY SHIVER – Thanks for taking the time to talk with us Jeff. Can you tell us a little about your collecting background and what led you to opening your store?
JEFF LUNDY – I have always had a passion for the sports world, especially in terms of memorabilia and collectibles like cards. My dad and I always did this together starting way back in the early 1980s. We would spend our time buying boxes upon boxes of Topps cards and opening them to put the entire sets together every year.
In these moments, I learned that I would never get enough of this hobby, or so I thought. That's when 1989 happened and Upper Deck released the Ken Griffey Jr card. At that moment, I knew collecting was something I'd always do. A few years later, football and basketball cards began to become as big as baseball was and I began to collect those as well. Since then, I've been chasing down that feeling I had finding that 1989 Ken Griffey Jr. card and I've had several moments similar. But opening my shop may top them all.
When I was younger, all my friends were fans of the Cubs, Cardinals, or Reds, and I wanted to be different so I became a fan of the Braves. Plus, the access to TBS allowed them to be available for me even as a young kid in the Midwest. I fell in love with the team, most notably watching Dale Murphy play, and collected all the cards. I would later transition to Chipper Jones cards and collectibles. Obviously, being in Indiana, I am a die-hard Indianapolis Colts fan and Peyton Manning was always one of my favorites to collect.
Growing up, my dream was to always own and operate my own card shop. The memories of opening packs with my dad, and the emotions of finding the card you've been searching for, I knew I would love doing this and wanted it to be more than a hobby. This area has been starving for a shop for 20-plus years, and a few years ago I lost the job I viewed as my career and was constantly searching for something to fill that void. I was always told, "If you do what you love, you'll never work a day in your life". So with that in mind, I decided to pursue my dream, and opened my shop and I've not looked back. Also, I've yet to "work" a day since then.
JS – Can you tell us a little about your store? Can you talk about your setup and what type of inventory you carry? Also, what services do you provide?
JL – My shop is Lundy's Sports Cards & Collectibles and it is located in the front addition on my house with an outside customer entrance. My set up reflects the space and the mission, which is "keep it simple and share the love and joy that this hobby creates and allows." My inventory ranges from beginner collectors to veteran collectors options, with cards ranging from $5 up to $800. I also offer single cards starting at $0.25 and up to $5, along with shelves of supplies including one-touch mags, team bags, and some of the newest products for wax boxes and also old wax as well. My inventory has expanded and I have begun to carry hats, lanyards, figurines, cell phone cases, etc. I really try to focus on having something for anyone who walks into the shop, from the beginner to the veteran.
One of the more interesting aspects to the shop is that I've begun to do consignment. I am currently working through two collections. This allows an even wider range of possibilities for all collectors that come in to the shop.
If you don't see what you need, let me know and I'll make sure you're notified if I see it. My mission is to share a part of the joy that this sports card community has brought into my life with others.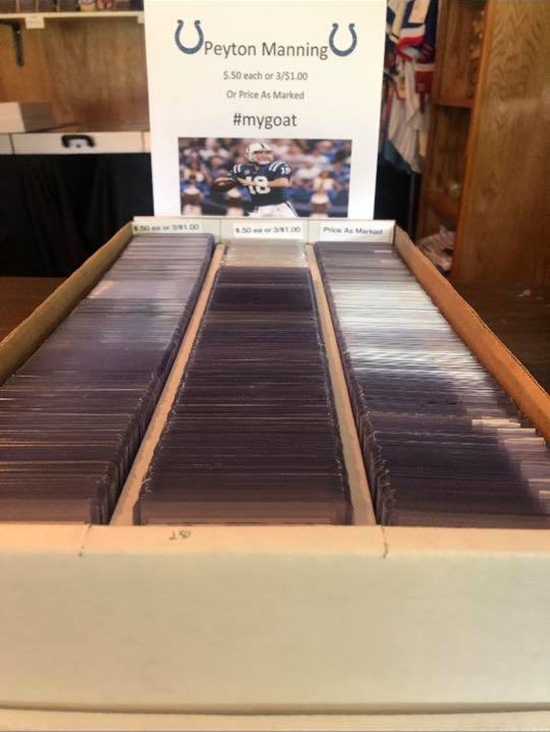 JS – Your shop is located just southwest of Indianapolis, but not too far from the border of Illinois as well. When it comes to college and professional sports, who would you say is the "home team" for your collectors? Who would you put on your sports "Mount Rushmore" when it comes to players your collectors want?
JL – College teams in high demand in my area are definitely Indiana University, Purdue University, and the University of Notre Dame. Professional sports are definitely "local" as well, mainly Indianapolis Colts, Indiana Pacers, and the Chicago Bears. In terms of professional baseball, we don't have a professional team in Indiana, but the Chicago Cubs, St Louis Cardinals, and Cincinnati Reds are always requested within the region. In terms of the home team, without a doubt it would be the Colts or the Cubs.
Mount Rushmore for me personally would range from past to present, but definitely on top of the list would be Peyton Manning. Following him would be Reggie Miller and Larry Bird. Larry Bird went to school 15 minutes from the shop at Indiana State University in Terre Haute, IN. I would also add Derek Jeter, Ken Griffey Jr., and Ryne Sandberg to mine, all players my generation grew up watching. A few weeks ago, I would've told you Andrew Luck, but we are still healing from that.
For my collectors, the Mount Rushmore is defined more by current players, and in my area it seems to be mostly Chicago Cubs players. Most notably, Javier Baez, Anthony Rizzo, and Kris Bryant.
JS – As it relates to particular products, what has performed well in 2019 and what has made those products so popular? Are there any products that are on the release calendar you are really looking forward to in the next few months?
JL – My customers are always searching and asking for the rookies in the new product selection. Indiana is considered a basketball state, but in terms of collecting it's definitely a football state and my collectors are always going after those. I have some collectors that collect baseball Hall of Fame autographs.
For me, I love Topps baseball products! With new products, people are always chasing the new rookies. Being mostly a football state, collectors love going after them. For the new products, I prefer Topps baseball products and so do some of my collectors. So any baseball products have them in there.
JS – Your Facebook page is active with hits from the shop, event notifications, product releases, and photos. How important has social media become for you as a small business owner?
JL – Social media is a topic that could be talked about for hours on end. I believe that social media has been critical for the success and growth of my business, but most importantly for the hobby as a whole. It allows us collectors to connect with people across the globe, share our passions, and learn more and more about this sports card community. The availability of information, the 24/7 access to new products, and to feel like they know you as a person increases the business is important. In this hobby, if you're not using social media then you're behind.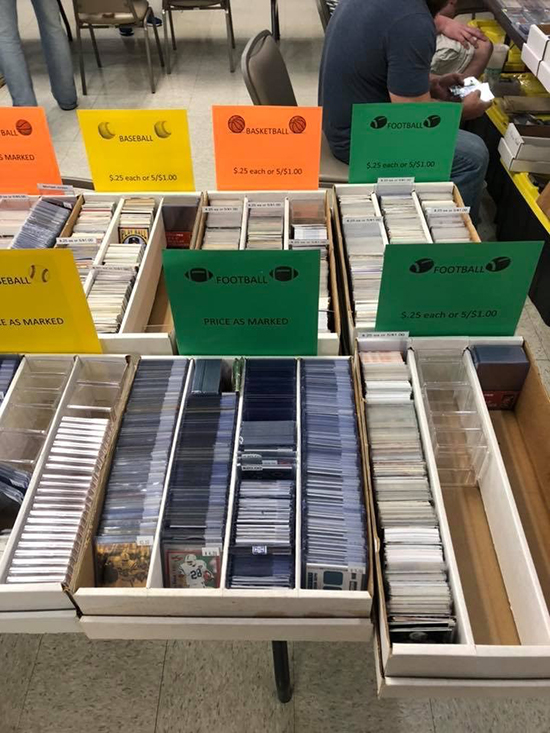 JS – Sports card shows were huge during the '80s and '90s and seem to be popping up more frequently today. How prevalent are card shows in your area in 2019 and how active are you in participating?
JL – Card shows may have taken some time off, but without a doubt they are back! Within a three-hour radius of the shop, I could do a show every weekend if I wanted to. I set up every month in Fishers, IN at J&J All Star Sports Cards. I travel to Chicago, St Louis, Nashville, and the Cincinnati area as well. This year, I'm on pace to do between 20-25 shows.
I've been doing card shows for about 25 years, and I absolutely love meeting new collectors, seeing people I met years ago that are still collecting, and seeing the younger generation buying into the hobby to keep it going strong. However, my success at the shop and at the card shows would not be possible if it weren't for Amy, my girlfriend. She loves going to them as well, and it makes it even more of a family affair.
JS – What are some of the major positives within the hobby and industry right now? What are you hearing from your customers right now in regards to the industry? What do they really love seeing from a product or support standpoint?
JL – The biggest positive in the hobby today is the diversity of selections. Depending on your price range/budget, there is so much to choose from and that truly allows something for everyone. I'm also seeing more and more families collecting together than I've ever seen before. Collectors in my age range have kids that are beginning to understand the hobby and they're invested just like I was opening Topps cards with my dad back in the day. It's amazing to see.
What I have heard recently is that the hobby is at its peak and possibly the best it's ever been. I've heard this from collectors, dealers, and owners as well. It's becoming more obvious in terms of attendance at shows, and the market that is being set on certain cards or players.
JS – On the contrary, what are some areas you think could be modified to improve the customer experience? What type of feedback do you get from your customers in this area?
JL – For me, there hasn't been a card shop in this area for 20-plus years. I've only been open a few months and the feedback I've gotten is definitely positive to have a place to shop, get supplies, and just come in and talk. My shop has something for everyone, any price range, and when you come in you're like family.
In terms of improvement, there's not a lot of brick and mortar so customers don't have a lot of availability outside of online shopping. While that helps me now, I would love to see more shops open for the younger generations to see there's so much more to this world, and not all cards belong in the bike spokes.
Overall, I wake up every day and I can tell people that I'm living my dream. Now I'm opening Topps cards with my son, and I wouldn't ask for more.
Lundy's Sports Cards
Jeff Lundy
P: (812)251-8604
8765 N County Road 235 W
Brazil, IN 47834
Hours
Tuesday-Saturday: 11AM-6PM
Facebook: Lundy's Sports Cards