Local Card Shop of the Week: Louisville Sports Cards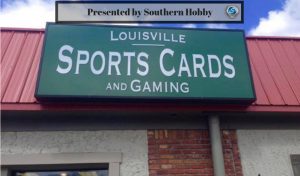 Chris Buckler began collecting over 30 years ago, when the Hobby was booming from the popularity of the Junk Wax Era. His love for cards led him to sales and exhibiting at card shows when he got older. In 2015, he realized a dream that many collectors have had, which is owning a brick-and-mortar hobby shop. I recently spoke with Chris to find out how his shop was doing and what the Hobby pulse was in the state of Kentucky.
Local Card Shop of the Week is brought to you by Southern Hobby, who has been serving the collecting community for nearly 30 years.
JS – Thanks for taking the time to talk with us Chris. You have been in the Hobby for over 30 years. Can you tell us what led to opening a sports card store in 2015?
CB – I have been exhibiting at card shows across the country since 2005. I opened a shop to diversify my business and to source cards locally. At the time another local card shop, which had been in business for nearly 20 years had recently closed. I saw this as a great opportunity to follow a dream and open a card shop. When I initially opened the shop, I wanted to test the market in Louisville to see if there still was a "need" for a shop. I wanted to see if I could both sell and source cards for resale in a brick and mortar setting. I wasn't sure if I really wanted to spend all my time in a retail establishment, so I initially signed a one-year lease. After the first three quarters in the retail business I realized that this was a success. My shop could become the sports collecting destination in Kentucky. The shop has since moved to a larger facility in a heavily trafficked part of town and we are here to stay.
JS – Can you tell us a little about your store? What is your setup like and what type of inventory you carry? 
CB – We cater to every type of sports collector. We have a very large selection of the newest hobby boxes from all the major sports. We also carry older unopened product as well, but it typically sells very quick. I try to be as clean and organized as possible. The store is sectioned off by sport with the modern selection in the front and the vintage portion in the rear. Our memorabilia is scattered throughout the store in our displays cases and on the walls. It is important for us to stay systematic with our inventory so that we may quickly find products customers may inquire about.
We carry modern cards from $1 up to several hundred dollars, as well as, vintage cards back to the early 1900s. We offer both graded and ungraded cards. We also have a tall display of commons from the early-50s to 1980 for our set builders.
We have 2 large 8ft tables to sort cards, eat lunch and go through collections as they come in. In terms of memorabilia we have around 100 single signed balls, many signed bats, media guides, magazines, bobble heads etc. We also carry a large variety of supplies from top loads of all sizes to boxes and binders/pages.
JS – Louisville is historically known for basketball but football has had its good years as well. You are also not very far from Cincinnati, which is the home for some professional franchises. Tell us a little about your collector base. When it comes to the "home team", who does everyone collect?
CB – Louisville does not have a professional franchise, however, we do have the Cincinnati Reds AAA affiliate, the Louisville Bats, and a minor league soccer team. We are definitely split between the University of Louisville and the University of Kentucky fans. A large majority of our business is from NBA fans. Both universities get many future NBA players and UK and U of L fans always support their guys. Louisville is very split on a favorite NBA or NFL team, but the Reds are definitely the most popular MLB team in Louisville.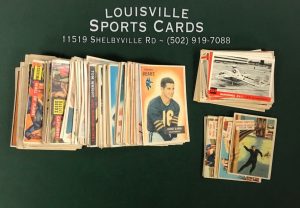 JS – What products have performed very well in 2018 and why do you think that has been?  
CB – 2018 Topps Heritage was crazy this year with the hype around Ohtani. I had many first time visitors coming into the shop chasing his Heritage autographs. All 2017 NFL products have been selling very well with everyone wanting Patrick Mahomes rookies. Last year the University of Kentucky had several players turn pro as well as Louisville's Donovan Mitchell. All of our basketball products sold very well especially Prizm and Revolution. Hobby boxes of Prizm are very expensive but with all the retail options and spin off products like Prizm Fast Break it allowed buyers at all different price points to open a box and hunt for the "silver" rookies. Revolution is a very fun set and the boxes are affordable. I think it reminded many collectors of a 1990s product where the set was not geared toward the autograph chase. It offered many cool inserts, numbered cards, variations; its a fun set to build and still has a few autographs per case.
JS – Are there any products that are on the release calendar you are really looking forward to in the next few months?
CB – Most MLB collectors always look forward to Bowman Draft. It's the ultimate prospecting product and offers all sorts of color parallels and autographs. The high-end basketball products are always very popular and we typically sell out on release day. Watching boxes of National Treasures and Flawless be opened is always a rush.
JS – Your Facebook page mentions that you buy, sell, and trade. Can you tell us about any cool pieces that have walked in the door you've been able to pick up?
CB – I market the shop and advertise heavily throughout the state of Kentucky looking to purchase cards and memorabilia. We have been very fortunate to buy many collections. I have purchased, on more than one occasion, Topps set runs from 1953 to 1980, many Tom Brady and Michael Jordan rookies and signed cards. A few months ago a group of 250 T206 tobacco cards walked in the shop with a sampling of other tobacco and early candy cards. Collections walk in the shop everyday but it's usually cards from the mass production years.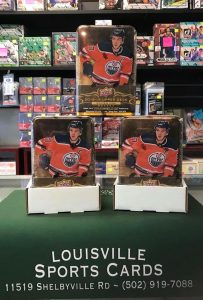 JS – The way we collect has changed a lot since you joined the Hobby 30+ years ago. Looking at the Hobby in general, and taking into account your collectors as well, what percentage of collectors still build sets or look for personal pieces to complete collections vs collectors that are looking to score the next big hit?
CB – We have many set builders working on 1950s to the mid 1980s sets but it's nearly impossible to build all the current sets with the large amount of different sets produced today. I have customers who build Topps Heritage, the base Topps set and a few guys who put together the Prizm basketball set. Our customers are fairly spilt between guys buying individual players and box breakers looking for a big hit.
JS – I think we can both agree that the changes over the last 30+ years have been pretty notable. What is the Hobby missing today that 2000s collectors would have enjoyed from the 80s?
CB – I sell many cards to collectors who chase autographs. They tell stories of the old days of hanging over the rail at games, camping out at hotels, going to various signings wanting to meet the athlete, shake their hand, and get a picture taken with them. Most athletes today don't seem to want to, or are prohibited, talk to collectors or stop and to sign an autograph. The personal connection between fan and athlete seems to be diminishing.
JS – I found some great pieces of memorabilia on your Facebook page. Can you tell us about some of the items you have available? I noticed a beautiful Barry Sanders helmet!
CB – The holiday season is almost here and memorabilia sales always pick up during the gift-giving season. In fact the Barry Sanders helmet sold this past week. I have many signed photos, jerseys, and baseballs. As well as pennants, vintage bobble heads, mini helmets, programs and signed bats. I try to stay away from large framed prints as they take up a lot of space and are usually a harder sell. We sell many items to guys decorating the man cave and they usually want something they can get in the house quickly without their wife being the wiser.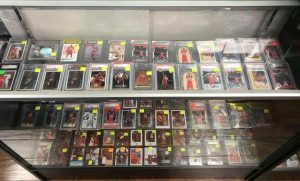 JS – Are there any in-store events you can tell us about? Have you had any autograph signings, trade nights, or gaming events?
CB – We host a trade night a few times a year usually coupled with a box break and pizza party. We participate in the National Baseball Card Day and Hobby Shop days each year, offering free packs and special promotions. I would like to have autograph signings and have reached out to several athletes but their agent's fee structure is cost prohibitive. In the past we hosted gaming events but have since moved away from all gaming. We are sports collecting shop and want to provide a sports related atmosphere.
JS – In closing, can you tell us about any sales or upcoming events you have scheduled for the next couple of months?
CB – We have many holiday discounts and promotions on singles, boxes and memorabilia. I always look forward to MLB's opening day and we will definitely have a party in the shop for the start of the MLB season. The best way to see our new pickups, sales and promotions is to follow us on Facebook (@louisvillesportscards). I post regularly to keep our customers up to date on all the shop's happenings.
Louisville Sports Cards
Chris Buckler
(502)919-7088
11519 Shelbyville Rd Suite C
Louisville KY 40243
Hours
Sunday – 12PM-4PM
Monday – Closed
Tuesday – Friday – 11AM-7PM
Saturday – 11AM-5PM
www.sportscardstorelouisville.com
Facebook – Louisville Sports Cards (@louisvillesportscards)
Twitter – @lousportcards
Instagram – louisvillesportscardsshop