Local Card Shop of the Week: Legends Sports and Games (Grand Rapids, MI)
Lou Brown began collecting sports cards back in 1974. Collecting would turn into a business as he started his mail order business, Lou Brown Cards. That gave way to Lou Brown's Baseball Card City in 1988, a name it carried until 2005. In that time, Lou continued to run his mail order business, promote shows and developed a distribution business that serviced accounts nationally, running delivery routes in Michigan, Indiana and Illinois.
The distribution business would ultimately be sold to GTS in 2010 in order to focus on the retail side of business, renamed Legends Sports & Games. Now, in 2019, Legends Sports & Games is considered a premium destination for official sports memorabilia and trading cards in West Michigan. I recently caught up with Lou to talk about his years in the business and how he has adjusted over the years to remain a flourishing sports card shop.
Local Card Shop of the Week is brought to you by Southern Hobby, who has been serving the collecting community for nearly 30 years.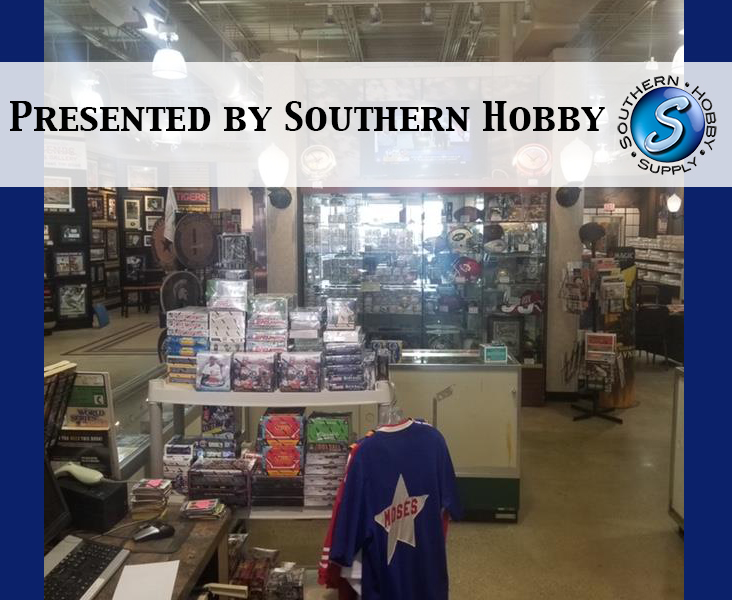 JOEY SHIVER – Thanks for taking the time to talk with us Lou. You have been a longtime collector, dating back to 1974. Can you tell us a little about your collecting background and what led you to opening your store in 1988?
LOU BROWN – I started collecting cards when I was 10. I started buying collections to re-sell when I was 13. I would set up a local card shows and, at 16, I promoted my first show. It was a great time to be in to cards. The hobby was just developing into a more mainstream thing.
I continued to set up at shows throughout high school as well as college, when I attended Boston University. In the mid '80s, cards seemed to be getting more and more popular. I had been running ads in the Trader Speaks and SCD after I returned to Michigan and felt that the opportunity for a card shop in Grand Rapids was good so I opened my first store. I continued to travel to shows, promoted them, and ran our mail order business.
JS – Can you tell us a little about your store? Can you talk about your setup and what type of inventory you carry? Also, what services do you provide?
LB – Currently, Legends Sports & Games has nine employees. The store is located in a high-traffic shopping plaza. We moved into this new location one-and-a-half years ago. It is by far the nicest location we have had with over 6,000 square-feet packed with sports cards, memorabilia, collectible card games and sports merchandise. We love dealing with vintage cards and always have a nice selection on hand.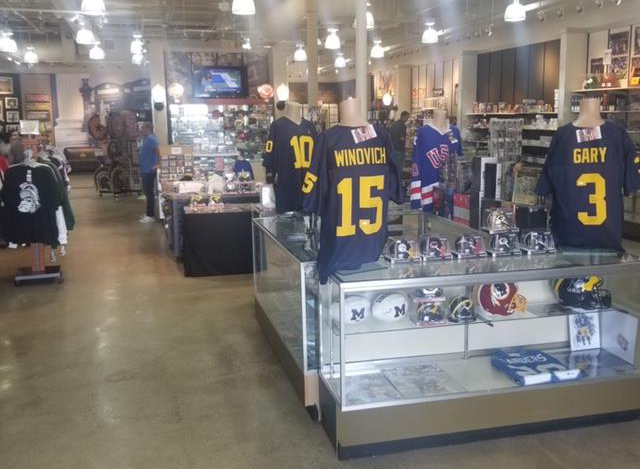 JS – Your shop is located in a bit of a sports haven from a geographical standpoint. You are west of Detroit, east of Milwaukee, northeast of Chicago, southeast of Green Bay, and north of Indiana. When it comes to sports card collecting, what would you say the make-up of your customer base at the shop is? When it comes to the "Home Team," what is most prevalent in your area?
LB – We are in a big college area with a very strong following for Michigan and Michigan State. We have a lot of Notre Dame fans as well. The Detroit teams lead the way, but we have a lot of Bears, Cubs, Hawks, Packers, and Steelers fans in the area as well.
JS – I am sure that this answer may have changed multiple times over the years, but to continue from the previous question, who would you put on your Sports "Mount Rushmore" when it comes to players your collectors want?
LB – Currently, it seems that people are most interested in the relevant rookies and core players – Trout, Curry, Brady, etc. We also have a strong vintage business. We are seeing more demand than ever for the big Hall of Famers like Mantle, Clemente, Aaron, and Mays.
JS – As it relates to particular products, what has performed well in 2019 and what has made those products so popular?
LB – Allen & Ginter has done very well out of the gate. I think the variety of content has been the key to that. Bowman, like every year, has done great. Panini Elite Football has performed very well also.
JS – Are there any products that are on the release calendar you are really looking forward to in the next few months?
LB – We are around the corner from some big products: Topps Chrome, Certified Football, Leaf Trinity, and UD Chronolgy should all be very strong.
JS – Your Facebook page is very active with event notifications, product releases, and photos. How important has social media become for you as a small business owner?
LB – Social media has become a much more effective way to reach more people quickly. I could not imagine it not being a huge part of our store's marketing.
JS – Speaking of shop events, you have quite a variety of "Pack Wars," box breaks, and shows that you put on for your customers. Can you tell us a little about the events you try to put together for your collectors? Also, can you tell us about the Legends Chip Case Challenge?
LB -When we moved from our old location, which was in a traditional style mall, we made the decision to eliminate/reduce the emphasis we had on apparel and fan merchandise. Our focus now is on cards and memorabilia. We are dedicated to building the sports card community in our area. We are doing that in a multitude of ways. We use our social media platforms (Facebook, Twitter, Instagram) as well as email to keep our customers informed about new products and things that are going on within the sports card hobby. We also run a monthly show. This has had a tremendous effect on keeping people engaged.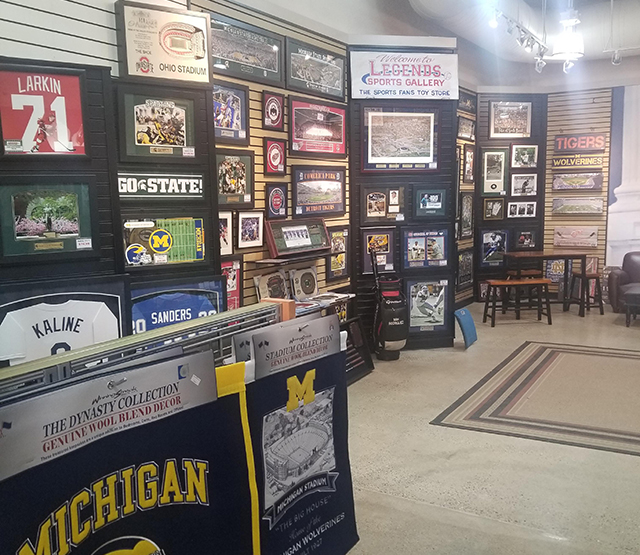 We are constantly thinking up new ways to entertain and engage collectors. We run a monthly pack war event and we give away a lot of prizes (not to mention eight to 20 pizzas). I look at this as a way to thank my customers for supporting our store.
We are trying to build a more consistent box break program. We have done several and hope to expand on that. We actually have one that we have planned at this year's National (Saturday at 4:00 at our booth – 857/859). It is a memorabilia break with 20 items including a Brady Patriots Chrome helmet, a '69 Jets Super Bowl champs team-signed helmet, a Unitas mini helmet, and Bill Russell signed shoes. Though it will be mostly store customers, we expect to have some participation from collectors at the show.
Our "Chip Challenge Case" has been a lot of fun. Collectors can buy chips ($10 each or three for $25) and each chip has a number on it. There is an item in our "Chip Case" that has a corresponding number on it. Whatever chip number you pull, you get the corresponding item. One fun twist is if the customer guesses one of the numbers that they are about to pick, they get a free extra chip. If they guess all three correctly, they win the whole case – all 250 prizes! We learned of this fun promotion through a few other shops at this year's Topps industry event.
One other thing that we are excited about (and also picked up at the Topps conference) is our card bar. We love it when people hang out and dig through our boxes or rip packs/boxes in the store. We wanted to make it as comfortable as possible for collectors to do that. Shortly after the National, we will be installing our new Upper Deck sponsored card bar. This is a 16′ butcher block table with 14 bar stools. It will highlight our Legends logos as well as Upper Decks Logos and classic Upper Deck trading cards from years past (with a clear polycoat over top of them).
JS – I see that you are gearing up for your trip to the 2019 National. What are some of your objectives for this year with attending? Do you have any fun memories from past events you'd like to share?
LB – I have great memories of so many past Nationals. I can not tell you how many friendships I have forged with people that I have met at past events. In the early years, there was an official National softball game that was always fun. The auctions at those early Nationals were great as well.
I always look forward to this event probably more than any other. I get the opportunity to see old friends that I typically only see at the National each year. And, of course, on top of that, we always have a great time both buying and selling non-stop. This year, like every year, our set up is quite different than most. We have two booths (#857/859) that offer a wide variety of goods from Babe Ruth balls and really nice vintage cards and memorabilia to a big mix of current boxes of cards and singles, as well as supplies. And, of course, we will be participating in all of the manufacturer promotions including the Panini Silver and Gold packs, UD, Leaf, and Topps wrapper redemptions. And, as I mentioned above, we will be running our memorabilia break on Saturday at 4:00.
JS – What are some of the major positives within the hobby and industry right now? What are you hearing from your customers right now in regards to the industry? What do they really love seeing from a product or support standpoint?
LB – I have seen a lot more kids getting into cards. This is very exciting! I think that this is starting from fathers jumping back in to collecting and bringing their kids back with them. And then those kids are talking to other kids. Awareness online has gone a long way in creating new customers as well. We are signing up new members in our collectors club every day. Several years back, that was not happening. Breaks, new innovative product, and a lot of fun action in the sports world are creating a lot of excitement. Our efforts in creating an experience and entertaining people when they frequent our shop have really helped within our community.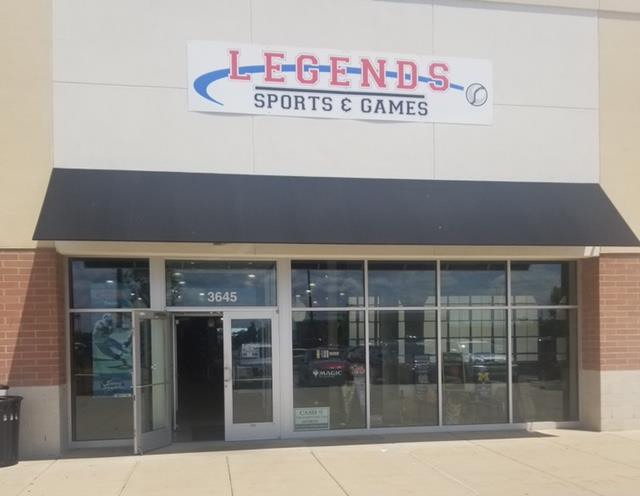 JS – On the contrary, what are some areas you think could be modified to improve the customer experience? What type of feedback do you get from your customers in this area?
LB – The redemption issue continues to be a factor, though I am seeing a much greater effort from the manufacturers to reduce the number of redemptions and also to reduce the average time for a redemption card to be redeemed.
JS – Are there any upcoming events you can tell us about? Will you be having any autograph signings, trade nights, or gaming events?
LB – A big part of our store is signings. This year alone, we have hosted some big guests including Barry Sanders, Alan Trammell, Chase Winovich, Rashan Gary, and Jaren Jackson. Brian Urlacher will be in our store on August 24th and we will be announcing some other big signings soon.
Legends Sports & Games
Lou Brown
(616) 940-1676
3645 28th St SE
Grand Rapids, MI 49512
Hours
Monday-Thursday: 10AM-7PM
Friday-Saturday: 10AM-9PM
Sunday: 12PM-6PM
Website: LegendsFanShop.com
Facebook: Legends Sports and Games