Local Card Shop of the Week: DJ's Sports Cards (Renton, WA)
Don Joss grew up as a comic book collector but did dabble in trading cards. He was born in the early '70s and had a brother who was a few years older that had a pretty good sized baseball card collection from that time that he let him explore. By explore, this included gluing some to his sister's doll house. He would teach himself how to sort cards by piling them in groups of 100, 10's, and then 1's.
By the 1980s, he had begun buying cards of his own, which were mainly Seahawks and Mariners cards. Now, some 30-plus years later, Don is the owner of a sports card shop in Renton, Washington. I recently caught up with Don to discuss the hobby and his shop in Washington.
Local Card Shop of the Week is brought to you by Southern Hobby, who has been serving the collecting community for nearly 30 years.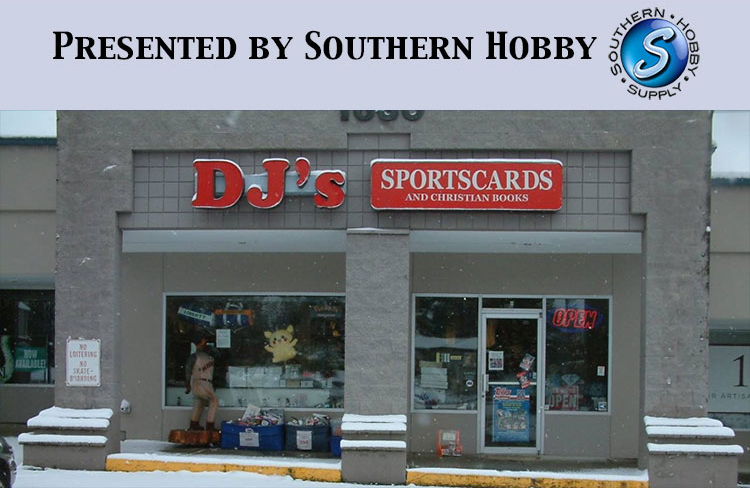 JOEY SHIVER – Thanks for taking the time to talk with us, Don. Can you tell us a little about your collecting background and what led you to opening your store?
DON JOSS – I began working at a comic and card shop that opened in my neighborhood when I was 13. The owner preferred comics over cards and had me help the card customers. This got me more interested in collecting cards. 1985 was when hobby fever hit me. The Mariners had some hot rookie players like Alvin Davis, Mark Langston, Phil Bradley, and Jim Presley. The Seahawks went from being an interesting expansion team to playoff contenders in 1983 and 1984. The Sonics were in decline but their championship in 1979 gained them a permanent respect from fans like me no matter how bad they were.
The hobby was about to go nuts and I had no clue. I was just having a great time collecting cards in what was then a very inexpensive and kid-friendly hobby. My most painful memory is realizing that I could have bought two cases of 1986-87 Fleer Basketball for about $250 that would be worth a million dollars today. I did not even care about Michael Jordan when that product came out. I was just trying to pull Sonics cards.
When I turned 16, I was old enough to get a real job and get paid minimum wage. I quit the comic/card shop and got a job at the grocery store. I still stayed friends with the owner of the comic shop and continued to buy comics there but I decided to quit card collecting and sell what I had. During the short few years I collected the market heated up and I had decent value in my collection. I bought a table at a local card show and made $500. When I told the owner of the comic shop about it he called me a few days later and offered to sell me the card portion of his store for $500 and run a separate card shop inside his comic store. I was still in high school, living at home, and had a paying grocery store job so it was a low-risk idea for me. Within a year, I was making enough to quit the grocery store. Within two years I moved out and opened my own store.
JS – Can you tell us a little about your store? Can you talk about your setup and what type of inventory you carry? Also, what services do you provide?
DJ – My store is small but packed. My focus is sports cards and sports collectibles. The only gaming I carry is Pokemon. I carry Lego and Christian books. Anyone walking in can tell that most of the attention and square footage is dedicated to sports and I get a lot appreciation for this, as many sports card stores shifted more to gaming. I buy and sell a lot and try to keep inventory very fresh. I try to keep my prices competitive with the internet and many times can beat it. I have low-end, I have high-end, and lots of in between. I put a lot of work into single cards. I don't do box or case breaks.
JS – Your shop is located just south of Seattle, which is the home of a several sports teams. When it comes to college and professional sports, who would you say is the "home team" for your collectors? Who would you put on your sports "Mount Rushmore" when it comes to players your collectors want?
DJ – The Seahawks and Mariners are my top sellers. The Mariners have a very loyal collector base despite a long playoff drought. Best sellers over the years are Ichiro, Edgar Martinez, Steve Largent, Russell Wilson, Shawn Kemp, and Gary Payton. The best-selling player of all-time for me is Ken Griffey Jr.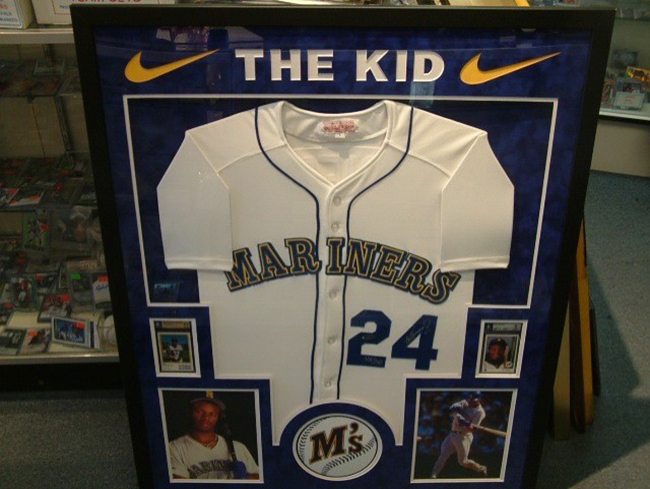 JS – I see that you've had a few signers in the store, including Bobby Wagner. Can you tell us about any guests you've had come in and the experience for the customer?
DJ – We have hosted many players for autograph sessions. Our best year was 2012, the year before the Seahawks won the Super Bowl and the team was nowhere near as popular as they were after the championship. We hosted Russell Wilson, Richard Sherman, Bobby Wagner, Doug Baldwin and many other players. They were much more affordable for the store and my customers. We have hosted many Mariners over the years, including Raul Ibanez and Mariners legend Julio Cruz. We even hosted Robert Swift before he had any tattoos!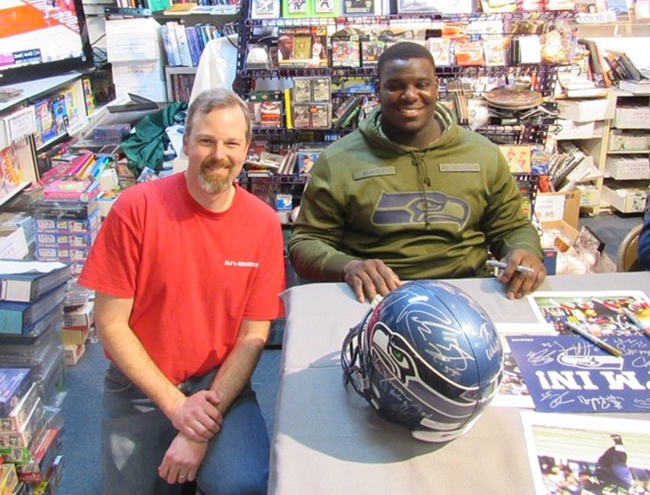 JS – As it relates to particular products, what has performed well in 2019 and what has made those products so popular? Are there any products that are on the release calendar you are really looking forward to in the next few months?
MM – 2019 products continue to be very strong. Baseball is strong across the board, even earlier 2019 products that had very few rookies. Football is off to a good start. Although I sell a lot of various products, I tend to do better with boxes that have more packs for your money versus multiple hundred dollar boxes with a handful of cards inside.
JS – Your Facebook page is active with hits from the shop, event notifications, product releases, and photos. How important has social media become for you as a small business owner?
MM – I use both my Facebook page and my store website heavily. However, I use them more to draw people to my store than to get online orders. My focus is on my store and your experience here. I am happy to ship items but most of my sales are in store. I sell a little on eBay but I use that more for weird items or items that for some reason did not move in the store. My best inventory goes in my store, not on eBay or another online seller. I post new arrivals on Facebook and at my website to hopefully attract collectors to come to my store and see what else is available.
JS – Sports card shows were huge during the '80s and '90s and seem to be popping up more frequently today. How prevalent are card shows in your area in 2019 and how active are you in participating?
DJ – I have not sold at a card show for over 20 years. It is better for me to be at my store on a Saturday than somewhere else. It would be fun to go to one to promote the store and buy/trade but Saturdays are super busy at my store and I need to be there. Many customers have told me that my store feels like a card show. That makes me happy.
JS – What are some of the major positives within the hobby and industry right now? What are you hearing from your customers right now in regards to the industry? What do they really love seeing from a product or support standpoint?
DJ – I think the biggest positive for the hobby is the huge number of collectors returning to the hobby. I have seen a wave building for over five years now and it has crashed the shore big time now. While I wish the costs were not as high for new product, who can argue with the autographs, relics, beautiful inserts, and even creative glossy base cards that the hobby offers compared to what we were buying 30 years ago?
I am also encouraged that a lot of my customers are buying single cards in all prices ranges from all different years. That shows me that the new hobby base of collectors has a solid foundation of true card lovers, not just gamblers trying to pull a big dollar card from a pack. I think this is a sturdier rock to build the hobby on again. I hope costs on new products do not rise dramatically as that would kill the momentum.
JS – On the contrary, what are some areas you think could be modified to improve the customer experience? What type of feedback do you get from your customers in this area?
DJ – As far as improving the customer experience, redemptions continue to be frustrating to customers. I try to assist customers redeem these cards as many don't want to take the time to deal with it or don't have secure mailboxes. I would love to see a manufacturer step up with a fast track program where I can get quick service when I am helping a customer. I would also like to be given or have the opportunity to purchase swag for my customer similar to promotional items given out on Panini Black Friday or National Card Day. Some type of special packs or single cards that I can give out to my customers to add to their hobby store experience.
DJ's Sports Cards
Don Joss
(402)614-9702
1630 Duvall Ave. NE
Renton, WA 98059
Hours
Monday–Friday: 11AM-7PM
Saturday: 10AM-6PM
Sunday: Closed
Facebook: DJ's Sportscards
Website: DJsSportsCards.com