Local Card Shop of the Week: Diamond King Sports Cards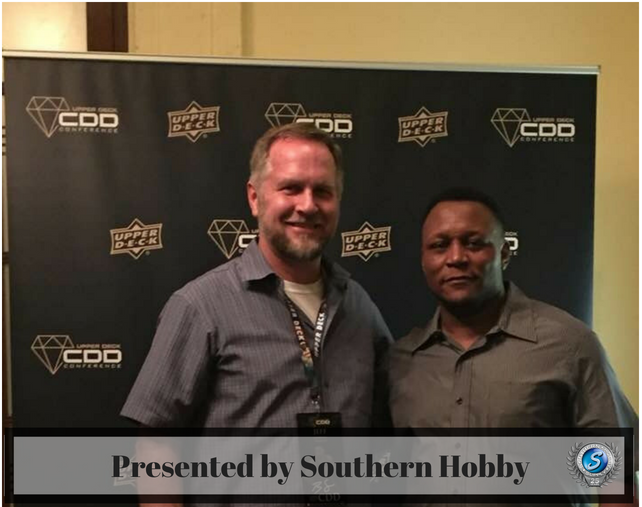 The Baseball Card Industry was in the middle of an explosion in 1991, during what many collectors affectionately call the "Junk Wax Era." As a kid, I remember card shops littered throughout town and card shows were held weekly. With the Baseball Strike in '94 and the massive production of baseball cards becoming evident, the industry gobbled up many of the shops that were havens for collectors. But some of those late 80's and early 90's shops are still thriving and enjoying the resurgence of the Hobby. One such shop is Diamond King Sports Cards in Greenland, NH. The shop was established in 1991 by Jeff Lisbon and he remains a destination shop for collectors in his area. I recently caught up with Jeff to discuss his shop, how he has remained successful for 27 years and where he sees the Hobby going in the next few.
Local Card Shop of the Week is brought to you by Southern Hobby, who has been serving the collecting community for nearly 30 years.
JS – Thanks for taking the time to speak with me Jeff. Can you tell us how you got started in the sports card business?
JL – I always thought I wanted to be in business since I was a kid. I always pictured a small corner store in the community. When I got out of the service and was back at college, I was watching tables at a flea market and dabbling a little in cards at that time. One of the guys at the Flea Market asked if I would watch one of his tables and he would pay me a little for it and I asked him if I could start putting some of my own stuff out. The stuff I put out expanded and got a little further and further. I realized I was really enjoying the Hobby at that point and I had a couple of people approach me about opening a kiosk in the mall where I would be the onsite manager.
From the mall kiosk, we found an actual store location in the mall to open up. That's where we started. I've been a collector all my life. I really enjoyed collecting with my cousins growing up. I used to spend summers in New Jersey with them. I was born in San Antonio but we moved around a good bit because my father was in the service. Each time we moved, I trimmed the collection a little. I would say that I first started collecting in the late 70's. I had been doing cards in the flea market and kiosk a couple of years before opening the full store in 1991.
JS – When you opened your shop back in 1991, we were right in the middle of the "Junk Wax Era". A lot of card shops did not survive over the last 30 years. You have certainly had to innovate and adapt with the Hobby through some pretty serious highs and lows. Can you tell us a little about your evolution as a shop owner?
JL – As you know, in 1991, everybody who could put a table up in their garage after work was considered a dealer or hobby shop of some kind. There were lots of possibilities back then. I always felt so lucky to be doing something that I loved so much. The perfect job is really the job that you don't dread going to every day. When I started, I always wanted to stay true to sports card collecting. I avoided getting sucked into the Pog era or the Beanie Baby era. I was always told that I could make so much money doing those things but while making money was important, I thought it was more important to build a feeling of community by getting a group of people together that shared the same interests that I could consistently do business with.
I tried to gather every card from every set that someone might be trying to build. I've always done that. I know that set collecting has certainly dropped off nationally quite a bit but we still do a ton of set building for people. We have people make special trips from good distances away to build sets.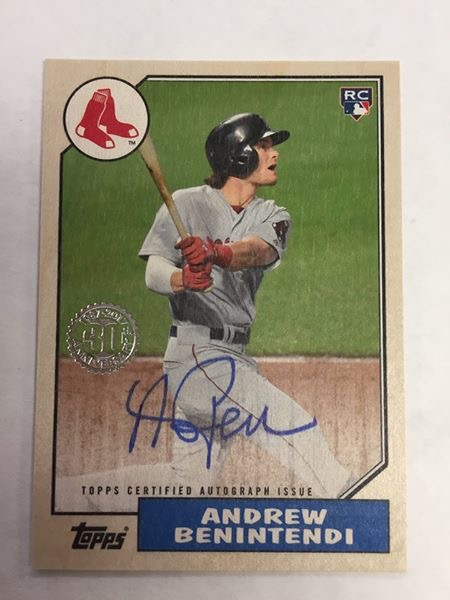 JS – What are some of the key differences you see in collecting today vs. when you opened back in 1991?
JL – I think the advent of the autographs and game used pieces in packs is a big difference. I think that in the beginning, people had a little resistance to that because it was almost sacrilege to take a piece of memorabilia and cut it into a bunch of different pieces. My thoughts were that the piece was already owned by one person and that would give a chance for a lot of people to possibly own a piece of that history. Each of the trends we have experienced over the years has sort of gone to an extreme but the companies have found a way to pull back and find a happy medium for the customers in my opinion.
The problem with the Junk Wax Era is comparable to stamp collecting. With stamp collecting, when you had something to chase, it was great. But until they created another stamp, there wasn't much you could really do. You could flip through and look at it again but the puzzle was complete. With new products now, there are a lot of pieces to the puzzle with inserts, parallels and variations; it gives collectors a lot of opportunity to find value in their collection.
JS – Can you tell us more about the "Giveaway for Kids" that is advertised on your website? Are there any other in store promotions you want to share?
JL – A number of years ago, Topps had a promotion where if "you work hard, you get cards" and they were doing little inserts in packs that were helping promote the brick and mortar stores. They were offering some ways to help get us get started with collectors. The intent wasn't to give us unlimited giveaways but to give us somewhat of a template to work with. I saw that as an opportunity to connect with the community so we started that in our store. Any kid who wants to bring in a report card and they are proud enough to show me, they get a gift for that.
My wife is a teacher and one thing that I thought was important was to not simply focus on A's and B's or that sort of thing. For some kids, a B or C may be a huge success and for another it may be a disappointment. So I wanted the program to be about them working hard and being proud of what they accomplish. I've heard a lot of people say that there are no young collectors left in the Hobby. Come to my shop and you will see otherwise. For a number of reasons: you do a report card program, fill boxes by sport (no duplicates, include stars) and sell those for about $20 and you are allowing kids to get quality and quantity for a price that the parents can afford for kids.
JS – Taking a minute away from the cards, I also saw "Callie" on your Facebook page. You have to tell us about her! 
JL – Callie is the second dog that we have adopted. We have a 9 ½ year old, three legged rescue that is a combination of shepherd, chow, and golden retriever. Her tail looks like a big Swiffer duster. She came to us with three legs because she was found tangled in fishing line. She has gotten along in years and is a fantastic dog that is very loving. We decided that it was time for her to have a companion and also time for her to show the ropes to a new addition of the family. Callie is a "bogle": a boxer/beagle mix. She is 6 months old now and they have come to appreciate each other over time.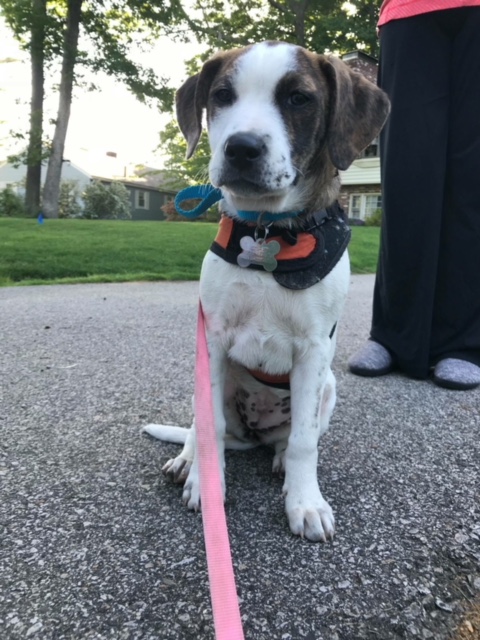 JS – New Hampshire doesn't have any major sports teams in the "Big 4" but you are just up the East Coast from Boston. What would you say your customer base is made up of when it comes to favorite sports and teams?
JL – I think we are really lucky with our location. We are almost on our own little island in a way. We are about an hour from Boston and the greater majority of our collector base in all New England. This is a crazy analogy but it is sort of like the game of "Risk." One of the flaws I thought was that if you got one of the islands down by Siam, you could wait out the game and win due to not much competition around you. It's a crazy analogy, I know, but it is a little like that. We are up in New England and have been so fortunate in that regard that all of the teams have been successful. There are plenty of us that have different teams we support but we are predominantly New England.
JS – Who would you rank as the top 5 collected athletes for your store over the last 30 years?
JL – It would be hard to argue Michael Jordan's impact on the business. Even though we are quite a ways from Chicago, his cards still sell extremely well. Locally, the guy is easily Tom Brady. He is an easy one in our area. There is also Mike Trout. For us, it may not always be a specific player but just Red Sox in general; David Ortiz was a big guy I collected but along the way, many of the players have been highly collectible. Ted Williams comes to mind as well. Red Sox fans embrace their players very, very much. We are also situated in a part of the country that lends itself to card collecting when we are trying to get out of the cold in the winter time. We have seen plenty along the way, for example Ken Griffey Jr. was like something we had never seen before.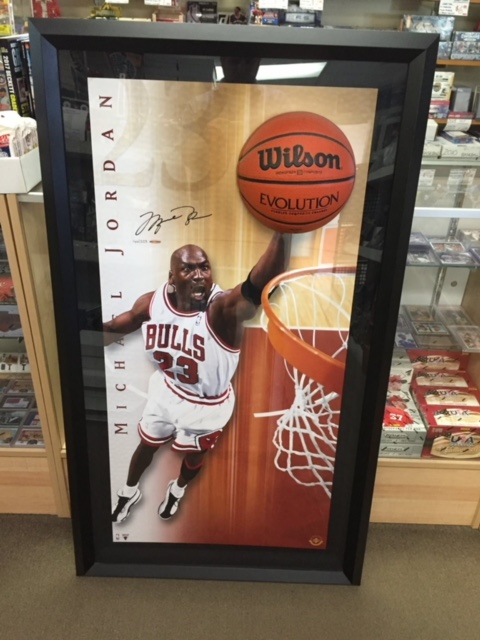 JS – What has been the most popular product in the store in 2018? What product are you most looking forward to this year that hasn't been released yet? 
JL – I would say that Bowman was a little like Willy Wonka's chocolate factory where collectors were looking for the golden ticket. I don't know that it was all about people loving Bowman, but the thrill of the chase was what pushed it this year. As for a product that I was looking forward to, it was just released: Stadium Club. I have always loved the real photography and everything about Stadium Club. The Mookie Betts specifically (going back to make the catch) could've been Mickey Mantle, Willie Mays or Mookie Betts. The photography is so timeless. The photography in that set is always a good view of what is possible in cards. Other products are about the hits but Stadium Club is about the photography.
JS – Let's cover hockey for a moment. Hockey doesn't get as much publicity in the Hobby as other sports but your geographic location lends itself to Hockey being more accessible. How well does hockey do in your store? 
JL – I think Hockey is supported overall, the best of the sports I have in the shop. What I mean by that is, we don't have leftover product when it releases. It seems like they have just the right amount of choices and Upper Deck puts their best foot forward. I find Upper Deck to be the most user-friendly and seems to care the most about the collecting world, in my opinion. With the addition of all the big young players in the sport and our location, it is a big seller for us. It sells most of the year round. It doesn't sell as much as it does in Canada but it occupies about 25% (about the same as basketball) of my store. From a business standpoint, Hockey is one of the best. It feels like Hockey is a bit more of a blue collar sport and a lot of the players are very relatable and we like that a lot.
JS – Can you us about any memorabilia that has come through your shop over the years?
 JL – There is an interesting story with a piece of memorabilia that came through here. I had JSA come in to do certification and we had a lady bring in an old Yankees baseball that had been signed. Her grandmother was the "dentist traveling assistant" for the team. They had a dentist traveling with the team! She even helped prepare meals for the players so it was almost like having a team mom on the trip. She brought in this baseball that was signed by Ruth, DiMaggio, and so many others over the years. When I saw that, the hair on the back of my neck stood up.
I was also fortunate enough to have a gentleman come in who had a family friend that ended up with different autographs and one of them was Jackie Robinson and his wife, attending a nice event. It was signed by Jackie Robinson. We have that in the store and it is authenticated. I always look for stuff that I've never seen before. Sometimes I just buy it without even knowing its function but I just have to have it.
JS – What have been some of the bigger hits for your customers over the years? Any big successes you'd like to share? 
JL – We have had a tremendous amount of luck in the store over the years. One that stands out for me is from the early 2000's when they had the SP Legendary Cuts product. A good friend of mine, who has since passed, came down and bought 4 boxes of the product on the eve of a big blizzard figuring he would have something to do while he was home. He called me after he opened the first pack and discovered that he had hit a Roberto Clemente 1/1 Cut Autograph. It was phenomenal! He was left pondering, "What do I do now", as he knew that nothing else in the four boxes would compare to his first pack. I told him, "Look at it this way, you are playing on house money. Go ahead and open and enjoy the other stuff as if you hadn't pulled the Clemente and see how you do." He called back an hour later to tell me that he hit a Ted Williams cut autograph. It was incredible. All the other stuff that was "pretty good" just paled in comparison to his hits. I think he sold the Clemente to a private collector out of New York for about $15,000. You probably wouldn't get that today because so much more is available on the market. He got about $1500 for the Ted Williams.
I don't open much but I have had some good luck as well. I open on occasion and I was telling someone the other day that whenever there is a family event or need, it seems my lucky charm or karma pays a visit and I'll get some nice hits. Before my son was born, I was doing pack wars with a friend for Playoff football and they had the coupons inside where you could spend $XX in the store and we would send those in to Playoff to be redeemed. I pulled a $2,500 coupon from the pack so that was a big hit. I also got a 1/1 Michael Jordan insert. I have had a couple along the way but I do more collecting than opening.
JS – What have been some of the biggest changes you've seen from a product perspective since you started collecting? Sets used to be pretty straightforward with basic player checklists and no frills. What are some things you have seen over time that you never thought we would have in the Hobby? 
JL – I think there is some good and bad in this. I refer to some of the one-hit wonder products that are more of a straight gamble than collecting. While I think some of that is necessary, I also find that to be lazy sometimes. When you start minimizing it to just hits and forget that there are actual cards involved, it reminds me of another analogy. Imagine the Hobby is an elephant. It has to be worth more than just the tusks. At times, the companies are selling just the tusks. I'd love to see them realize that there are still a lot of card collectors that enjoy the cards that offset the hits.
My worry when it comes to breakers is that they get products and rip them before the customers can get to the brick and mortar shops to buy. The problem with that is when the product gets ripped, and it is a dog, we are still getting it. So they haves already previewed the fact that it is a terrible product. The breakers already have it sold before it is ripped and when they rip through it, it is done. A lot of them don't even send all of the cards you hit. They just send the "tusks".
JS – What do you think is going really well within the Hobby right now? The industry now has to cater to brick and mortar, online, breakers, and other aspects of the hobby. What are the card companies really doing well at the moment? 
JL – We have really had the perfect storm over the last few years because there have been some tremendous young players in each of the sports. There have been some tremendous young players in each of the product lines. It has been interesting to see people ripping packs again to look for hot rookies, which had sort of fallen off for a bit. We just weren't having that class of player entering the Hobby for a while. That's really not a product thing as much as it is good fortune.
As for product, when companies do a product like Stadium Club, collectors say, "Wow, I'm not gambling today. I am just getting a really nice product that has the possibility of some investment as well." Instead of selling the idea the industry sold in the 90's that "collectible meant valuable," which that wasn't the case, we are now selling that collectibles may turn valuable because they have lowered production, increased quality and are diversified. Some people get frustrated with numbered cards and parallels. While I understand that side of it, I also think it is a great way to add value for a small cost to the industry.
JS – On the contrary, what are some of the things you hear most from your customers that they would like to see done differently? What are some of the biggest headaches for collectors in your opinion?
JL – I understand the redemption issue and that is part of the issues for customers. To me, that is only a part of the issue. For me, I think it is getting back to the fundamentals and actually providing real customer service. My biggest frustration is that companies don't reach out to some of the veterans in the hobby and lean on us to be the go-between from manufacturer to the hobby shop. We need to get away from the "us vs. them" that has been created. Everyone is so doubting of each other. I have a good established community of card collectors and for years (with Fleer), I would address issues with damage, etc., and Fleer would replace or reimburse for additional cards that the shop replaced for customers. They would send us cards to giveaway as promotions.
Breaking down the "us vs. them" and getting back to showing you care about the customers is important. I have offered that model to the powers-that-be on multiple occasions and while they think it is a great idea, they haven't necessarily followed through. I wish the companies had representatives that kept in touch with us once in a while and listened to our feedback instead of battling us. We are in the firing line every day and we get to see what customers like and don't like. I do everything that I can to take care of my customers. I would just love for there to be a bridge there.
JS – In closing, and with your 27 years experience in mind, if you could give one piece of advice to a current or potential shop owner, what would it be? 
JL – For me, it is "love what you do and build the community". I love the fact that I get to do what I so enjoy every day. I have made great lifelong friendships through the store and outside the store as a result of it. Stay the course and don't feel like you have to make a mint with every product that releases. Also, try to remain realistic and change with the Hobby as you see it change.
Diamond King Sports Cards
Jeff Lisbon
1 Bayside Road, Suite 114
Greenland NH
603-431-8311
Dksports22@comcast.net
Hours of Operation
Sunday – 11AM:4PM
Monday – 11AM:6PM
Tuesday – Closed
Wednesday – Friday – 11AM-6PM
Saturday – 10AM:4PM
Facebook – Diamond King Sports Cards
Website – www.diamondkingsportscards.net