Local Card Shop of the Week: Colorado Sport Cards (Arvada, CO)
Shawn Johnson began collecting sports cards in 1986. His selling within the industry picked up when eBay became popular. Sports cards shifted from hobby to both hobby and source of income so Shawn decided to open his own card shop in 2017. I recently caught up with Shawn to discuss Colorado Sports Cards and get his thought on the state of the industry.
Local Card Shop of the Week is brought to you by Southern Hobby, who has been serving the collecting community for nearly 30 years.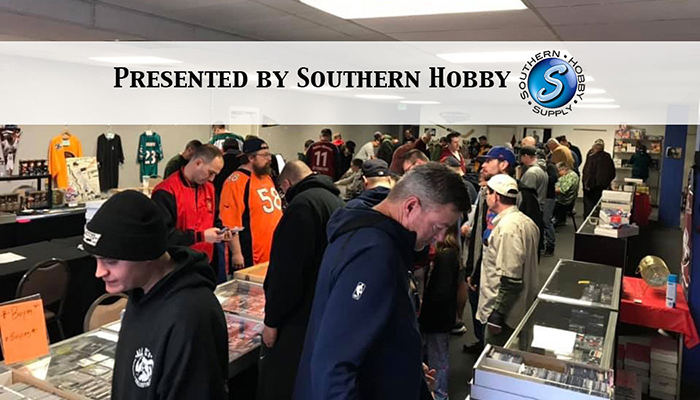 JOEY SHIVER – You began collecting in 1986, right when the hobby was getting ready to explode, so you have experienced a lot of card collecting over the years. What led you to a career in the sports card business and opening your store in 2017?
SHAWN JOHNSON – It was always a dream of mine to open up a card shop. I started selling on eBay in 1997, and was an on again off again Beckett Marketplace dealer from 2002-2017. Since 2011, sports cards have been my only source of income. I scouted locations in the Denver Metro area and noticed that there hasn't been a dedicated sports card shop in North Denver since 2005 or so. The area and the hobby needed a location and we hopefully fill that need for collectors.
JS – Can you tell us a little about your store? Can you talk about your setup and what type of inventory you carry? Also, what services do you provide?
SJ – We have consignment cases and tables, monthly card shows and, of course, wax boxes. The most frustrating part as a consumer, touring the U.S. over the past eight years, is that I would go into a card shop year after year and the inventory in the display case remained the same. When we (my business partner and I) talked about opening a shop, we wanted to have a shop that would eliminate much of the "stale" inventory that you see in other shops. In just 18 months, we have become home to Colorado's largest monthly card show (partners with Denver Card Shows), with over 30 tables on the first Saturday of each month. We have over 3000 square feet of retail space with a back room that houses over six million single cards, which will one day be available on ColoradoSportsCards.com. Want lists are welcome, but I do not allow people to look through the boxes due to the way they are organized.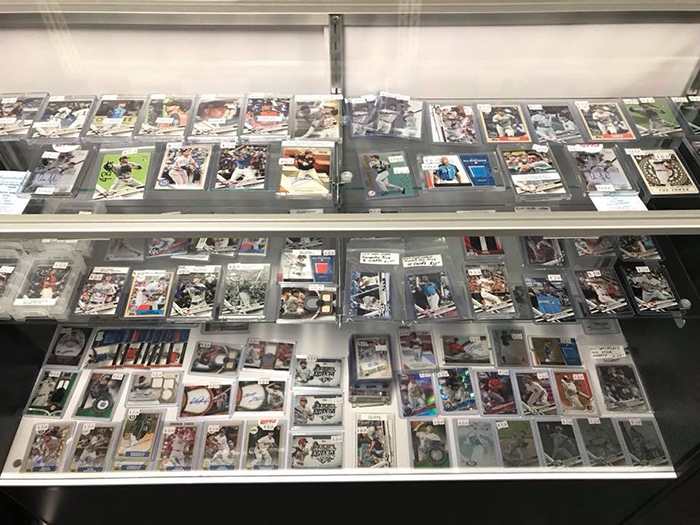 JS – Arvada is a suburb of Denver, located just to the northwest of the city. Of course, Denver is the home of the Rockies, Broncos, Avalanche and Nuggets. When it comes to sports card collecting, what would you say the make-up of your customer base at the shop is? When it comes to the "Home Team," what is most prevalent in your area?
SJ – Broncos are king here. That being said, the deep playoff runs that the Avalanche and Nuggets have gone on this season have helped with those single sales. If I had to rate it from my shop it is Broncos, Rockies and then the two Pepsi Centre tenants.
JS – Let's talk about players for a moment. Denver is loaded with great players in all sports, including one of the greatest QB's in the history of the league. Who would you say is on the "Mount Rushmore" of players in your area?
SJ – John Elway, Todd Helton (should be Larry Walker), Joe Sakic, and Peter Forsberg. In the future, I could see adding a Nikola Jokic to it, if we are allowed to have five.
JS – As it relates to particular products, what performed very well in 2018 and what made those products so popular?
SJ – Even though this shop is close to completing its second year, I am still being heavily allocated on products. Good and bad news about that is that it sells out quickly (usually a one week shelf life span), but I can't restock at the new prices from distributors. There is a shop called Mike's Stadium Sports Cards in Aurora who has way more wax than I do. Once I run through my initial allocation, I tell customers that it will be cheaper for them to drive the two hours to his shop than buy it from me at the restocked price.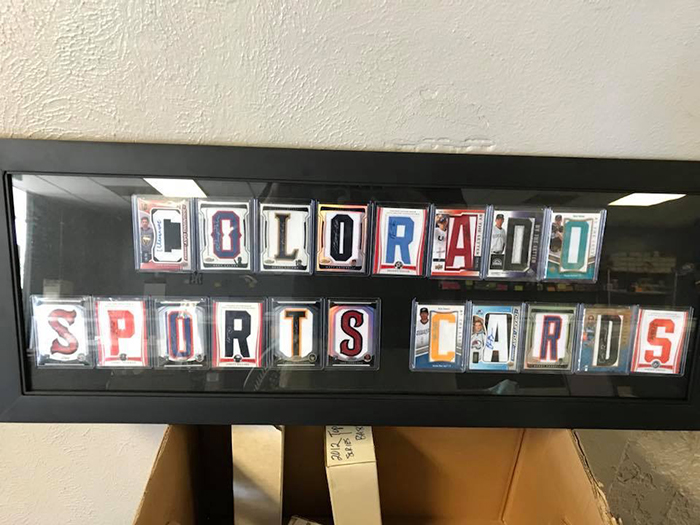 JS – Are there any products that are on the release calendar you are really looking forward to in the next few months?
SJ – All products do well here, but the ones I am really looking forward to are the products that are built for the collector, not just the investor. Unfortunately those are really only produced at the beginning of that sports respective season. I am looking forward to 2019-20 OPC, MVP, and Upper Deck Series 1 for hockey, especially with the addition of the Avalanche top prospect Cale Makar.
JS – Your FaceBook page and other social media pages stay very up to date with event notifications, open/close updates, and product releases and photos. How important has social media become for you as a small business owner?
SJ – When I first started the shop, it was my intention to do the mailing lists and reach out that way. During the first few months, collecting emails was painful. When I asked why, almost every collector I reached out to said that they didn't want to be bombarded with email blasts every day whenever there was a new product or a trade night or a show. That is when I decided to just keep the Facebook page up to date. I focused on that and it has grown, we almost have 400 members on there right now and it has been a great free resource that literally takes five minutes to update when there is an event.
JS – You advertise some breaking activity on your social media pages as well. How much breaking have you incorporated into the business and how has it helped?
SJ – I have partnered with two long-time collectors to help with the breaking. I am trying to use breaking as a way to increase future allocation from distributors. It is a great way to break higher end product that can sometimes stay longer on the shelves than I need it to. Our breaker page is "Dream Team Case Breakers."
JS – You have information about upcoming shows you will be attending on your site. How prevalent are shows in your area in today's market? How important do you find card shows to be in keeping some of the roots of the hobby?
SJ – Five years ago, there was one monthly show. Now there are three shows a month in Colorado. The collectors have responded well to it. It is not uncommon for us to see over 150 people come through the shop on a show day. When I started this shop, I wanted it to be a community. And with the help of people in this hobby it has become that.
JS – The way we collect has changed a lot since you joined the hobby over 30 years ago. What are some of the features of collecting you miss the most from when you started?
SJ – Where do I begin? First off, there is a lot more investing than collecting. There are fewer and fewer kids in the hobby than when I was growing up. Set collecting is almost a thing of the past. Player collectors are having to modify what they view as complete in their eyes. I collect Craig Anderson, and after his playing days are over, I don't think I will start another player collection. I try to be a completest and with the proliferation of one-of-ones, it would drive me mad trying to start a new player PC. Too many releases and sets inside those releases.
JS – What are some of the major positives within the hobby and industry right now? What are you hearing from your customers right now in regards to the industry? What do they really love seeing from a product or support standpoint?
SJ – Wax boxes hardly sit for more than a month now. If you walk into an established shop you will most likely find a variety of wax boxes from the late '90s to early 2010s. That doesn't seem to happen anymore. The oldest product I currently have on my shelf is a 2013 Panini USA Stars and Stripes factory set, and the only reason I have that is because I bought it as part of a closeout. There are still people in this industry that operate as if you can't talk about another shop in an area. I find that comical since information is out there. We openly promote other shows and shops in this area since we are all in this together. Some people feel this way, others don't. I can't change hearts and minds, I can just try to stay true to the belief systems I have for this industry.
JS – Are there any in-store events you can tell us about? Have you had any autograph signings, trade nights, or gaming events? Is there anything upcoming?
SJ – We have a monthly card show the first Saturday of each month (with the exception of August when almost all of the dealers are at the National). Starting in June, we will have a trade night every Wednesday night, not just every other Wednesday. We had current, and hopefully future, UFC Female Strawweight Champion Rose Namajunas in for an autograph signing two months before she defended her title. She was our first signer, but hopefully won't be the last signer we have. Just keep checking our Facebook page.
Colorado Sports Cards
Shawn Johnson
(720)583-0366
9102 W 88th Ave
Arvada, CO 80005
Hours
Wednesday-Saturday: 9 AM to 7 PM
Sunday-Tuesday: Closed
Facebook: Colorado Sports Cards