Local Card Shop of the Week: Card Collector 2 (Grove City, OH)
Ryan Johnson entered the trading card world through Pokemon when he was a kid. His passion for trading cards was found early and he would later expand that to sports cards. He has become a prolific collector on social media over the last few years and now he has his very own store front. I recently caught up with Ryan to discuss how he got his shop up and running and what his plans are now that he is a formal business owner.
Local Card Shop of the Week is brought to you by Southern Hobby, who has been serving the collecting community for nearly 30 years.
JOEY SHIVER – Thanks for taking the time to talk with us, Ryan. Can you tell us a little about your collecting background and what led you to purchasing a card shop this year?
RYAN JOHNSON – I actually have wanted to own a store since I was a kid. I started collecting with Pokemon in the late '90s, when I was like 7 or 8. That quickly transitioned to sports cards and I've been hooked since. It's been mostly football over the years, but have dabbled in almost every sport, as well as Pokemon again, and then memorabilia.
When the opportunity came around to buy the store, it seemed like the right opportunity. Like I said, I always wanted to own a card store, but I certainly didn't expect it to happen so soon. The opportunity presented itself and just made too much sense to go forward with.
JS – Can you tell us a little about your store? Can you talk about your setup and what type of inventory you carry? Also, what services do you provide?
RJ – Great question. My goal is to carry as much stuff as possible, being super diverse. I've collected for 15 years and have accumulated a lot of inventory. I will have a wide variety of singles, as well as plenty of modern-day hobby boxes and supplies, along with other odds and ends. As of now, it's buying, selling, and trading. However, I am going to be expanding that pretty quickly.
Before I bought the store, I was running my business full-time through social media. I amassed 15,000-plus followers on Instagram, and was running box breaks, grading card submissions, etc. through there. I plan to bring that into the store as well, but want customers to feel comfortable with me before I start offering services like that. I still plan to do a lot of online stuff, like eBay and social media stuff (breaks/grading), but with so much going on in the shop, I'm trying to get situated there before I expand into that.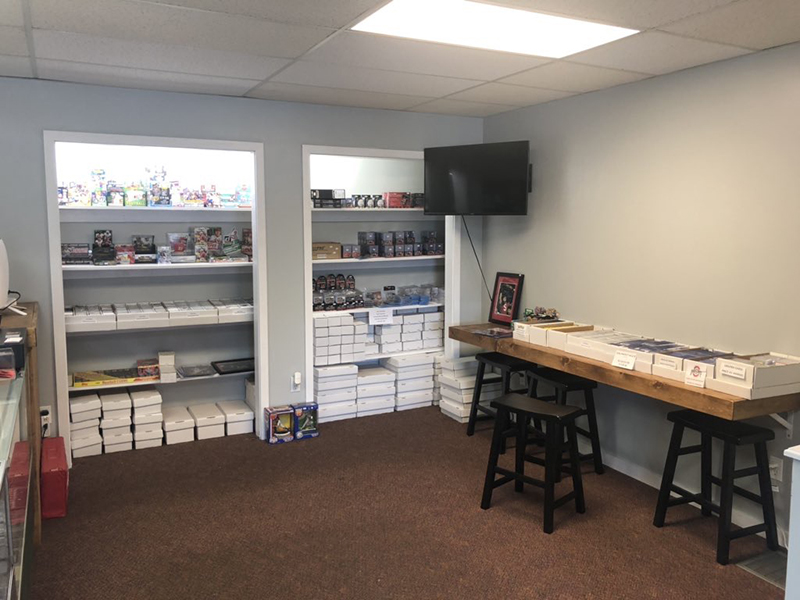 JS – Your store is located just outside of Columbus and you are also an OSU Alum, so I would imagine there is a heavy focus on the Buckeyes in your area. When it comes to sports card collecting, what would you say the make-up of your customer base at the shop is? When it comes to the home team, what is most prevalent in your area?
RJ – By far, Ohio State. Now, to be fair, I don't have a huge selection of other teams that are local or at least close by, but the Buckeye stuff sells daily. Being that I was an avid Ohio State fan, I had more than enough inventory to line my showcases with from day one, and these have definitely started to sell. Reds and Indians have sold well too, as well as Browns stuff. But for sure, the Buckeyes are the number one focus currently.
JS –You are pretty active on Twitter and Facebook with your shop. What level of importance do you place on social media while trying to become a successful small business owner?
RJ -A lot! When you start a business, the key is to let potential customers know you have that business. If you start from scratch, that is nearly impossible. You're paying for social media advertising, local ads in radio or newspaper, or print media. Instead, I've been fortunate enough to build my online presence for the past few years. So when I announced I have a store, literally thousands of people saw it. The first few weeks, I had nearly 50 people come in that said they followed me on social media. It's so, so helpful to have that online presence for buying inventory, announcing promotions or events, etc.
JS – Can you tell us about local shows in your area? Do you plan on participating in shows, locally or nationally, with your shop?
RJ -Shows in Columbus are not what they are nationally, at least what I've heard from friends in cities on the east coast. There are only two real show options in Columbus. One is monthly (20-25 tables) and one is quarterly (75-100 tables). I've always gone to them as a buyer, and will continue to do so. I could see myself setting up at those in the future, but setting up at shows hasn't been my thing in the past, so I'm curious to see if it's more advantageous now that I have a storefront.
Typically, I've found I've had better luck buying than setting up for a few hours to sell. Also, since I open at noon, I'd have to leave before the show is even close to over, so another reason to really consider setting up. The National is my favorite, though. This will be my tenth year in a row attending, and it's absolutely the best. Seriously, could not be more excited for that event every year. Meeting all the people from social media at that show is great. I cannot emphasize enough how amazing that event is, year in and year out.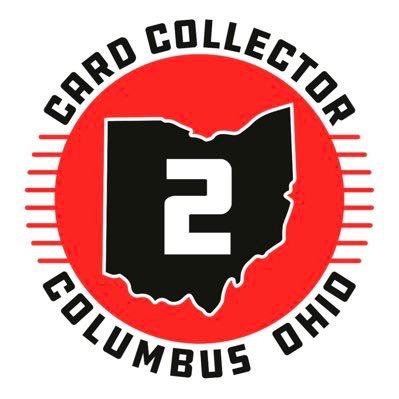 JS – What are some of the major positives within the hobby and industry right now? What are you hearing from your customers right now in regards to the industry? What do they really love seeing from a product or support standpoint?
RJ – The hobby is definitely on the up right now. I definitely think the industry is going to continue to get some cultural attention, with guys like Gary Vee behind it. I think the next few years for cards are going to continue to grow and become bigger than it already is. Customers have had similar thoughts too, and one thing I hear from them a lot is the different options for boxes. Literally hobby boxes from $35 all the way up to $1,500-plus.
JS – On the contrary, what are some areas you think could be modified to improve the customer experience? What type of feedback do you get from your customers in this area?
RJ – I definitely hear, and personally believe, the license exclusivity is the biggest downside to the industry now. I think if each company had access to produce licensed cards, that would be huge. It would create better products with more thought and effort into them. There are some great products out there and these companies really have improved a lot over the last few years in terms of customer service, product design and product offerings. But with the lack of companies with these licenses, it's only prohibiting more competition to become even better from the company perspective.
JS – What have been some of the main challenges with getting the store open and operating on a daily basis? Is there any advice you'd like to give others that may be thinking about jumping into shop ownership?
RJ – Two things have really stood out to me. It's extremely capital intensive and it takes ten times more time than you think it does. I've worked at other card stores before and know that one of the bigger sources of income in the shop is wax. Boxes are what most customers want. In order to have product, you have to buy it and have a variety of offerings. That typically requires money up front to purchase it. Then, with multiple sports and non sport products coming out weekly, you're ordering every week. You definitely don't keep any of the money you're making early. All of your money goes into purchasing wax, singles and supplies. Plus, with bills and money to buy cards or items that walk in the store, that's more money. Capital is key and the number one necessity when starting a shop.
The other necessity is time. I have a little bit of a commute, so leaving early each day to make it in time, and then the drive home. I'm gone a minimum of nine hours a day with driving and working the shop. I'll work on processing inventory, placing orders, running my social media page (with 40-50+ direct messages a day), etc. That doesn't include any of my normal responsibilities like day-to-day stuff around the house, hanging out with my wife, errands, etc. I definitely do not mean it as a complaint, as I genuinely love being busy and feeling productive. But it definitely surprised me early on, on just how busy it was. Even my off days are filled with work or stuff to do, as there's only one day off.
I have been lucky enough to have a friend, who I actually met through Instagram who will come in and help sort cards, or put together cardboard boxes, or other random stuff a few days a week. This has been extremely helpful and has allowed me to really get a lot done. My wife has also been a huge help too. It definitely takes a team to run a card store.
JS – Are there any upcoming events you can tell us about? Will you be having any autograph signings, trade nights, or gaming events?
RJ – Like I've mentioned before, I've been to the National for nine straight years and have a large social media following. Actually, a friend of mine created this event a few years back that I have essentially taken over at the National, and it's called Trade Night. It was created originally as a place where Instagram card collectors could come hang out, free of charge, and meet/trade with the people they interact with on a daily basis.
When my friend was unable to run it, I took over and expanded it. I've worked with companies in the past year on sponsorship opportunities to donate prizes and cards to this event, where participants who come can be entered into drawings and win prizes. Last year, we had over $5,000 in giveaways, and it was a huge success.
This year, the event will take place at the Hyatt Regency O'Hare from 6PM-10PM on Thursday, August 1. It is free to get in, and there will plenty of fellow card collectors hanging out. I encourage any and all to come and have a good time. There is a video on YouTube I created discussing the event, and I post updates on my Instagram page as well. I hope to see many of you there!
Card Collector 2 Sports Cards
Ryan Johnson
(614) 991-0352
4026 Broadway
Grove City, Ohio
Hours
Tuesday-Friday: 12PM-7PM
Saturday-Sunday: 12PM-5PM
Monday: Closed
Facebook: Card Collector 2 Sports Cards
Twitter: @Cardcollector2
Instagram: @CardCollector2
YouTube: CardCollector2