Local Card Shop of the Week: Burks Sports Cards (Decatur, IL)
Eric Burks has been collecting since he was 12-years old. Though he went into a career in education, the love for cards never left. In 2016, he decided to join the sports card shop world and he's not looking back. I recently caught up with Eric to discuss how his new venture is going.
Local Card Shop of the Week is brought to you by Southern Hobby, who has been serving the collecting community for nearly 30 years.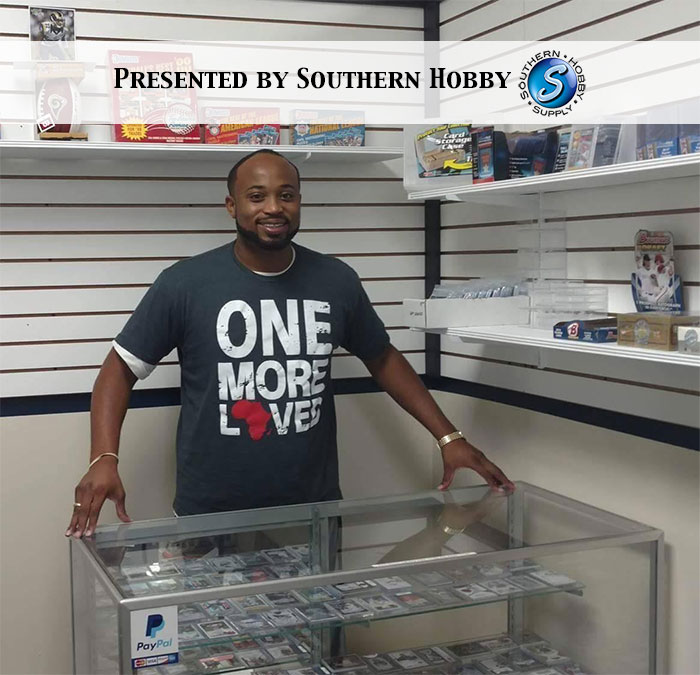 JOEY SHIVER – Thanks for taking the time to talk with us, Eric. You began collecting when you were just 12-years old so you have a lot of experience in the hobby. Can you tell us what led to your decision to become a card shop owner in 2016?
ERIC BURKS – I used to be a teacher for Decatur Public Schools from 2008 until the end of the 2015-16 school year. At the time, I was doing cards on the side and it was always something I enjoyed to do. At the end of the school year, with the guidance from my wife as well, I wondered if I opened up a card shop during the summer while I wasn't teaching, would it go well? I loved teaching but I couldn't stay away from the cards. It was my true calling.
JS – Can you tell us a little about your store? Can you talk about your setup and what type of inventory you carry? Also, what services do you provide?
EB – My store is in the heart of Decatur, about three blocks west of the downtown area. We have showcases to display mid- to higher-end cards as well as the trending cards in the hobby. We also have a lot of boxes ranging from $0.05 all the way to $40 dollars and up for those that like to dig for the deals. We have current wax, supplies, and a growing selection of memorabilia as well. We buy, sell and trade all the time. We also provide a grading service for our customers along with the shops inventory to BGS and PSA. We also have a huge online presence with our customers to be able to provide the best service to them if they can't come to the shop physically.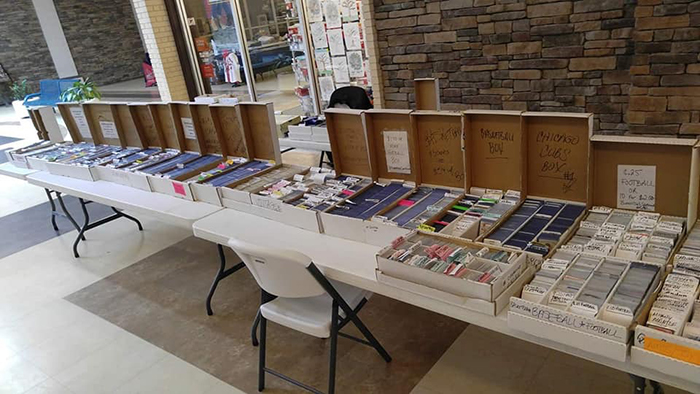 JS – Can you talk a little about the role social media plays in your marketing and success?
EB – It plays a huge role in our success because we are able to post upcoming events, cards and collections we have acquired, pulls that customers make from wax, important announcements, and we're able to market different products and services for those that can't come locally to the shop. With the ever-changing hobby, the days of just relying on walk-ins are a thing of the past. You have to create multiple outlets within the business in order to keep people engaged in the business so that they are as up-to-date as possible with all the great things we have to offer. On Facebook for example, we have a BIN/OBO page and a weekly auction page. Our online business has been vital to our growing business.
JS – You are located in Illinois but appear to be closer to St. Louis than Chicago. Can you talk a little about your local collectors and what teams and players they support most?
EB – We have a lot of customers that are St. Louis Cardinals fans as well as Chicago Cubs fans. I, myself, being a Cubs fan, we have a lot of fun all the time saying which team is better. We sell a lot of both teams so we have to make sure we are stocked up on the main guys all the time. Some of the main guys for the Cardinals that sell well are Yadier Molina, Harrison Bader, Paul DeJong and Marcell Ozuna. For the Cubs, Kris Bryant, Anthony Rizzo, Javier Baez, Kyle Schwarber, and Willson Contreras are all strong sales most of the time.
JS – Who would be the "Mount Rushmore" of players for you?
EB – Great question. I would have to say Michael Jordan, Mickey Mantle, Ken Griffey Jr.and Walter Payton.
JS – As it relates to particular products, what performed very well in 2018 and what made those products so popular?
EB – For Topps, it's definitely Bowman baseball products, Topps Update Series, Topps Heritage Minors, and Pro Debut. Everyone is chasing the next hot rookie or the 1st of a lot of the prospects coming up today. For Panini, the best product last year, in my opinion, was Chronicles Baseball. To have 15 different products in one, it had great variety and a lot of rookies, which people love. Also, the price point was very affordable and that is also a plus with box prices going up among certain products.
For football, Certified, Prizm, and Optic are always great collectors. In basketball, Prizm, Select, Optic, and Absolute Memorabilia come to mind. People love the multi-pack products and the chrome design along with the Silver Refractors, which has been the craze amongst collectors the last few years.
JS – Are there any products that are on the release calendar you are really looking forward to in the next few months?
EB – I would have to say Topps Update, Topps Heritage High Numbers Baseball, 2019-20 Contenders Draft Picks Basketball, which will hopefully be the start of the Zion craze), and 2019 National Treasures Collegiate Football.
JS – Do you plan to attend the National Sports Card Convention in Chicago this year? Any previous experiences you can talk about; or what you're looking forward to this year?
EB – Yes, I plan to attend. I'm originally from Chicago, so I try to go to as many big shows as I can especially when it's in my backyard. My previous experiences have been amazing because I'm able to put a name with a face that I've dealt with previously or for the first time and now we can continue to network in the future. I look forward to meeting more people that I've never dealt with online or met personally yet to continue building our network of clientele.
JS – Can you tell us about events you have in-store like trade nights, signings, etc? Also, how prevalent are card shows in your area in 2019?
EB – We are looking to have more trade nights this year for our customers so we can open up the collecting experience for them. A lot of times, it's hard for all of our customers to connect with others due to work schedule during the week, family events, etc. We have a monthly card show at the Decatur Conference Center & Hotel in Decatur, IL as well as a three-day Mattoon Mall Show every three to four months. We have postings on the show dates and flyers so that everyone can mark the calendars for the different events coming up.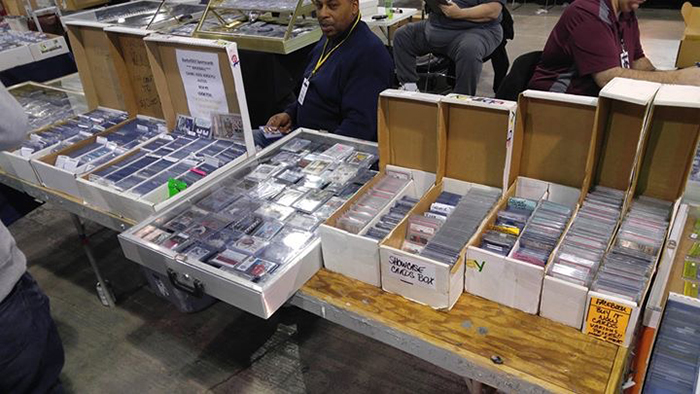 JS – What are some of the major positives within the hobby and industry right now? What are you hearing from your customers right now in regards to the industry? What do they really love seeing from a product or support standpoint?
EB – One of the main positives right now is that the Rookie Card is coming back into collecting. For a long time, it was all about the auto, or that sick patch to get from opening a pack. With the rising prices of base rookie cards of the top players in various sports, it's allowing younger kids to get back into it so that they can collect their favorite player for a few bucks rather than paying $50 or above for a rookie auto.
Another positive is a lot of the repackaged products. It gives the collector a chance to get higher-dollar cards at a fair price point to where collectors feel like they are getting their initial investment back, or more, within a product. Collectors love to not only see a beautiful card, but to also see value in what they are collecting. Since a lot of different products have value right now in the hobby, it's helping collectors that were strictly baseball crossover to take a chance at football, basketball, hockey, etc.
JS – On the contrary, what are some areas you think could be modified to improve the customer experience? What type of feedback do you get from your customers in this area?
EB – Customers definitely get frustrated sometimes if they are expecting a "hit" and get points instead. Some don't mind but others would rather receive a hit. Depending on the redemption, it's always a gamble as to whether sell it as is, or redeem it. Sometimes redemptions can take a week, others can take over a year to come back so finding a balance within that system would really ease a lot of customers minds on the matter. As far as licensing, a lot of collectors that collect Topps for instance in baseball, don't want to get Panini products because they have no logos even if they are great looking cards. In football, since Panini is the exclusive brand, a lot of collectors don't have that much of an issue because they know it's only Panini coming out with products.
JS – In closing, can you tell us about any sales or upcoming events you have scheduled for the next couple of months?
EB – We have different shows scheduled throughout the summer as well as Trade Nights coming for the shop. Follow us on Burks4263 Sportscards on Google, Facebook or Instagram for different updates to our events in the coming months.
Burks4263 Sports Cards
Eric Burks
P: (309) 824-8645
345 W Prairie Ave, Suite #2
Decatur, IL 62522
Hours
Monday-Friday: 12PM-5PM
Saturday: 12PM-3PM
Sunday: Closed
Facebook: Burks4263 Sports Cards
Instagram: @burks4263_sportscards