Local Card Shop of the Week: Breakaway Sports Cards
Chuck and Mathew Durka are brothers who decided to combine their skills and interests in running business and collecting sports cards to form Breakaway Sports Cards in Ontario, Canada. After spending most of their lives collecting cards, they chose to make the Hobby as their career in 2012. I recently caught up with Chuck to discuss the shop and how the market in Canada has been over the last few years.
Local Card Shop of the Week is brought to you by Southern Hobby, who has been serving the collecting community for nearly 30 years.
JS – Thanks for taking the time to talk with us Chuck. You have been in the Hobby for around 30 years. Can you tell us what led to opening a sports card store in 2013?
 CD – It was collaboration between my brother, Matthew, and I. Matt has always been the bigger collector between the two of us. Back in 2012, he started running hockey box breaks via eBay. At the time I was running a different business, but I saw the potential in what he was doing so I jumped on board. We worked together from home for about 6 months leading up to the winter of 2012. We were doing so many breaks at that point that it just made sense to take the next step and open up our own store.
JS – Hockey is a major sport in your area; and you opened right in the middle of the NHL Lockout. A lot of collectors are familiar with what happened in the baseball card market when the strike of '94 happened. How much did the strike in 2013 affect the hockey market? 
CD – Actually, the day after we signed the lease to our first store, the NHL lockout ended. We took that as a good sign. It was not until a few weeks later that we found out that the majority of the new 2012-13 rookies would not be in any of Upper Deck's or Panini's products that year. Not only that, each company would be limiting the amount of products that they would be producing for the rest of the year. That definitely took the wind out of our sails. Customers generally want the latest products, especially when it comes to group breaks.
Luckily for us, some of the products that were being produced at the time were very solid and ended up having legs. Upper Deck SP Game Used, Upper Deck SP Authentic, Panini Rookie Anthology, and Panini Prime all did very well for us. We also had some solid products from the previous year to dip into to help us along. The first 6-7 months we're still a bit rough, but knowing that the 2012-13 rookies would be combined with the 2013-14 rookies in all 13-14 hockey products was the light at the end of the tunnel. The 2013-14 double rookie class was our breakthrough year.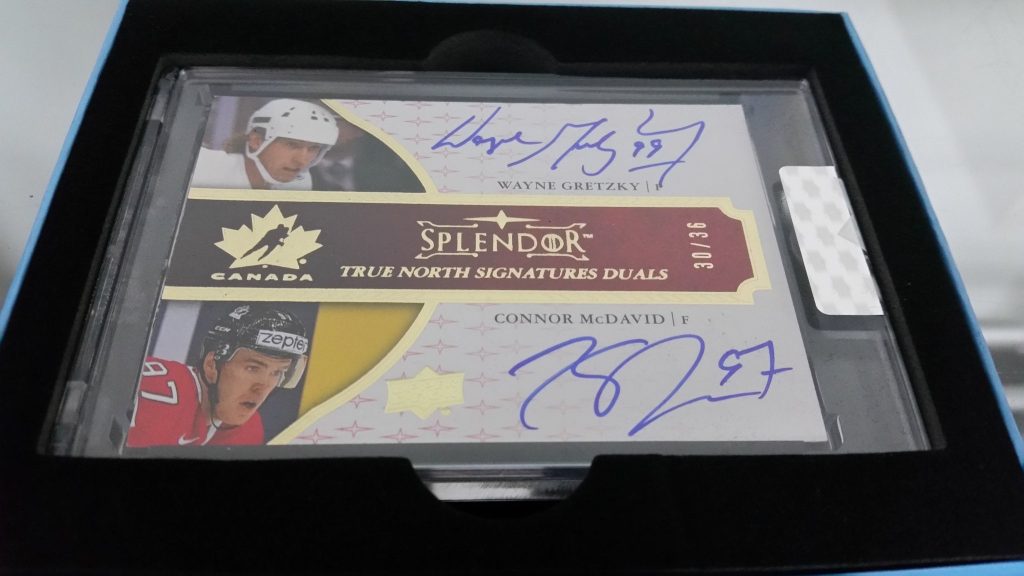 JS – How popular are baseball, football, and basketball in your area? Do fans generally pull for the Canadian professional teams or are the favorites all over the board?
CD – We have customers for all sports products here, but we sell more hockey than all other sports combined (and then some). Like any other collectors out there, it all depends on the rookie. With baseball for example, over the last 2 years we have seen major growth in sales mainly due to Aaron Judge and Shohei Ohtani. A lot of our hockey customers will dip into the other sports when there are solid rookies, just for the gamble.
JS – I have met a lot of collectors that are still big fans of the Montreal Expos of the past. Do you find many collectors looking for Expos cards or memorabilia in your store?
CD – Honestly, none at all. We don't do singles here. Sealed product only (packs, boxes and cases) so there aren't too many options for Expos fans anyways.
JS – I see some videos and discussion on your Facebook page about the sport and we don't get too many stores that sell a lot of Hockey products. I know that Upper Deck Series 1 just came out. Topps release day is almost a national holiday for baseball card collectors so I would imagine this release is similar for hockey fans. Can you tell us about the Series 1 Release Event?
CD – Series 1 is hands down the biggest product of the year for hockey collectors and it never disappoints. During the November release we see a huge increase in foot traffic in-store and a major increase in sales on our website. It is the one product I think every hockey collector collects. The demand was even higher this year due to the hype surrounding Elias Pettersson of the Vancouver Canucks. Release week is always crazy for us. We generally receive our shipment of Series 1 the day before it releases and we always have a mountain of pre-orders to pack up and ship out. That combined with more online orders coming through and the increase in foot traffic over the first few days makes things quite chaotic around here, but we always manage.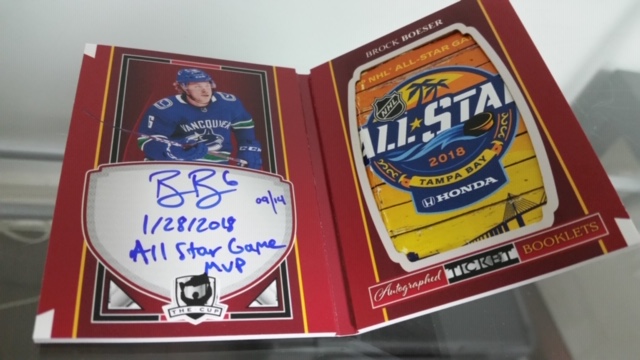 JS – Leaf has been producing some very nice hockey cards in the last few years, especially when it comes to memorabilia. How has the reception been for non-licensed products in your store?
CD – I don't want to knock Leaf, but there is zero interest around here. The last time I can remember speaking to someone about a Leaf product was during the 15-16 NHL season. We had a customer ask which product he could get a Jack Eichel autograph in and we told him that Eichel had an exclusive contract to only sign cards with Leaf. After we explained to him that Leaf products were unlicensed, he had no interest in them. He was a Buffalo Sabres fan and he wanted a card with Eichel in a Sabres uniform. I understand that this is not an issue for every collector, but, for us, Leaf products have always been a tough sell.
JS – As it relates to athletes, who are the top 5 athletes collected among your customers or in your region?
CD – Connor McDavid, Sidney Crosby, Auston Matthews, Mitch Marner, and, now that he plays for the Leafs, John Tavares.
JS – I see from your Facebook page and website that you have a good selection of gaming cards. Can you talk about that market and the current demand for those products?
CD – The gaming market is always strong. There is always a demand for the big three; Pokemon, Magic, and Yu-Gi-Oh! They have their ups and downs but we can always depend on them for solid sales throughout the year. It's funny, when we opened our store, we swore that we would stick to sports cards only. It wasn't until our 2nd year in business that we started to dabble in the gaming cards. We brought in 1 booster box of Pokemon XY Flashfire to appease a customer who kept asking us to start selling Pokemon packs for his kids. After selling through the whole box in packs in a matter of days we brought in a few more and then a few more after that. Four years later and a third of our store is Pokemon cards.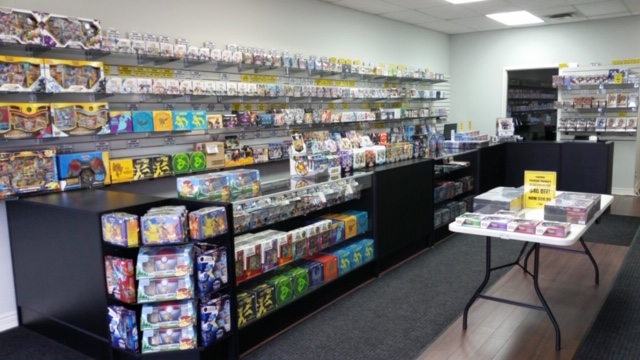 JS – You began collecting as a kid in the 80s. The changes over the last 30+ years have been pretty notable. What is the Hobby missing today that 2000s collectors would have enjoyed from the 80s?
CD – Personally I think that the Hobby is much better than what it was back in the 80s. The cards look better, they have more rarity and value, and I just enjoy the rush of opening a box hoping to hit that big auto. I do know many collectors that lament the decrease in set builders these days. They see the gamblers and group breakers as having a negative impact on the Hobby. They feel that the manufacturers have more product offerings that focus on these types of collectors as opposed to set builders. I can understand that point of view, but you have to give the people what they want. I think that Upper Deck does a great job of balancing their product lines. You have products like Black Diamond, Premier, The Cup, and most recently Splendor, targeted at the hit chasers. Then you have other products like Series 1 (and 2), O-Pee-Chee, and O-Pee-Chee Platinum targeting the set builders. They also have many products in between that have the best of both worlds.
JS – When considering products overall, what sets have been the most popular in your store? What do you attribute that popularity to? What are you looking forward to on release for the remainder of 2018?
CD – Series 1 and 2 plus SP Authentic are always our best sellers in store and online. These are some of Upper Deck's staple products which do well every year no matter what. In regards to group breaks, we opened a lot of Black Diamond, Ultimate Collection, Splendor, and of course, The Cup this year. This was the 1st year that Upper Deck produced Splendor and it was a big hit for us. Some of the cases we opened up were just unbelievable in regards to the amount of star power within. We hope that Upper Deck brings it back in the future. We are looking forward to the upcoming release of 2018-19 Upper Deck Black Diamond. It's the 1st high end hockey offering of the new season and has put up solid numbers for us since it was reconfigured during the 2015-16 season.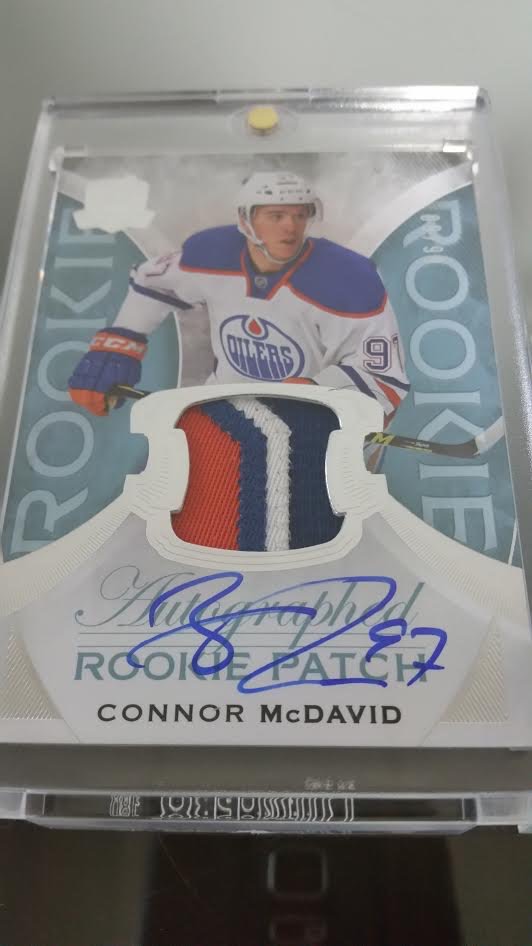 JS – I found some great pulls on your Facebook page. Can you tell us about some of the bigger hits that have been pulled at your store over the last 5 years?
CD – The biggest hits have definitely been from the 2015-16 hockey season. We pulled McDavid's 1st shield card from 15-16 Black Diamond that year and quite a few McDavid Rookie Patch Autos /99 from The Cup that year. Those cards sell for big bucks and we haven't hit anything in terms of value even close to those since. The McDavid Cup RPA is the holy grail of cards from recent years to a lot of hockey collectors.
JS – On the subject of Facebook, I see you are pretty active on social media. How much has it changed the way you advertise and how important do you find social media to be in your efforts for success in 2018? 
CD – For us, we have always used social media to advertise. Being a relatively new store (coming up on our 6-year anniversary), we never experienced what running a business was like before social media. We had been using social media to get our name out there before we even opened our brick-and-mortar store. You have to take every option available to you to advertise your business. Facebook, Twitter and Instagram are where we focus our attention primarily. They are all free platforms, relatively easy to use and they are a great way to engage with our current customers and hopefully attract new customers to our website.
JS – How do you feel about the relationship between card companies and shop owners at this time? What areas of the industry could be improved and what areas are going really well? 
CD – I can only speak for our store in regards to this, but we have a great relationship with the card companies, particularly with Upper Deck. With us being a Canadian store that focuses mostly only hockey products, it only makes sense that we would be close with Upper Deck. We are one of the few stores in Canada that are fortunate to be an Upper Deck Authorized Internet Retailer. They have been great to us from day one. Upper Deck has a ton of promotions throughout the year to help stores including National Hockey Card Day and, more recently, Singles Day. We also recently received some Young Guns featuring the new Philadelphia Flyers mascot, Gritty. Those have been a huge hit. Upper Deck's product development team is also great with listening to feedback about their product offerings. Overall I feel that everything is fine the way it currently is. There is only so much a manufacturer can do for stores. If they make good products the people will come for them.
JS – Thanks for taking the time to talk with us Chuck. Best of luck to you and Matt in the future!
Breakaway Sports Cards
Chuck Durka
Matthew Durka
(289)755-0966
930 Upper Paradise Road, Unit 7
Hamilton, Ontario, L9B2N1
Hours
Monday-Friday – 11AM-9PM
Saturday – 10AM-6PM
Sunday – 11AM-5PM
Facebook – Breakaway Sports Cards