Local Card Shop of the Week: Bob's Sports Cards (Howell, NJ)
Bob Colello ripped his first pack of baseball cards at the young age of five-years old. Growing up, he collected anything and everything he could get his hands on and never got too far away from the hobby. After spending several years in the supermarket world, he decided to go out and open his own card shop. Almost 15 years later, his shop is still going strong. I caught up with Bob to ask him about his business and find out how he feels about the industry in 2019.
Local Card Shop of the Week is brought to you by Southern Hobby, who has been serving the collecting community for nearly 30 years.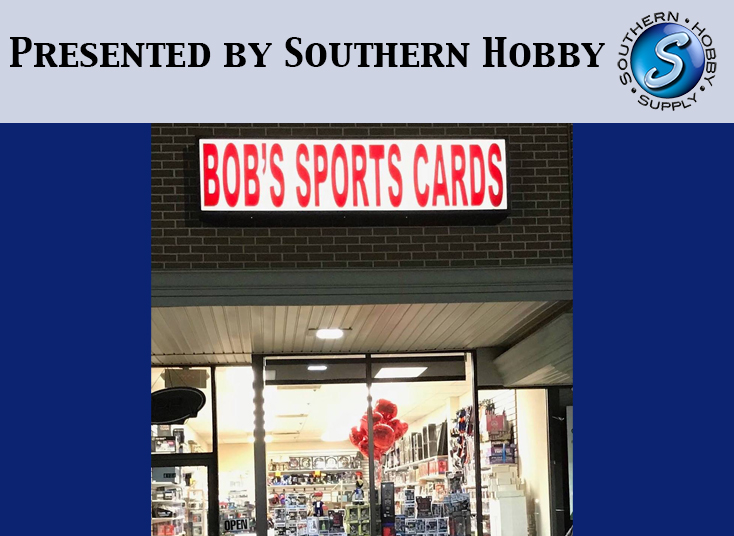 JOEY SHIVER – Thanks for taking the time to talk with us Bob. Can you tell us a little about your collecting background and what led you to opening your store?
BOB COLELLO – I remember opening my first pack of Topps Baseball cards as a five-year-old in the early '70s. I was instantly hooked! If I couldn't find baseball cards or even football cards, then I was buying basketball, hockey, Topps Wacky Packages (which I still buy), and any non-sports cards that were around back then.
I never stopped. I collected all throughout high school and even college. I became a supermarket manager and couldn't wait until the shipper of sports cards came in so I could buy them. I decided that I wanted to try my hand at running my own business and figured the best business to open would be something I was familiar with. So I left the supermarket and in September of 2005 opened my sports card store.
JS – Can you tell us a little about your store? Can you talk about your setup and what type of inventory you carry? Also, what services do you provide?
BC -We basically order every product that is made, every major sport, soccer, WWE, UFC, Nascar, and even tennis. We carry all of the gaming cards like Pokemon, MTG, and Yu-Gi-Oh. We order all of the new entertainment products like Star Wars, Game Of Thrones, and every movie product that there is.
We carry all supplies that are made for card collectors.
We also have an extensive inventory in figurines like bobble heads and Funko POPs, though we now only carry the sports POP figures.
We are always looking to buy. You can never have enough cards. We sell online on our website, but are in the process of updating the site. We have done breaks for numerous years through eBay. We make sure everybody is happy with their purchase. We have never received negative feedback on ebay for a box or case break. I'm not sure many people can say that!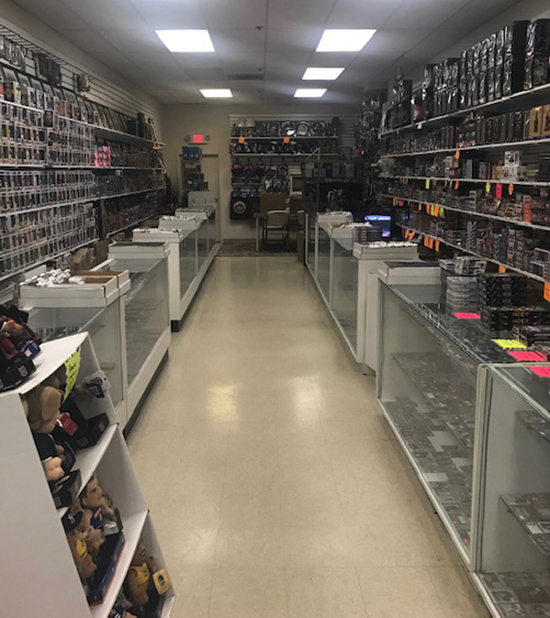 JS – Your shop is in New Jersey but you also aren't very far from Philadelphia. When it comes to sports card collecting, what would you say the make-up of your customer base at the shop is? When it comes to the "home team," what is most prevalent in your area?
BC – I would have to say that the New York Yankees outsell every other team for my store. The New York Mets are a distant second. The Philadelphia teams sell when they win. Like when the Phillies won the World Series in 2008, we couldn't keep their cards in stock. The same goes for the Philadelphia Eagles when they won the Super Bowl in 2018. The top rookies and players sell regardless of the team they are from because everybody is looking for that next great player.
JS – As it relates to particular products, what has performed well in 2019 and what has made those products so popular?
BC -The top selling products from 2019 were the end-of-the-year products from 2018 football: Panini Contenders, National Treasures, Contenders Optic, and Panini Encased. But nothing beats the most sought after product every year, Topps Series 1 Baseball that drops the end of January or early February each year. The rookie class in 2018 football made the end-of-the-year football products highly desirable.
JS – Are there any products that are on the release calendar you are really looking forward to in the next few months?
BC – I would have to say one from each manufacturer: 2019 Topps Chrome Baseball for all of the new rookies that were called up, Leaf Metal Pop Century (my customers love this product), Panini Contenders Draft Picks Basketball (let the Zion collecting begin), and I keep getting asked when Upper Deck The Cup Hockey is coming.
JS – Your FaceBook page is very active with event notifications, open/close updates, and product releases and photos. How important has social media become for you as a small business owner?
BC – I believe social media does wonders for all retail stores. You can always showcase new products, interact with customers from all over the country, and talk sports all day. It opens up a whole new channel of communication, instead of just emails or the phone. It's very helpful of gauging the customers' interest in products or even what rookies or players they like.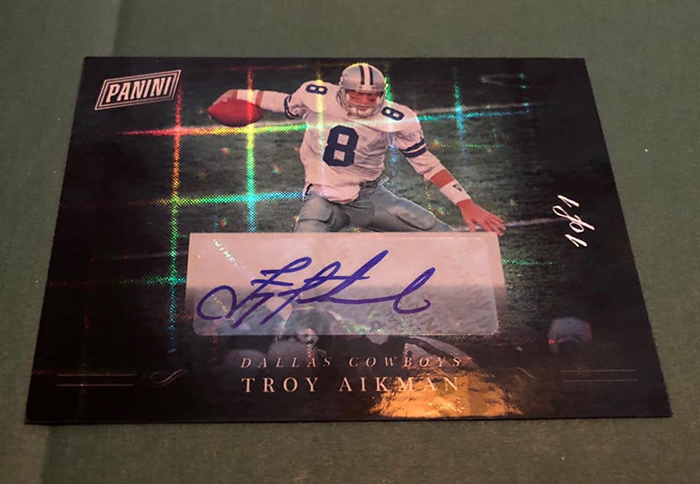 JS – The way we collect has changed a lot over the years. What are some of the features of collecting you miss the most from when you began collecting that collectors would enjoy today?
BC – I miss mostly the set collectors. When I first opened, I was always helping people look for the cards they needed to finish their sets. Very rarely does someone come in nowadays looking to build a set. Everybody now wants to pull that next $10,000 card. Everyone that opens a pack or a box and pulls a hit wants to know instantly how much can they get for it.
JS – What are some of the major positives within the hobby and industry right now? What are you hearing from your customers right now in regards to the industry? What do they really love seeing from a product or support standpoint?
BC – One big positive is that the manufacturers are not mass producing products anymore. The customers love that the value of the Rookie Cards in general have been selling really well in the last two years. They like that you're not just buying a box for the hits, the base rookies have lots more value now than in the past. It's like it has come in full circle. In the '80s and '90s, everyone wanted to buy the top rookies as there were no autographs or relics. Now the top rookies are selling great again.
JS – On the contrary, what are some areas you think could be modified to improve the customer experience? What type of feedback do you get from your customers in this area?
BC – I know it's a broken record, but the customers hate redemptions, especially expired ones when they buy an older product. If they redeem it and the card is back from the player, they should be able to still get it. Customers also want reasonably priced packs for their kids. We need more $2-$5 packs for football and basketball. There are only maybe one or two products in that price range for hobby packs in those two sports. Also, we don't need player exclusives. Customers want to pull rookie autographs of the top players from the licensed products, not the unlicensed ones.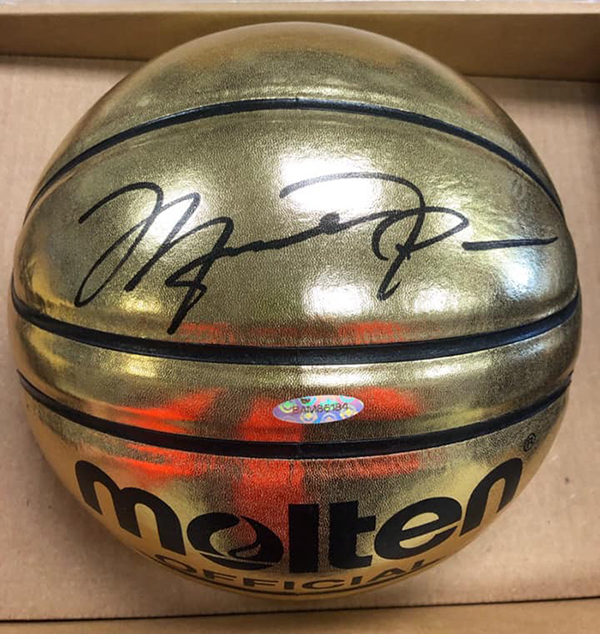 JS – Are there any upcoming events you can tell us about? Will you be having any autograph signings, trade nights, or gaming events?
BC – We will be doing Pack Wars real soon. We have been doing this for 13 years and it's a blast. Last year we did the Hobby Store Day and it was a huge success. Looking forward to that this year as well.
Bob's Sports Cards & Memorabilia
Robert Colello
(732)942-0050
4138 US Highway 9
Howell, NJ 07731
Hours
Sunday: 11AM-4PM
Monday: 11AM-7PM
Tuesday: CLOSED
Wednesday-Friday: 11AM-7PM
Saturday: 12PM-7PM
Facebook – Bob's Sports Cards & Memorabilia