Local Card Shop of the Week: Bel Air Sports Cards
When you click on links to various merchants on this site, like eBay, and make a purchase, this can result in this site earning a commission.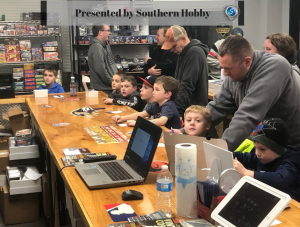 Mel Lundgren began collecting sports cards back in 1964. After spending some time in and out of the Hobby during the mid-70's, he returned for good. He has collected through the vintage days, the junk wax era, the early 2000's lull, and is still right in the thick of the Hobby during the current resurgence we have experienced over the last few years. Not only is he still a collector, he's now a shop owner as well! I recently caught up with Mel to discuss his shop Bel Air Sports Cards in Bel Air, Maryland and get his thoughts on the current state of the Hobby.
Local Card Shop of the Week is brought to you by Southern Hobby, who has been serving the collecting community for nearly 30 years.
JS – Thanks for taking the time to talk with us Mel. You have been in the Hobby for over 50 years. I understand that you opened this store in 2017. Can you tell us what led to your decision to become a card shop owner?
ML – Shortly after I retired in 2015, I asked my three children if they had any interest in my collection that had grown to over 2 million cards and they all politely said no. After hearing this, I talked to my wife who was still working and said, "I am thinking of opening a card store." After several discussions, I decided to go forward with my plan.
JS – Your store is very unique from a setup standpoint. It is known as the "Home of the Card Bar." Can you tell us a little about that concept? Was this a trial and error setup or did you know exactly what you wanted when you started?
ML – Once I decided that I was going to open a store, I knew right away that I wanted to create something totally different. I did not want the store to resemble the Card Stores from the 90s. The idea for the concept of the store came about when visiting one of my sons, who happens to be an architect. We were sitting at the table just brainstorming about an empty retail space that I was interested in when I told him that I wanted a place where collectors of all ages could come in and feel welcomed and want to stay and hangout. I told him that I wanted a Card Bar – something that looks like a Sports Bar but for Cards and Collectibles. I provided him with some rough dimensions and a few pictures of the empty space and 30 minutes later he produced some 3D drawings. Right away I knew that was what I was looking for.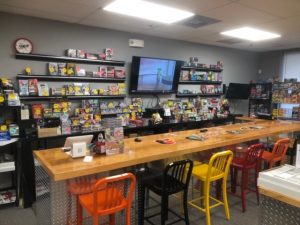 JS – Another unique feature of your store is the toddler/pre-school play area. Can you tell us about that?
ML – One of the main reasons for implementing this feature was to provide a place where collectors who had younger children or grandchildren felt welcomed. This area is well received and makes the store experience more positive for a collector who can now enjoy his/her visit while the little ones play and entertain themselves in their own designated space.
JS – Can you talk about the type of inventory you carry? Also, what services do you provide?
ML – Currently, our inventory is focused on cards and supplies. We offer a wide variety of WAX boxes and incorporate that into the Card Bar theme with Top Shelf Wax boxes being the more high-end wax, Mid Shelf Wax boxes more of the mid-price range, and then we utilize the Bottom Shelf for all the current new release products. We have an extensive inventory of singles with approximately 2 million cards ranging from commons, stars, rookies, and inserts. We are in the final stages of creating our Card Menus, which will be featured throughout the store. Each Card menu will provide the customer with a snapshot of what we have available just like when you get a menu at your favorite restaurant.
Our services range from graded card submissions, Facebook sales, online and in store Breaks, with the focus on in store local breaks and local and national special events.
JS – To go with all of the great features and services you provide, your Facebook page reveals a ton of great events you have in the store. Specifically, you have "Family Fun Nights", "Parking Lot Sales", Box Breaks, Pack Wars, and you also participate in Hobby-Wide events like National Baseball Card Day, etc. How important do you find these events to be for the success of your store?
ML – One of my primary focus areas is to build a sense of community at the store and I have found that the events provide an avenue to bring collectors of all ages, backgrounds, and interests together to share their passion about the Hobby. The store, with its Card Bar set up, provides both the customers and store the opportunity to enjoy the special events and not have the restrictions or concerns when organizing them.
JS – You are located just Northeast of Baltimore. You are also not too far from Philadelphia and Washington DC as the crow flies. As it relates to sports card collecting, what would you say the make-up of your customer base at the shop is? When it comes to the "Home Team", what players would you find in most everyone's collection locally?
ML – With our location, we are blessed to have 3 Major League Baseball Teams, 3 NFL Teams, 2 NBA teams, and 2 NHL Teams. The Orioles and Ravens, by far, are the Home Teams but we also have collectors from all the local franchises that are in our market. Manny Machado and Bryce Harper were in big demand in the past but now new players will be taking their spots. Juan Soto, Victor Robles, Trey Mancini, Lamar Jackson, Joel Embiid, and Ben Simmons are other players in high demand.
JS – As it relates to particular products, what performed very well in 2018 and what made those products so popular?
ML – Calendar year 2018 provided our collectors with a variety of players and products to chase, including rookies across the board in all 4 sports from the Ohtani craze to the current year's rookies. In all sports, collectors were able to find something to get excited about. By sport, I would have to say all Bowman Baseball products were in huge demand and then National Treasures, Flawless, Contenders, and Prizm products for Football and Basketball. In hockey, we had several products from Upper Deck (The Cup and SPA) continue to be favorites amongst our hockey collectors as well as Upper Decks Marvel line. Leaf provided several hockey and multi-sport products that were a hit with our collectors.
JS – Are there any products that are on the release calendar you are really looking forward to in the next few months?
ML – Like I mentioned above, the buzz is already starting for 2019 Bowman, and Luka mania is in full force with all the remaining basketball products showing huge interests.
JS – The way we collect has changed a lot since you joined the Hobby back in 1964. Looking at the Hobby in general, and taking into account your collectors as well, what percentage of collectors still build sets or look for personal pieces to complete collections vs collectors that are looking to score the next big hit? Do you think it is important that the industry finds innovative ways to keep both sections engaged?
ML – I have said for a while now that I see four types of customers in the Hobby:
• The True Die-Hard Collector – with his/her tablet or bulging notebook with an endless list of numbers and names of players that are needed to complete sets or personal player collections.
• The Flipper – Someone who is chasing the product or player looking to score with a big hit and has no attachment to the card. They are just looking to flip it so they can continue to chase the next big card.
• The Investor – Someone who does their research on the product or player and, like in the stock market, wants to buy low and sell high. These customers are looking at their purchases like investments.
• Curious George – I'm seeing more and more of these now: customer who was a collector previously, maybe in the mid 80s to the 90s, and either has children now or is cleaning out the garage and attic and wants to know if their cards are worth anything. I find many times after talking to them that they then become curious about how the Hobby is now and, in many cases, they end up re-living their childhood and looking at what's new.
I guess I would say that in my opinion all the above are important to the industry if it is going to survive and be sustainable.
JS – Considering the changes that have taken place just in the last 10 years with the way products are available and the advent of social media and other online offerings, what is the Hobby missing today that 2000s collectors would have enjoyed from the 70s-80s? What do you miss most about the "golden era" of the Hobby?
ML – I would have to say a lot of what happened in the last few decades was positive. But the one thing that is missing for kids today is the affordability aspect of the Hobby. For the most part, pack prices have skyrocketed and the ability for kids to just go down to the local card shop or corner store and buy some packs and then trade with their friends is not available. I remember going to the corner store and buying 6 packs of cards for a quarter. I would open them up, look for my favorite players, and then grab my doubles and trade with friends, or yes, FLIP them on the steps or curb. Looking back at that era, we didn't have cell phones with all of the apps to check prices so if you had an extra card, you traded it for one you needed – regardless of whether they had the same value.
JS –Can you tell us about some of the memorabilia items you have available? What are some of your favorite items whether they are items you have sold, pulled, or had walk in the store?
ML – Currently, the store does not have the space for a lot of Memorabilia, but over the course of my years in the Hobby I have seen some pretty cool stuff walk in. We actually have some unique Roberto Clemente items that we have had authenticated. Based on the information we have received on these items, they were from right before his death and may be some of the last autographs done by Clemente.
JS – What are some of the major positives within the Hobby and industry right now? What are you hearing from your customers right now in regards to the industry? What do they really love seeing from a product or support standpoint?
ML – In my opinion, the economic climate right now supports the Hobby. Collectors seem able and willing to support the new products that are coming out, as well as collecting items that they are interested in. The ability to purchase cards from all the different avenues like local card stores, online retailers, big box stores, card shows, eBay, Facebook, and Twitter makes it easy. If someone really wants to collect, then they have no excuse. Customers seem excited about the diverse product lines being offered and there are products at various price points, so they seem to be able to find something that fits their budget. Customers are looking for on-card autographs and game-used relics, which seem to be in higher demand than sticker autos or event-worn relics.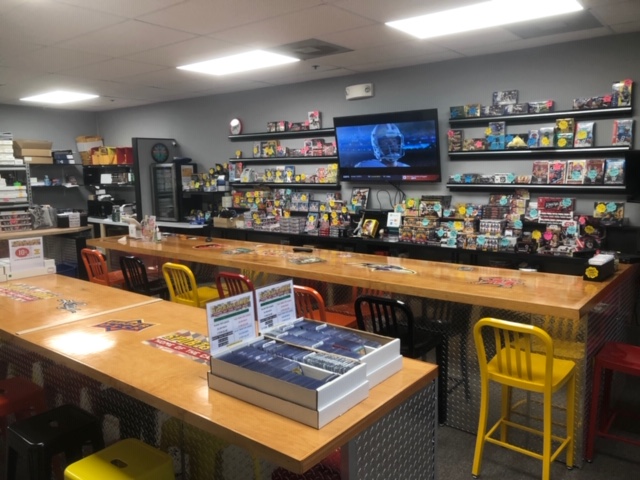 JS – On the contrary, what are some areas you think could be modified to improve the customer experience? What type of feedback do you get from your customers in this area?
ML – I've heard these comments from my customers numerous times: "Points Again", "Another Redemption Card? I still haven't received ones from 2 years ago", "I tried to order a box on line and the website crashed again." and "My box was missing a hit, or these cards are damaged." These are all common comments that I hear on a weekly basis. Customers seem frustrated with their inability to get a timely resolution from the card companies when it comes to one of the issues mentioned above. Overall, if the card companies could step up their game in the customer service and feedback departments, I think it would go a long way in improving the customer experience.
JS – It is clear that you are creating a laid-back, welcoming environment for collectors when they enter your store. Your shop certainly has the appearance of a place you can kick back and relax. What is the one thing you hope collectors leave your store with when visiting for the first time?
ML – That is a good question, but I really think the answer is very simple: a SMILE and hearing them say I will be back. Our local customer base continues to grow organically, and when I ask new customers how they heard about us a common response is, "a coworker/neighbor/friend told me about this place and what a good time they had, so I had to come and check it out for myself." For me and my team, it is all about the customer experience that we can offer and provide with our unique set up. It is not uncommon to find the Card Bar filled with customers watching the game, ripping wax, searching for cards, and interacting amongst themselves. The sense of community that we are building is contagious and that is what I want.
JS – In closing, can you tell us about any sales or upcoming events you have scheduled for the next couple of months?
ML – We will continue to follow our monthly schedule which includes the Family Fun Nights, After Hours in Store Break Nights, and when the weather breaks, we will get back to having our Parking Lot sales. Plans are being finalized for Beckett to be on site for some Grading Submissions and Authentications in May and we plan on setting up at the Philly show the beginning of March and then at the CSA Show in Chantilly at the end of March. Spring time will find us out in the community supporting several of the Youth Baseball Organizations opening day events.
Bel Air Sports Cards
Mel Lundgren
443-567-5318
130 North Bond St, Suite 103
Bel Air, Maryland 21014
Hours
Tuesday – Friday – 11:30AM-6:30PM
Saturday – 10AM:5PM
Sunday-Monday – Closed
Special Seasonal Hours Nov/Dec
Facebook – Bel Air Sports Cards
Twitter – @BelAircards
Instagram – BelAircards