Local Card Shop of the Week: Bases Loaded – Fresno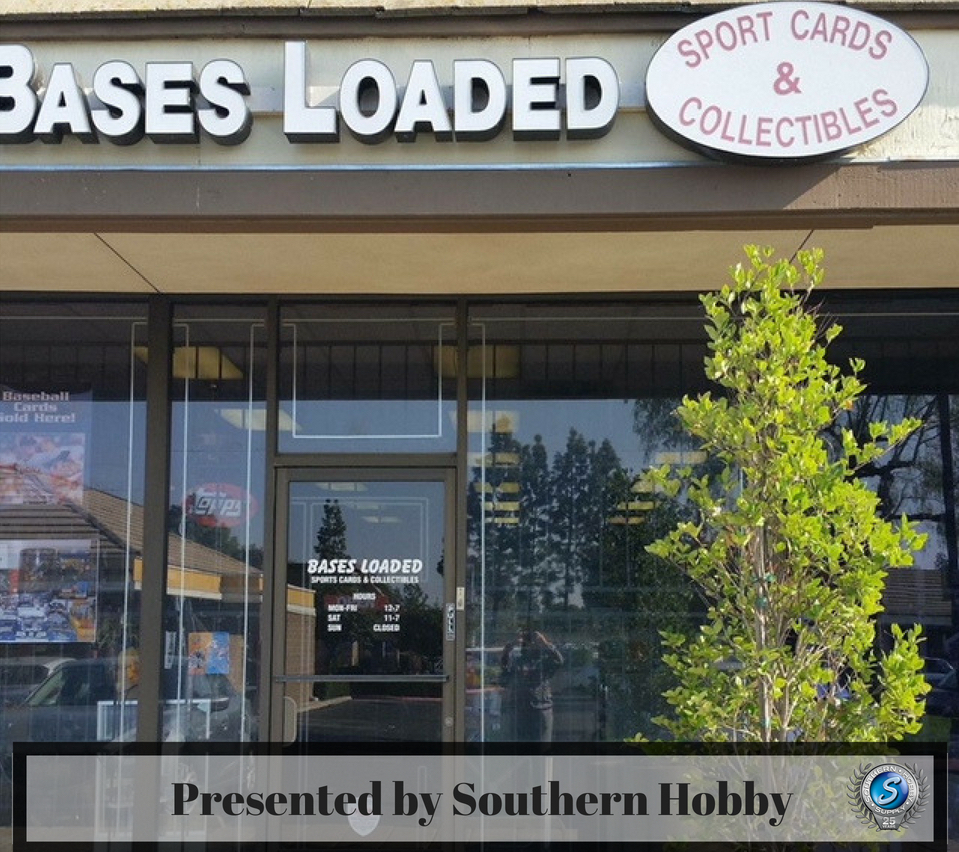 In the early 1980's, Chris and Marc Gooboian began collecting non-sports cards like Star Wars and "Garbage Pail Kids." When their local non-sport card store sold out to a full service sports card shop, they began visiting that store. After being given the 1985 Topps Baseball set, the local card shop owner offered to purchase it in 1987 for triple the price of what it originally cost. This is when they realized that collecting could be both a hobby and a business and they never looked back.
JS – Thanks for taking the time to speak with me Marc. How did you get your start in the sports card shop business?
 CG – Our collection had grown substantially from the mid to late 1980's. We went on to promote a sports card show for our church and raised $1,500 for the church. We decided that we could sell our duplicate cards to help grow our own collection so we started promoting and selling at card shows for ourselves. For three years, we promoted card shows. In 1989, we opened our first card shop, a small 286 square foot shop in Fresno.
JS – What is it like to work with your brother? I have interviewed owners that were father/son and husband/wife, but you are the first brother team. Tell us about that experience. 
CG – My brother and I have always been very close and have the same interests. We both have a bachelor's degree from Fresno State in business management. As all siblings do, we have disagreements, but we work them out. Our strengths in business complement each other and have helped us to be in business for almost 30 years. Our parents have been very supportive and have helped us throughout the years.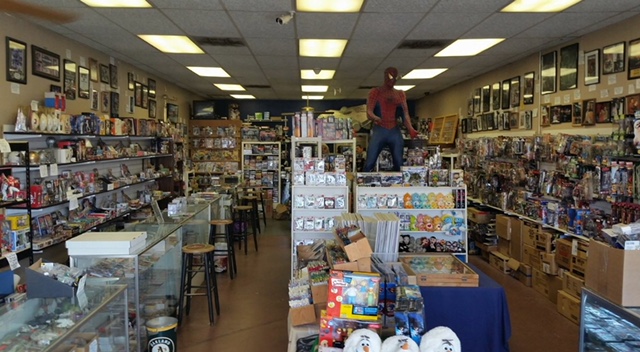 JS – I see that you moved from an old location to the Shaw Ave Store in 2016. Was this your first move? Can you tell us a little about your location?
CG – Our location now is the fourth time we have moved our store throughout the years. The first three times we moved, new opportunities opened up for us with a larger store. Our newest move in 2016 was a little different. The shopping center got sold and our rent was increased so we decided to move to our current location at Shaw and Marks by the Outback Steakhouse. When we opened our first store, we were in high school. Over the years, it put us through college at Fresno State and has supported both our families.
JS – Your Facebook page advertises a wide array of products from Sports Cards, Magic, Funko Pop and more. What can you tell us about your inventory in store?
CG – We learned early on that it is difficult to focus on only a few things because at times, certain collectibles are more popular than others. We decided to diversify into many different aspects of the Hobby. We sell a wide array of sports cards, gaming cards, non-sports cards, comics and action figures, including many Star Wars items. This caters to a wider clientele. Being diversified helps shield us when there are lulls in the markets (baseball strike, sports offseason).
JS – What products are performing the best for you right now? Do you see much crossover in your customers from product to product or are the collectors mainly focused on a particular sport or entertainment avenue?
CG – Currently, our best seller is baseball products mainly due to Shohei Ohtani. Also, the products sell better in-season so football will be picking up soon. Pokemon is our most popular gaming product and Star Wars figures will see a bump from Solo: A Star Wars Story.
JS – How important have you found Facebook, social media or an online presence in general to be for your success? Even when you own a brick and mortar store, most owners have found a way to expand their presence in some way to their benefit. What has been your experience?
CG – Facebook helps us to get the word out on new products and specials we offer. eBay has been a huge help with fluctuations in the market.
JS – In addition to your Facebook page and storefront, I see where you set up at vendor shows and even the Fresno Grizzlies Minor League games. Can you tell us a little about your shop away from the shop?
CG – We enjoy trade shows and having booths at the Fresno Grizzlies games because they are great for advertising our store. Also, we meet many new people away from the store. It gets advertising directly to our target market.
JS – While California is home to a multitude of professional sports teams, Fresno is more of a minor league town, along with Fresno State. What teams or sports do your collectors focus on mainly?
CG – We have a lot of Fresno State collectibles and fans, but Fresno is a large baseball town thanks to the AAA Grizzlies. The most popular teams in Fresno are California based teams: 49ers, Raiders, Giants, Dodgers.
JS – Looking at athletes specifically and choosing only one, who would you guess is the most popular athlete in collections in your area? Who do customers ask about more than anyone else? 
CG – Currently the most asked for players are Aaron Judge and Derek Carr. There is a huge market for them since they both went to Fresno State and are doing well in their sports.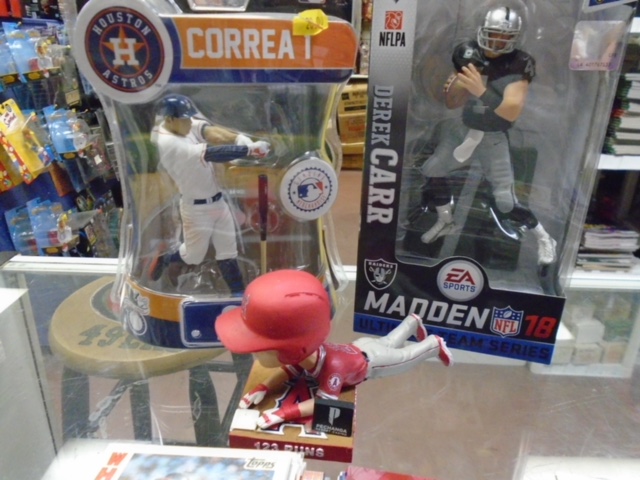 JS – What have been some of the hottest products in store over the last 12 months? Why do you think customers have been drawn to them?
CG – All baseball products have been popular. Last year, Aaron Judge drove the sets and this year Shohei Ohtani is drawing people in. Bowman baseball has been the most popular product set due to so many rookie autographs.
JS – Can you share with us some of the bigger hits you have had at your store? Any big success stories you'd like to share?
CG – We had a red autographed Bowman Draft 2017 Rookie of Royce Lewis that was numbered to 5. The customer sold it for $3,500. We also had a Kris Bryant Orange Autograph from 2017 Bowman's Best numbered to 25 that is worth approximately $800. Several years ago, we had a Harry Potter Quad Autograph that included the autos of Daniel Radcliffe, Robert Pattinson, Stanislav Yanevski, and Clemence Poesy that sold for $1,050. We were featured in the May 2003 issue of Becket for a pull of an Emmitt Smith SP Authentic 1/1 Logoman Patch, along with the customer who pulled it.
JS – What have been some of the biggest changes you've seen from a product perspective over the last 30 years? What are some things you have seen over time that you never thought we would have in the hobby? 
CG – The biggest changes in the card market are autographs and jersey cards; they have taken over the hobby. These are the main cards people try to pull from packs and boxes. Sets are very hard to complete due to costs and short printed cards. When we first opened our store, many collectors tried to complete sets. Now, most just search for autographs of their favorite team and players.
JS – What do you think is going really well within the Hobby right now? The industry now has to cater to brick and mortar, online, breakers, and other aspects of the Hobby. What are the card companies really doing right at the moment? 
CG – Companies are able to get autographs of the big rookie prospects that are driving the popularity of the sets.
JS – On the contrary, what are some of the things you hear most from your customers that they would like to see done differently? What are some of the biggest headaches for collectors in your area?
CG – Products are too difficult to restock. The "case breakers" consume much of the products so we have a very hard time restocking a product once we sell out. It drives the prices up quickly and sometimes prices the collector out of the market. Redemptions are a large sore spot for collectors, collectors hate pulling redemptions. Many times it takes months or even years to receive the card promised them.

JS – What do you think sets your store apart from online sellers and other shop owners? What sets you apart?
CG – We focus on customer service and making it a fun experience when they enter our store. We have a wide array of products so when a customer comes to our store; they have many options and can usually find what they are looking for. We have many 2nd generation collectors who used to come in as kids and are now bringing their kids in to experience the same enjoyment.
The benefit of a brick and mortar store is that the customer gets immediate satisfaction by getting the box or single cards right away and can choose exactly what they want instead of waiting for the item to come in the mail.
JS – In closing, is there anything going on in store during the next few weeks or months that you want to tell us about?
CG – In June, we will be participating in the Panini Father's Day Promotion giving away free packs of cards with sports cards box purchases. We will also be a part of the Topps Silver Pack Promotion in conjunction with the Topps Series 2 Baseball release on June 13th. We just signed up with Topps to give out sample packs of baseball cards to local little league teams in our area as well.
Bases Loaded – Fresno
Chris and Marc Gooboian
2745 W Shaw Ave #111
Fresno, CA 93711
(559)225-9321
Hours of Operation
Sunday – Closed
Monday – Friday – 12pm:7pm
Saturday – 11am:7pm
Facebook – @BasesLoadedFresno
Email – Basloaded@sbcglobal.net