Local Card Shop of the Week: Absolute Sports Cards (Savage, MN)
Mike Hanson has been collecting sports cards since the late 1970s. As a result of years of collecting and enjoying the hobby, he and Clint Wolcyn now own a Absolute Sports Cards in Savage, MN. The store opened its doors in 2016. I recently caught up with them to discuss the hobby and find out how their store was navigating the industry in 2019.
Local Card Shop of the Week is brought to you by Southern Hobby, who has been serving the collecting community for nearly 30 years.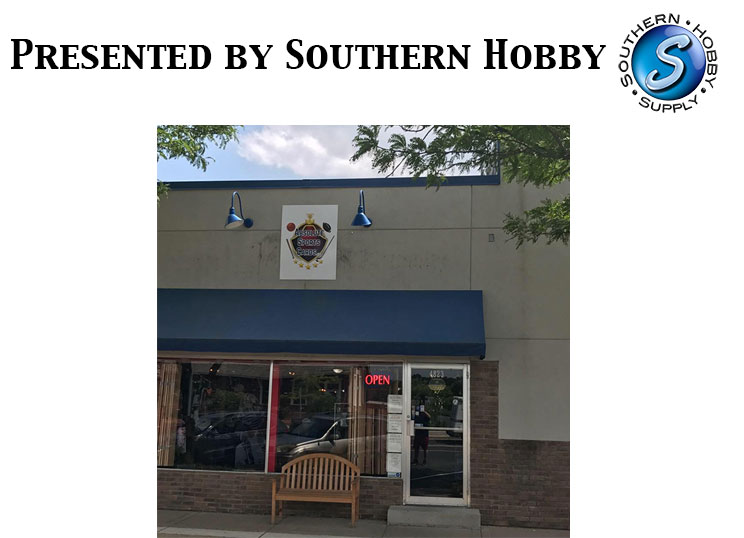 Joey Shiver – Thanks for taking the time to talk with us, Mike. You have been collecting since 1976 so you have experienced a lot of the hobby over the years. What led you to opening your store in 2016?
Mike Hanson – We opened the store because of our love for sports and the hobby, and a passion to see others enjoy it in the Minneapolis area.
JS – Can you tell us a little about your store? Can you talk about your setup and what type of inventory you carry? Also, what services do you provide?
MH – We carry a vast inventory of all four major sports from vintage to modern, along with all the latest unopened sports product and supplies. We offer services for customers to send cards to grade at Beckett and PSA on a monthly basis. We also do trading and breaks in store weekly.
JS – Savage is just south of Minneapolis so I would imagine that you have a strong Minnesota fan base throughout the sports. When it comes to card collecting, what would you say the make-up of your customer base at the shop is? When it comes to the "home team", what is most prevalent in your area?
MH – All four major Minnesota teams are prevalent with the Vikings being the most. Also, we do have many customers from the Wisconsin area who collect their local teams.
JS – As it relates to particular products, what performed very well in 2018 and what made those products so popular?
MH – Football was best, with baseball and basketball being close behind. Hockey is popular but more of a niche sport, even in Minnesota.
JS – Are there any products that are on the release calendar you are really looking forward to in the next few months?
MH – Bowman Baseball, National Treasures, and Flawless Basketball and Football.
JS – Your FaceBook page is loaded with event notifications, product releases, breaks and photos. How important has social media become for you as a small business owner?
MH – Social media is the lifeblood of our business as we connect to our customers and keep them up to date with the latest in hobby news and releases. It's a crucial and beneficial area that we hope to continue to grow in going forward.
JS – I also saw photos from the "Let's Play Hockey Expo" in early March. Can you tell us about that? How popular are shows in your area in 2019?
MH – The "Let's Play Hockey Expo" is the largest hockey show in North America and has been a great outlet for everything hockey related for us including cards, memorabilia, and more. There is also a monthly show in Minnesota called the Valley West Club show that is a vital part of our business. We also attend the Fanatics show in Chicago, along with the National Sports Collectors show annually.
JS – What are some of the major positives within the hobby and industry right now? What are you hearing from your customers right now in regards to the industry? What do they really love seeing from a product or support standpoint?
MH – We love the way the hobby has evolved with online breaking, sales on eBay, and the way jersey and auto cards have become the hot thing. We also love the way grading has grown and helped establish a market on condition.
JS – Are there any in-store events you can tell us about? Have you had any autograph signings, trade nights, or gaming events? Is there anything upcoming?
MH – We do a Thursday night trade/break night weekly and are hoping to have an autograph signing this summer with T.J. Oshie.
Absolute Sports Cards
Mike Hanson and Clint Wolcyn
(952) 855-4005
4823 W 123rd St
Savage, MN 55378
Hours
Monday-Wednesday: 10 AM to 7 PM
Thursday-Friday: 11 AM to 8 PM
Saturday: 11 AM to 6 PM
Sunday: 11 AM to 5 PM
Email: Absolutesportscards@gmail.com
Facebook: Absolute Sports Cards