Local Canadian Card Shop of the Week: D&M Sports (Halifax, NS; Moncton, NB)
When Malcolm Cole opened his first box of cards in 1988, he was hooked. He and his father collected together and have spent the last three decades in and around the industry. This includes openin a father-and-son card shop in Canada named D&M Sports. This venture has grown into two locations in the Maritimes and he is officially a cardboard lifer. I recently caught up with Malcolm to discuss his shops and the hobby in the Great White North.
Canadian Local Card Shop of the Week is brought to you by Universal Distribution, Canada's premier distributor of CCG's, sports cards and non-sports cards, trading card games, role-playing games, comics, toys, figurines and more.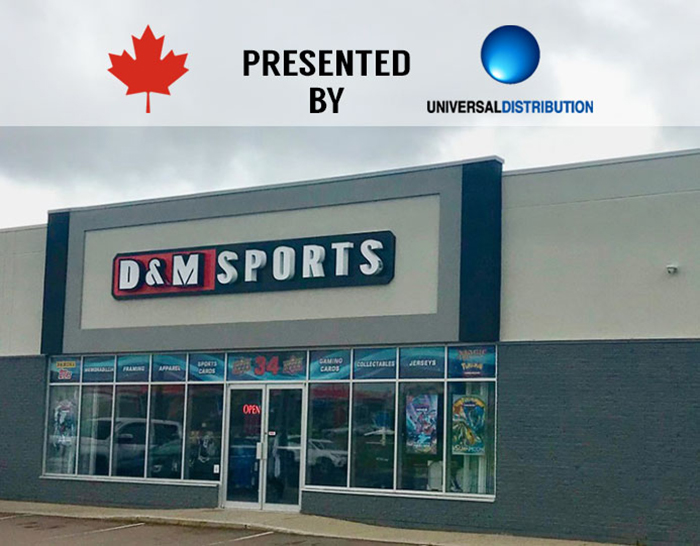 JOEY SHIVER – Thanks for taking the time to talk with us. Can you tell us a little about your collecting background and what led to your decision to open your shop?
MALCOLM COLE – This all began when I bought my first box of 1988 Donruss Baseball. My father saw the excitement and took me to find his childhood cards still stored away in attic and we never looked back. We have been part the card industry for 30 years and have many roles. We were once a distributor for some of the major companies but then transitioned into a retail location as the industry changed. It started out as a father-and-son business and we now have a retail location in each of the two biggest cities in the Maritimes.
JS –Can you tell us a little about your store, your setup and what type of inventory you carry? Also, what services do you provide?
MC – We have two stores in the Maritimes — one in Halifax, Nova Scotia and one in Moncton, New Brunswick. We are an Upper Deck Certified Diamond Dealer and carry every new release in hockey. We also carry a great selection of baseball, basketball, football and gaming cards. We consider ourselves a full sports fan shop, so we also stock a wide variety of fan gear including jerseys, apparel, headwear, and collectables and memorabilia.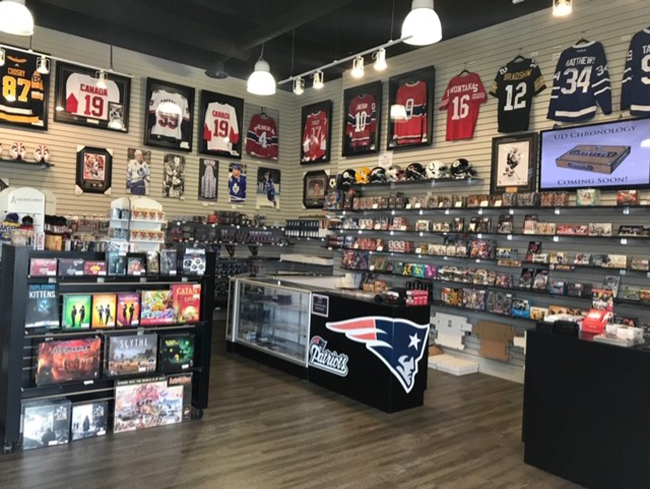 JS – This is a series we are running to include Collectable Shops in Canada. For collectors who haven't been, what would you say are the main differences, if any, between your shop and what may be found in the US?
MC – I don't think there is a really big difference between our shop and those found in the United States, with the exception of maybe the focus on different sports. Here, the majority of collectors focus on hockey, while the shops I have visited in the US focus a little more on baseball, football or basketball, depending on the region.
JS – The Halifax Mooseheads appear to be a popular team in Nova Scotia on the Junior Hockey Circuit. When it comes to sports teams, who do your collectors gravitate toward? What professional teams are considered the home teams?
MC – With CHL teams in both cities we have stores, we find there are always collectors looking for the local drafted players. People like to follow the careers of the kids that made their way through the ranks and made it into the NHL. Halifax specifically has been very fortunate the last ten to 15 years. A little less than 30 minutes outside the city is Cole Harbour, hometown to NHL stars, and first overall picks, Sidney Crosby and Nathan Mackinnon. Also, just outside the city is where Brad Marchand grew up.
The Mooseheads have also had some great success developing talent which includes first overall pick Nico Hischier, first round pick Filip Zadina, and NHL regulars like Jonathan Drouin, Nikolaj Ehlers, and Jakub Voracek. The most popular teams in our region are Montreal Canadiens, Toronto Maple Leafs, and the Boston Bruins. But there is also a good following for the Penguins thanks to Crosby.
JS – As it relates to trading cards, do you carry all of the major sports releases? I see that hockey is a big part of your inventory. How much are other sports in demand among your customers?
MC – Yes, hockey is very important in our region and being both an Upper Deck Certified Diamond Dealer and Authorized Internet Retailer (A.I.R.) we carry every new release in hockey. We also carry the majority of baseball, basketball, and football card releases.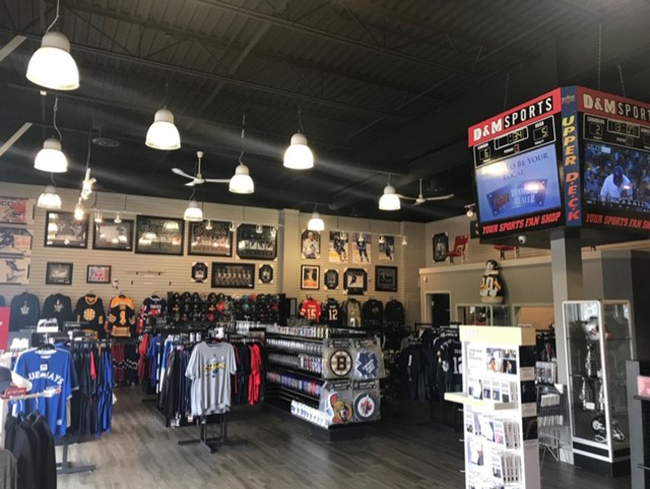 JS – What specific products have performed well in the first half of 2019 and what made those products so popular?
MC – Right now, the last few Topps releases (Chrome/Heritage High Numbers) have been rally popular for us. The excitement surrounding Vladimir Guerrero Jr.'s RC, and now with the recent play of Bo Bichette, the demand on Blue Jays young stars is through the roof. Another product that has been popular is the Upper Deck SP Authentic Hockey. It is always a fan favorite with on-card signatures of the year's rookies.
JS – Are there any new products that are on the release calendar you are really looking forward to in the next few months?
MC – In the short future, Upper Deck will be launching a new product called Clear Cuts and it has been a highly anticipated product. Also, just around the corner is the 2019-20 Upper Deck Series 1 release. This is always a fan favorite.
JS – You also participate in online breaking with D&M Sports. Can you tell us a little about that feature with your shop?
MC – As the online breaking community grew, we had more and more demand from our local customers to do breaks. We started doing them in store with participants attending and then transitioned to online for their convenience. Our breaks are still very locally focused with most participants within the Maritimes.
JS – In closing, can you tell us about any sales or upcoming in-store events you have scheduled for the next couple of months?
MC – We have a few events coming up the next few months. First will be our launch party for Upper Deck Series 1 Hockey. We usually host customers on the night the product launches to watch hockey, enjoy some food, and give some prizes away. We will also do an in-store case break of the product that night. A few weeks later, we celebrate with our anniversary party, with great sales storewide, fundraisers for local sports teams, a BBQ, and some great giveaways.
D&M Sports
Malcolm Cole
(902) 468-1895
201 Chain Lake Drive
Halifax, Nova Scotia
B3S 1C8
(506) 852-3244
34 Plaza Blvd
Moncton, New Brunswick
E1C 0G4
Hours
Monday–Thursday: 10AM-6PM
Friday: 10AM-8PM
Saturday: 10AM-6PM
Sunday: 12PM-5PM
Facebook: D&M Sports