Local Canadian Card Shop of the Week: Crackerjack Stadium (Welland, ON)
Just outside of Niagara Falls, there is a card shop nestled between several big hockey towns. Owned by Brad Noyes, Crackerjack Stadium Sports Cards caters to any fan that walks in the door. From breaking to trade nights to setting up at card shows, he has it all. I recently caught up with Brad to discuss his shop and the hobby in his area.
Canadian Local Card Shop of the Week is brought to you by Universal Distribution, Canada's premier distributor of CCG's, sports cards and non-sports cards, trading card games, role-playing games, comics, toys, figurines and more.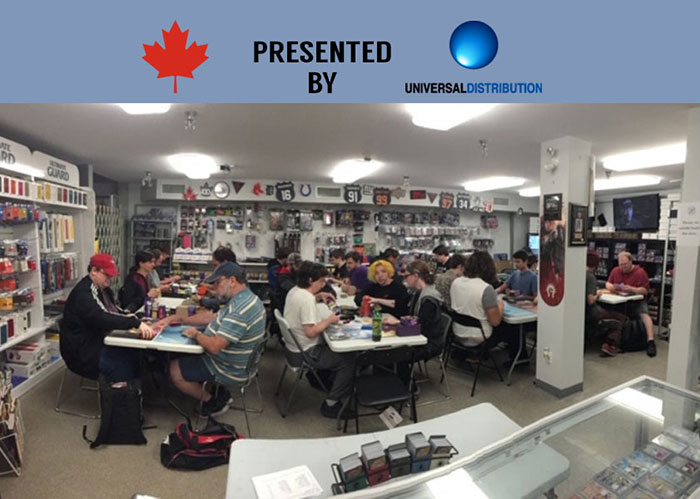 JOEY SHIVER – Thanks for taking the time to talk with us Brad. Can you tell us a little about your collecting background and what led to your decision to open your shop?
BRAD NOYES – I started in 1990 like a lot of places. I was 14 and my dad had a variety store when he simply asked me,"Do you want to start your own business?"
He lent me $2,000 and a space in his store. I had two tables and one showcase. The rest is history.
JS –Can you tell us a little about your store, your setup and what type of inventory you carry? Also, what services do you provide?
BN – We are a full service sports and gaming card store. We buy, sell and trade all sports, Magic the Gathering, Pokémon and Yu-Gig-Oh cards. We have retail space and play space. We offer tournaments and trade nights every day of the week. Pokémon on Tuesday nights 6-7:30, Magic on Mon, Wed, Friday and Saturday, sports trading night on Thursday 6-7:30.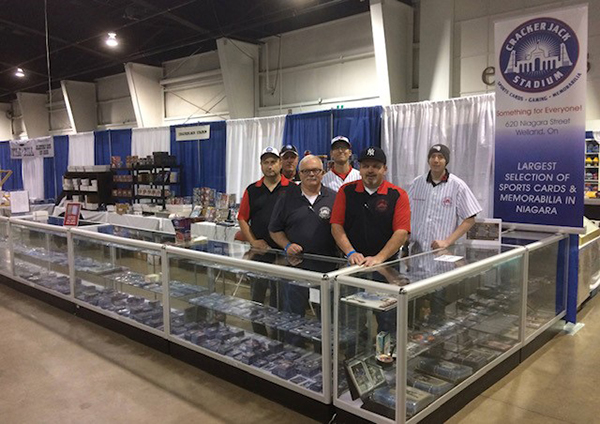 JS – This is a new series we are running to include collectible shops in Canada. For collectors who haven't been, what would you say are the main differences, if any, between your shop and what may be found in the US?
BN – The main difference would be hockey is king in Canada. Our store in particular has a huge inventory of single cards, which a lot of stores don't carry a lot of anymore.
JS – You are advertised as having the largest selection in Niagara and beyond. You are really close to Buffalo but you also aren't too far from Toronto, across Lake Ontario. When it comes to the home team, who would you say your collectors focus on?
BN –Mostly the Maple Leafs, with the Canadiens, Bruins, and Sabres being a distant second.
JS – I see that your store offers multiple events throughout the year including Draft Parties, Break Nights, etc. Can you tell us about some of the in-store events you try to offer to your collectors? Also, can you tell us a little about your draft party game?
BN – We try to make your experience a fun one at our events, offering games, free giveaways, food and drink, sales, pack wars [and more].
Our draft party game was a huge hit. I offered the winner of pack wars a chance at some high-end UD Authenticated products that Upper Deck sends to us for these events. It was a version of the popular TV game show Let's Make a Deal. In the end where everyone gets something and everyone is included.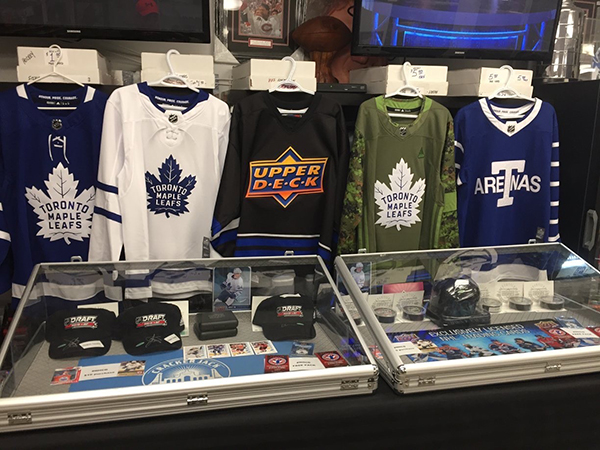 JS – You have a breaking portion of the business called Crackerjack Stadium Box Breaks. Can you tell us a little about what went into forming the breaking aspect of the store? How successful has it been overall?
BN – A lot of the new high-end products being offered at a high cost with chances at big hits are not accessible to most collectors. With box breaks, everyone gets a chance at the high-end hits as well as getting players from teams they cheer for without other teams they may not.
It is a huge success! Jason Tempest does all our box breaks on Facebook live, with several per week.
JS – Your shop Facebook page stays very up to date with new products, big hits, and general news. How important is social media when it comes to running a small business?
BN – This day in age, social media is a huge part of any business. It's a lot to keep up with but it is a necessity to interact with customers. We try to keep it fun and positive with our customers as the main focal point.
JS – Two part question – What is one thing you think is really going well in the hobby right now? On the contrary, what is one thing you would change, whether from an industry or local perspective?
BN – Going well right now is the Upper Deck Tim Hortons collaboration in order to get new collectors into the hobby. It's the sign of the new hockey season starting. And it brings in many new interested fans that may not otherwise have come in.
The card companies actually have learned over the years how to produce the products without saturating the market, as was prevalent in the '90s.
Maybe one thing that most collectors would like changed is redemption cards, which are cards that couldn't be autographed at the time of printing. So you need to wait for them through the mail, sometimes taking years or not being printed all together.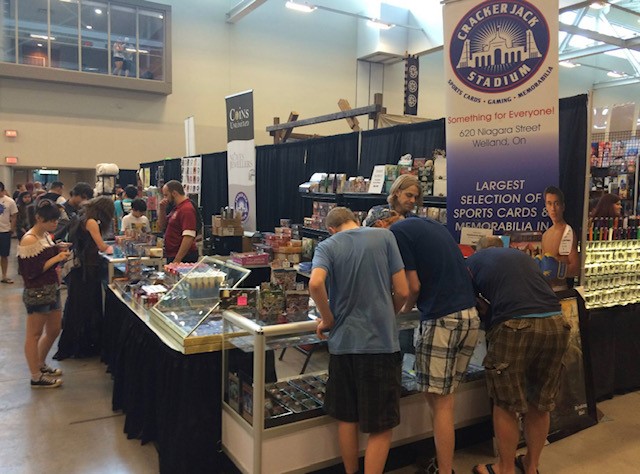 JS – In closing, can you tell us about any sales or upcoming in-store events you have scheduled for the next couple of months?
BN –We have Trade Night starting up again every Thursday (6PM) with flash sales, pack wars and interactive games for free prizes. We have Friday Night Magic (every Friday) and tournaments on Saturday, with Pokémon on Tuesday nights.
Crackerjack Stadium
Brad Noyes
(289)820-5453 Ext 211
620 Niagara Street
Welland, ON L3C 1L8
Hours
Monday-Friday: 12PM-8PM
Saturday: 10AM-5PM
Sunday: Closed
Facebook: Crackerjack Stadium & Crackerjack Stadium Box Breaks
Twitter: @crackerjackst
Ebay: crackerjack_stadium
Website: CrackerjackStadium.com