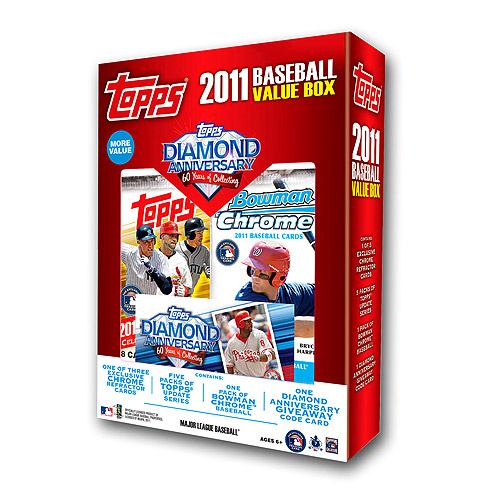 By Chris Olds | Beckett Baseball Editor | Commentary
While the first Topps baseball cards of 2012 are as less than a week away, there's been another baseball card offering — at retail, no less — that has had message boards and collectors elsewhere a buzzin' with some big pulls that seem to be consistently busting the odds.
Key word, seem.
These 2011 Topps Value Boxes (above) include five eight-card retail packs of 2011 Topps Update, one hobby pack of 2011 Bowman Chrome, a Diamond Anniversary code card and a bonus card of Bryce Harper for just under $15 at most chain stores, though some have the boxes discounted at 25 percent off to help clear space for 2012 products. The single Chrome packs have seemed to deliver quite well for some — at least three SuperFractors of note and Harper autographs have been reported coming out of the packs among other good cards. One of those Supers? Eric Hosmer.
That got me wondering — and ripping — over the last few weeks. My results?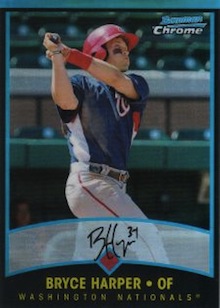 I've landed three Bowman Chrome autographs in my last 10 boxes (10 Bowman Chrome packs total), one of them a Refractor. Odds on pulling a single Chrome autograph? One in 25 packs. A Refractor? One in 88. No Harpers here, but at roughly $10 a box, I'll take the chance because it seems to be pretty good. (A Chrome hobby box, which includes just one autograph, sells for just under $60 if you do some hunting. You do the math.)
But in the other Value Boxes' Bowman Chrome packs that did not yield autographs, there was a trend, too. Each of my packs included some sort of insert card.
Every single time.
Some included a Refractor (one in four packs), others included Bowman's Best inserts (one in eight), some included a diecut Future-Fractor (one in nine). One of my packs took it even further with a diecut Micro-Fractor version of the cards, a one in 2,035 odds-breaker, of Jacob Turner, a card limited to just 25 copies. Then, of course, one included some star power — a card I appreciated as I like its look. One pack of mine yielded a Harper Chrome Throwback card.
Now, the question remains — are these boxes loaded? Guess that depends on your definition — some collectors feel that anything not "the worst" or not theirs is somehow better. Good boxes do happen. But, again, are they loaded? Depends who you ask — or which side of the streakiness that your boxes might hold. You know, good or bad. I also bought a few more here and there before that last 10 … and didn't get much to show for it. (Not sure if the insert-per-pack line held up, but I think it was close.)
These boxes definitely are streaky — or so it seems to me — and that's the best way to put it along with the fact that they do seem to be over-delivering. One four-box haul from one chain store delivered two of my autographs back-to-back. A four-box raid of a different chain store? An auto and the Micro-Fractor.
The inserts and volume of cards inside the Topps Update packs themselves are a bit streaky, too. Sometimes you'll get the same insert cards in the same box and a veteran variation to boot. Other times you'll get less than you did the last time around. (Example: One four-box haul included 10 total code cards. Another? Just five — with one guaranteed per box.) Then again, that was just my run of boxes.
Keep in mind that collation is not an exact science — it's an approximation based on an overall production run. It's also a process that can have mistakes happen along the way. No process is perfect.
Did something happen in this case? It's fair to speculate based on Internet chatter and results, though one should consider that great boxes tend to get talked about more than duds — we love to tout our victories and forget our failures as collectors.
My answer would be, well, it seems that way — at least for me.
Why does it matter? Big-picture, it might not, but it's fun to wonder whether some of those still un-seen other big-dollar SuperFractors — cough, Bryce Harper cough — might be hiding inside a Value Box right now since they have not publicly surfaced.
Chris Olds is the editor of Beckett Baseball magazine. Have a comment, question or idea? Send an email to him at colds@beckett.com. Follow him on Twitter by clicking here.