Life Lessons Learned from a Ryne Sandberg Minor League Card – Beckett Pricing Insider
Today, Chicago Cubs great and MLB Hall of Famer Ryne Sandberg turns 59. Out of his almost 7,000 cards, one of them holds a special spot in my collection.
There's a story behind how I was a confused nine-year-old when I first saw it and how it helped to get me started in the hobby.
Growing up in the '90s, TV was different. If you were a baseball fan your selection was limited. Being from Oklahoma, I had the small regional networks with the Rangers, Cardinals, and Royals but, like the rest of America with cable, there were also two other teams that I could usually catch. Thanks to WGN and TBS, most Cubs and Braves games were available to me as well.
As a kid obsessed with baseball, if I wasn't playing, I was trying to watch a game. I played second base so I would pay extra close attention to those I could try and emulate. Luckily, one of the best second basemen of all-time played for one of those teams I could watch, Ryne Sandberg.
Sandberg was drafted by Philadelphia in the 20th round of the 1978 MLB Draft. He would ascend quickly through the minors, making his Phillies debut in September, 1981. Sandberg played just 13 games for the Phillies before he was traded in the offseason.
Sandberg would go on to play 15 seasons with the Cubs, accomplishing multiple accolades along the way including ten straight All-Star appearances, nine consecutive Gold Gloves, seven Silver Slugger Awards, and the 1984 NL MVP.
In 1990, he would also become the first second baseman since Roger Hornsby in 1925 to lead the league in home runs since Rogers Hornsby.
All this culminated in Ryno being elected into the Baseball Hall of Fame in 2005.
Sandberg's career wasn't typical. He originally retired part way through the 1994 season but would make a comeback for the 1996 and 1997 seasons.
I'm glad he did because if he hadn't, I'm not sure if I would remember seeing him play otherwise. Looking back, he played well but those comeback seasons were definitely two of his worst statistically. Even still, you could see the same competitive drive Sandberg carried throughout his career. He still had the respect of his peers and the announcers would glorify him when he came up to bat or made a great defensive play. Ryne Sandberg was definitely someone who I looked up to.
This was also around the time that I was getting more and more into baseball cards and I went to my first card show with my dad. There I saw a Sandberg card that I had never seen before. I was confused though because Sandberg was wearing an Oklahoma City 89ers jersey.
At the time the 89ers were a Rangers affiliate and as a nine-year-old without a complete understanding of the minor league system. I didn't know that the affiliations changed year to year.
The card was a 1981 Oklahoma City 89ers TCMA card and that I had to have it. But at $50, it was of my range. I had $15 to spend from saved allowances. I wasn't even close. I asked my dad for some help and he said that if I could convince the dealer down to $30, he'd pay the rest.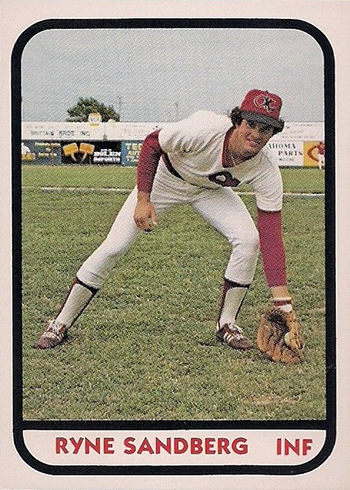 I went up to the dealer and told him I had $30 and wanted that card. He immediately said only if I told him why and I had a good reason. We talked for probably 10 minutes before he let me go. I don't remember the dealer's name but I wish I could so that I could thank him, not because that was one of the easiest negations I've had in my life but because he knew the importance of kids to the hobby.
Being from a minor league set, the print run of the 1981 Oklahoma City 89ers Ryne Sandberg is limited. Today, the card sells for roughly the same price that I was able to get it for 20 years ago.
But sometimes, these sorts of cards, and the experiences that come with them, are priceless.
This edition of the Beckett Pricing Insider is sponsored by MVP Sports Collectibles.