Lidstrom, Pronger, Housley to sign at Fall Expo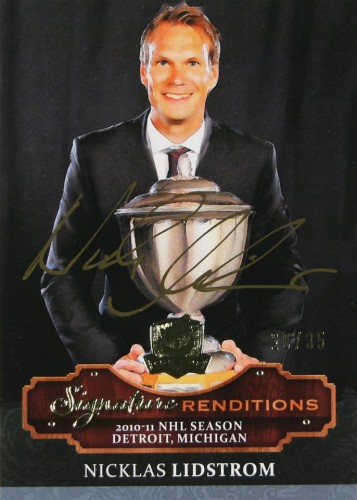 By Stephen Laroche | Beckett Hockey
The Hockey Hall of Fame's Class of 2015 will be represented at the 50th Sportcard & Memorabilia Expo this November as legendary defensemen Nicklas Lidstrom, Chris Pronger, and Phil Housley are set to meet their fans and sign autographs just days before they are inducted.
Held from November 6 to 8, 2015 at the International Centre in Mississauga, ON, this edition of the Expo is expected to be a memorable one as A.J. Sportsworld has put together a solid lineup of signers to date from the worlds of hockey, wrestling, and entertainment. The show also coincides with the release of 2015-16 Upper Deck Series One, which should contain the Young Guns card of Connor McDavid, and crowds may be larger than usual due to the interest in this card.
Who else will be a guest at the Expo? Look for a current schedule after the jump.
At this time, there have only been two celebrities announced for the first day of the Expo. Hall of Fame referee Ray Scapinello will be making an appearance that day along with wrestling legend Bushwhacker Luke, who is also in the building the following day.
On the Saturday, look for some star power in the form of Expo regulars Guy Lafleur and Bobby Hull in addition to Pronger and Lidstrom. There is one more legendary blueliner that day with an appearance by Larry Robinson and former Calder Trophy winner Steve Larmer is making a rare appearance. Wrestling fans will be pleased to see Jake "The Snake" Roberts return to the show as he previously met fans and signed at last year's Spring Expo.
Closing out the show is Housley's signing, but the Trio Grande line of Mike Bossy, Bryan Trottier, and Clark Gillies will likely be the hottest ticket on Sunday. Triple Gold Club member Igor Larionov is on the schedule, too, and there will be a customer appreciation signing featuring respected broadcaster and Toronto Maple Leafs legend Howie Meeker that should draw a big crowd. The appearance of actor D.B. Sweeney, who played Shoeless Joe Jackson in the film Eight Men Out, is an intriguing addition to the show's lineup as well.
In the weeks and months leading up to the Expo, Beckett Hockey will provide additional information regarding any changes to the autograph guests and redemption programs that will be held by the card companies in attendance.
Stephen Laroche is the editor of Beckett Hockey. Have a comment, question or idea? Send an e-mail to him at slaroche@beckett.com. Follow him on Twitter @Stephen_Laroche.