Let the Connor McDavid NHL card era begin — sort of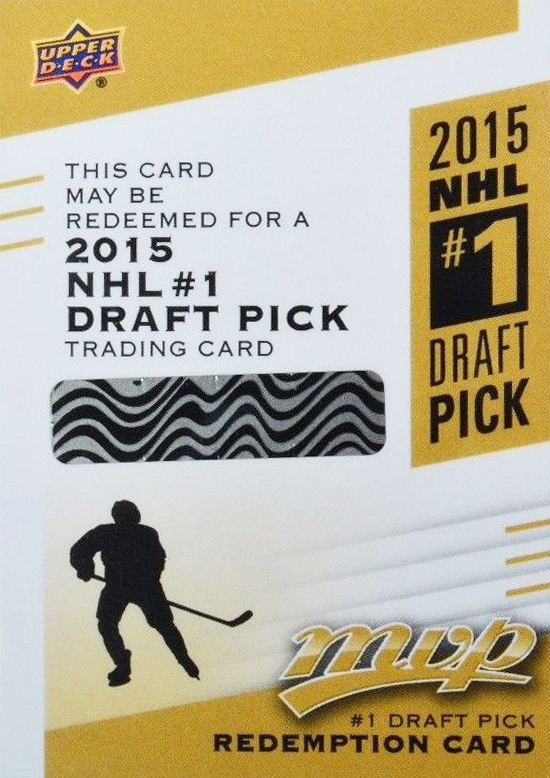 By Ryan Cracknell | Hobby Editor
The release of 2015-16 Upper Deck MVP Hockey not only kicks off a new season of cards, but it gives collectors their first crack at Connor McDavid NHL cards. Kind of.
You won't find the much-hyped phenom's name on the checklist but that's only a technicality. There is a somewhat nondescript redemption, though, for a card of the 2015 #1 NHL Draft Pick. That would be McDavid. But because he hasn't made his NHL debut, he can't be listed by name.
That shouldn't stop this from being one of the most coveted cards in the product.
Numbered DP-1, the redemption is a tough pull landing 1:960 hobby packs. That translates into 1:40 boxes. It's even tougher in retail and blaster boxes, falling 1:9,600 packs.
Upper Deck has also produced a redemption for an autographed version of the card. It appears to be a hobby exclusive. At 1:10,250 packs, it's more than ten-times harder to pull than the regular version.
According to the back of the redemption, the live card will arrive approximately four or five months after McDavid's debut.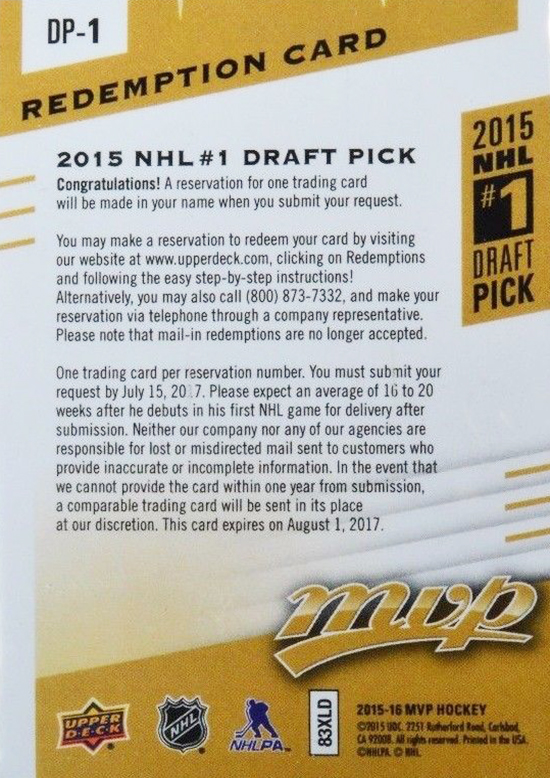 Although the situation here is a little different, this isn't the first time Upper Deck has used redemptions like this. In 1992-93, Shaquille O'Neal started his rookie season as an exclusive with Classic. This led to a special Trade Upper Deck card that resulted in one of the most iconic cards from Shaq's rookie year. Similarly, Andrew Luck had an exclusive deal with Press Pass in 2012 for non-NFL sets. Upper Deck included Trade cards in various products that eventually became Luck's first Stanford cards.
McDavid is one of the most-hyped prospects in hockey in some time, probably since Sidney Crosby. Once he plays in his first regular-season game for the Oilers, he becomes eligible for NHL cards. Barring injury, most expect the center to start the season with Edmonton.
Collectors already have several McDavid cards to chase from his years of junior hockey and with the Canadian national team. Upper Deck signed him to an exclusive autographed card deal in June.