Leon Sandcastle coming to Panini football cards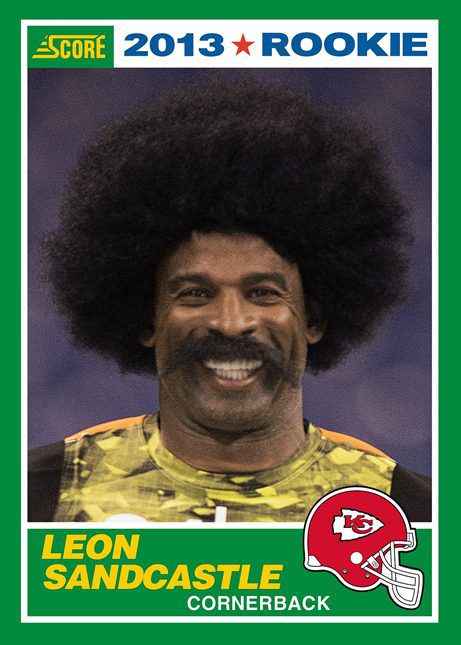 By Susan Lulgjuraj | Beckett Football Editor
The commercial was one of the favorites during the last Super Bowl – Deion Sanders thought he had plenty in the tank. He put on a wig and a fake mustache to become Leon Sandcastle and impressed the scouts so much at the combine he became the first overall pick at the 2013 NFL Draft.
Panini America will be making cards of the fictional character for 2013 Score and Prestige.
He will appear as a member of the Kansas City Chiefs on his card.
The first card will be exclusively in retail packs of Score, according to Panini. Score releases in late May.
Autographed Leon Sandcastle cards will show up in hobby packs of Prestige, set to come out in June.
"Leon Sandcastle's larger-than-life persona took the NFL world by storm earlier this year and his presence in our first two products of 2013 season is a direct result of that," said Panini America CEO Mark Warsop on the Panini blog. "We had fans and collectors from all over asking us to make Sandcastle Rookie Cards a reality. Now that we've done that, we're confident that his first trading cards will deliver a definite fun factor along with other 2013 NFL Rookies."
Panini is celebrating the 1989 Score card design in its product this year, which is the year of Sanders' actual football Rookie Card.
[youtube]http://www.youtube.com/watch?v=P1M9aSWirOQ[/youtube]
Susan Lulgjuraj is an editor of Beckett Football. You can email her here with questions, comments or ideas. Follow her on Twitter here. Follow Beckett Media on Facebook and Twitter.