LeBron James Leads NBA Free Agent Frenzy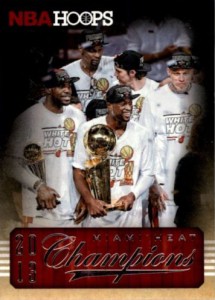 By Stephen Laroche | Beckett Basketball Editor
Free agent season has officially opened in the NBA and over the next few days, players and teams began negotiating on deals that are sure to make headlines.
Eligible players are able to negotiate with prospective new teams at this point, but they are unable to officially sign a contract until the league sets next year's salary cap on July 10.
The biggest name that could be on the move is LeBron James of the Miami Heat. When he last declared free agency in 2010, there was a great deal of spectacle leading up to his coming to terms with Miami and he played a key role in back-to-back championships. No matter where King James ends up, he will continue to be a dominant force on the hardcourt and in the hobby.
What makes this period particularly dangerous for Miami, though, is the fact that Dwyane Wade and Chris Bosh are also making themselves available to the highest bidder. The main problem now created for the Heat is that they need to stay under the salary cap and try to re-sign all three players, but all of their "Big Three" would need to earn salaries that allow for this. The club was dominated in the NBA Finals by San Antonio and needs to obtain more talent that will help them reclaim their title. It is also interesting to note that James, Bosh and Wade were all part of the remarkable rookie card class of 2003-04.
Miami is only a small part of a larger story as there are several experienced players up for grabs and many of them could help turn a team into a serious contender.
Carmelo Anthony is regarded by many to be the most appealing of the group he has garnered a great deal of interest following a strong 2013-14 campaign with the New York Knicks. A seven-time NBA All-Star Game participant, he was second in the league with 2,112 points and is reportedly looking to sign with a team that is serious about being one of the league's best.
Additionally, there are some intriguing possibilities such as Lance Stephenson of the Indiana Pacers and Kyle Lowry of the Toronto Raptors. There are also several notable veterans looking to secure new contracts, including Dirk Nowitzki, Paul Pierce and Pau Gasol.
While the debate continually rages on among collectors about the impact a trade or free agency has on a player's cards, it is safe to say that change is in the air over the next few days.
Stephen Laroche is the editor of Beckett Basketball and Beckett Hockey magazines. Have a comment, question or idea? Send an e-mail to him at basketballeditor@beckett.com. Follow him on Twitter @Stephen_Laroche.