Leaf Trading Cards Reveals Big Plans for the National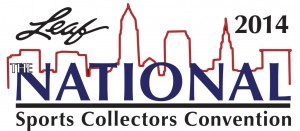 By Stephen Laroche | Beckett Basketball Editor
Attendees of the 2014 National Sports Collectors Convention in Cleveland, Ohio are sure to take notice of the Leaf Trading Cards booth as the company looks to make a major impact at this year's event.
The excitement begins with their 5,000 square foot store (located at booth 569) which will feature over 1,000 unique items for sale, including many that are exclusive to the National. Collectors that break one of the boxes listed below will receive a $5.00 gift card that can be used in the store.
The eligible boxes cover a wide variety of sports and non-sports releases and include:
2013 Leaf Perfect Game Baseball Hobby
2013 Leaf/Ace Grand Slam Tennis
2014-15 Leaf/In The Game Draft Prospects Hockey
2014 Leaf Sports Icons Cut Signature
2014 Famous Fabrics Big Apple Baseball
2014 Leaf Best of Baseball Unopened Edition
2014 Leaf Legends of the Diamond Baseball
2014 Leaf Pop Century Hobby
2014 Leaf Pop Century 8X10 Photo Edition
2014 Leaf Pop Century 11X14 Photo Edition
2013-14 Leaf Best of Basketball Hobby
2014 Leaf US Army All-American Football Hobby
2014 Leaf Originals Football Hobby
2014 Leaf Metal Football Hobby
2014 Leaf Trinity Football Hobby
2014 Leaf Valiant Football Hobby
2014 Leaf Best of Football Unopened Edition
2014 Leaf Autographed Mini-Helmet Football
2014 Leaf Autographed Jersey Edition Football
2014 Famous Fabrics Making of America
2014 Leaf Vampire Academy Hobby
2014 Leaf Bettie Page Collection
2014 Bench Warmer Eclectic
2014 Bench Warmer National
2014 Bench Warmer Vegas Baby
2014 Bench Warmer Hollywood
2014 Bench Warmer Treasure Chest
2014 Bench Warmer Gold Update
As a special bonus to collectors opening boxes at the booth, they will also receive a ballot for the chance to be part of the Leaf Deal or No Deal event. Draws will take place twice daily and the top prize will be $2,000 in Leaf gift certificates that can be used in the Leaf store.
The company has also announced a special bonus for VIP attendees of the National. A four-card set that depicts Jadaveon Clowney, Damian Lillard, Johnny Manziel and Victor Oladipo will be given out, but there will be six additional cards available at their booth as well.
Stephen Laroche is the editor of Beckett Basketball and Beckett Hockey magazines. Have a comment, question or idea? Send an e-mail to him at basketballeditor@beckett.com. Follow him on Twitter @Stephen_Laroche.