Leaf releases SP list for upcoming Valiant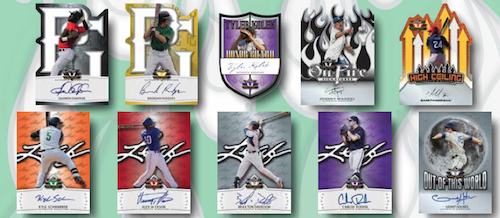 By Chris Olds | Beckett Baseball Editor
This year's edition of Leaf Valiant includes your typical autograph rainbow but the standard versions of the cards will not all be easy to find.
Some are short-printed.
Leaf Trading Cards' latest arrives on Friday with many of this year's top baseball draft picks, but you can find the list of short-prints … after the jump.
| | | | | | | | | |
| --- | --- | --- | --- | --- | --- | --- | --- | --- |
| Name | Checklist | Green | Orange | Purple | Yellow | Black | Red | Short-Print Info |
| Aaron Nola | BA-AN1 | no # | 50 | 25 | 10 | 5 | 1 | SP |
| Alex Blandino | BA-AB1 | no # | 50 | 25 | 10 | 5 | 1 |   |
| Alex Jackson | BA-AJ1 | no # | 50 | 25 | 10 | 5 | 1 | SP |
| Aramis Garcia | BA-AG1 | no # | 50 | 25 | 10 | 5 | 1 |   |
| Bradley Zimmer | BA-BZ1 | no # | 50 | 25 | 10 | 5 | 1 | MSP |
| Brandon Finnegan | BA-BF1 | no # | 50 | 25 | 10 | 5 | 1 | SP |
| Braxton Davidson | BA-BD1 | no # | 50 | 25 | 10 | 5 | 1 | SSP |
| Cameron Varga | BA-CV1 | no # | 50 | 25 | 10 | 5 | 1 |   |
| Carlos Rodon | BA-CR2 | no # | 50 | 25 | 10 | 5 | 1 | SSP |
| Carson Sands | BA-CS1 | no # | 50 | 25 | 10 | 5 | 1 | SSP |
| Casey Gillaspie | BA-CG1 | no # | 50 | 25 | 10 | 5 | 1 | MSP |
| Chase Vallot | BA-CV2 | no # | 50 | 25 | 10 | 5 | 1 | SSP |
| Christian Binford | BA-CB1 | no # | 50 | 25 | 10 | 5 | 1 | SP |
| Cody Reed | BA-CR1 | no # | 50 | 25 | 10 | 5 | 1 |   |
| Cole Tucker | BA-CT1 | no # | 50 | 25 | 10 | 5 | 1 |   |
| Connor Joe | BA-CJ1 | no # | 50 | 25 | 10 | 5 | 1 |   |
| Darnell Sweeney | BA-DS2 | no # | 50 | 25 | 10 | 5 | 1 |   |
| Derek Fisher | BA-DF1 | no # | 50 | 25 | 10 | 5 | 1 |   |
| Derek Hill | BA-DH1 | no # | 50 | 25 | 10 | 5 | 1 |   |
| Dylan Cease | BA-DC1 | no # | 50 | 25 | 10 | 5 | 1 |   |
| Erick Fedde | BA-EF1 | no # | 50 | 25 | 10 | 5 | 1 |   |
| Foster Griffin | BA-FG1 | no # | 50 | 25 | 10 | 5 | 1 |   |
| Gareth Morgan | BA-GM1 | no # | 50 | 25 | 10 | 5 | 1 | MSP |
| Grant Holmes | BA-GH1 | no # | 50 | 25 | 10 | 5 | 1 |   |
| Jack Flaherty | BA-JF1 | no # | 50 | 25 | 10 | 5 | 1 | SSP |
| Jacob Gatewood | BA-JG3 | no # | 50 | 25 | 10 | 5 | 1 | MSP |
| Jacob Lindgren | BA-JL1 | no # | 50 | 25 | 10 | 5 | 1 |   |
| Jake Stinnett | BA-JS2 | no # | 50 | 25 | 10 | 5 | 1 |   |
| Jeff Hoffman | BA-JH2 | no # | 50 | 25 | 10 | 5 | 1 | SP |
| Joe Gatto | BA-JG2 | no # | 50 | 25 | 10 | 5 | 1 |   |
| Justin Twine | BA-JT1 | no # | 50 | 25 | 10 | 5 | 1 |   |
| Justus Sheffield | BA-JS1 | no # | 50 | 25 | 10 | 5 | 1 | SSP |
| Kodi Medeiros | BA-KM | no # | 50 | 25 | 10 | 5 | 1 | SP |
| Kyle Freeland | BA-KF1 | no # | 50 | 25 | 10 | 5 | 1 | SP |
| Kyle Schwarber | BA-KS1 | no # | 50 | 25 | 10 | 5 | 1 |   |
| Luis Ortiz | BA-LO1 | no # | 50 | 25 | 10 | 5 | 1 | SSP |
| Luke Weaver | BA-LW1 | no # | 50 | 25 | 10 | 5 | 1 |   |
| Matt Chapman | BA-MC3 | no # | 50 | 25 | 10 | 5 | 1 | SP |
| Matt Imhof | BA-MI1 | no # | 50 | 25 | 10 | 5 | 1 | SP |
| Max Pentecost | BA-MP1 | no # | 50 | 25 | 10 | 5 | 1 | SP |
| Michael Chavis | BA-MC1 | no # | 50 | 25 | 10 | 5 | 1 | SP |
| Michael Conforto | BA-MC2 | no # | 50 | 25 | 10 | 5 | 1 | SP |
| Michael Gettys | BA-MG1 | no # | 50 | 25 | 10 | 5 | 1 | MSP |
| Michael Kopech | BA-MK1 | no # | 50 | 25 | 10 | 5 | 1 |   |
| Mike Papi | BA-MP2 | no # | 50 | 25 | 10 | 5 | 1 |   |
| Monte Harrison | BA-MH1 | no # | 50 | 25 | 10 | 5 | 1 | SSP |
| Nick Burdi | BA-NB1 | no # | 50 | 25 | 10 | 5 | 1 |   |
| Nick Howard | BA-NH1 | no # | 50 | 25 | 10 | 5 | 1 |   |
| Ryan Castellani | BA-RC1 | no # | 50 | 25 | 10 | 5 | 1 |   |
| Scott Blewett | BA-SB1 | no # | 50 | 25 | 10 | 5 | 1 |   |
| Sean Newcomb | BA-SN1 | no # | 50 | 25 | 10 | 5 | 1 |   |
| Sean Reid-Foley | BA-SRF | no # | 50 | 25 | 10 | 5 | 1 |   |
| Spencer Adams | BA-SA1 | no # | 50 | 25 | 10 | 5 | 1 |   |
| Taylor Sparks | BA-TS1 | no # | 50 | 25 | 10 | 5 | 1 |   |
| Ti'quan Forbes | BA-TF1 | no # | 50 | 25 | 10 | 5 | 1 | SSP |
| Trea Turner | BA-TT1 | no # | 50 | 25 | 10 | 5 | 1 | SP |
| Tyler Beede | BA-TB1 | no # | 50 | 25 | 10 | 5 | 1 |   |
| Tyler Kolek | BA-TK1 | no # | 50 | 25 | 10 | 5 | 1 |   |
| Alex Jackson | HC-AJ1 | no # | 25 | 10 | 5 | 3 | 1 |   |
| Gareth Morgan | HC-GM1 | no # | 25 | 10 | 5 | 3 | 1 |   |
| Jake Bauers | HC-JB1 | no # | 50 | 25 | 10 | 5 | 1 |   |
| Joey Gallo | HC-JG1 | no # | 25 | 10 | 5 | 3 | 1 | MSP |
| Kodi Medeiros | HC-KM1 | no # | 25 | 10 | 5 | 3 | 1 |   |
| Kyle Freeland | HC-KF1 | no # | 25 | 10 | 5 | 3 | 1 |   |
| Lucas Giolito | HC-LG1 | no # | 25 | 10 | 5 | 3 | 1 |   |
| Luis Severino | HC-LS1 | no # | 25 | 10 | 5 | 3 | 1 | SSP |
| Maikel Franco | HC-MF1 | no # | 25 | 10 | 5 | 3 | 1 |   |
| Tyler Kolek | HC-TK1 | no # | 25 | 10 | 5 | 3 | 1 |   |
| Austin Meadows | HG-AM1 | no # | 25 | 10 | 5 | 3 | 1 |   |
| Bradley Zimmer | HG-BZ1 | no # | 25 | 10 | 5 | 3 | 1 |   |
| Byron Buxton | HG-BB1 | no # | 25 | 10 | 5 | 3 | 1 |   |
| Clint Frazier | HG-CF1 | no # | 25 | 10 | 5 | 3 | 1 |   |
| D.J. Peterson | HG-DJP | no # | 25 | 10 | 5 | 3 | 1 |   |
| Kris Bryant | HG-KB1 | no # | 25 | 10 | 5 | 3 | 1 | MSP |
| Kyle Schwarber | HG-KS1 | no # | 25 | 10 | 5 | 3 | 1 |   |
| Michael Conforto | HG-MC1 | no # | 25 | 10 | 5 | 3 | 1 |   |
| Tyler Beede | HG-TB1 | no # | 25 | 10 | 5 | 3 | 1 |   |
| Tyler Kolek | HG-TK1 | no # | 25 | 10 | 5 | 3 | 1 |   |
| Aaron Nola | OF-AN1 | no # | 25 | 10 | 5 | 3 | 1 |   |
| Brandon Finnegan | OF-BF1 | no # | 25 | 10 | 5 | 3 | 1 |   |
| Carlos Rodon | OF-CR1 | no # | 25 | 10 | 5 | 3 | 1 |   |
| Jeff Hoffman | OF-JH1 | no # | 25 | 10 | 5 | 3 | 1 |   |
| Johnny Manziel | OF-JM1 | no # | 25 | 10 | 5 | 3 | 1 | MSP |
| Luis Torrens | OF-LT1 | no # | 50 | 25 | 10 | 5 | 1 | SP |
| Max Pentecost | OF-MP1 | no # | 25 | 10 | 5 | 3 | 1 |   |
| Nick Howard | OF-NH1 | no # | 25 | 10 | 5 | 3 | 1 |   |
| Sean Newcomb | OF-SN1 | no # | 25 | 10 | 5 | 3 | 1 |   |
| Trea Turner | OF-TT1 | no # | 25 | 10 | 5 | 3 | 1 |   |
| Casey Gillaspie | OW-CG1 | no # | 25 | 10 | 5 | 3 | 1 | SSP |
| Dalton Pompey | OW-DP1 | no # | 50 | 25 | 10 | 5 | 1 | SP |
| Francellis Montas | OW-FM1 | no # | 50 | 25 | 10 | 5 | 1 |   |
| Franklin Barreto | OW-FB1 | no # | 50 | 25 | 10 | 5 | 1 | SSP |
| Grant Holmes | OW-GH1 | no # | 25 | 10 | 5 | 3 | 1 | SSP |
| Jorge Soler | OW-JS1 | no # | 50 | 25 | 10 | 5 | 1 | SP |
| Renato Nunez | OW-RN1 | no # | 50 | 25 | 10 | 5 | 1 |   |
| Teoscar Hernandez | OW-TH1 | no # | 50 | 25 | 10 | 5 | 1 |   |
| Yeyson Yrizarri | OW-YY1 | no # | 50 | 25 | 10 | 5 | 1 |   |
| Alonzo Jones | PGV-AJ1 | no # | 25 | 10 | 5 | 3 | 1 |   |
| Ashe Russell | PGV-AR1 | no # | 25 | 10 | 5 | 3 | 1 |   |
| Austin Riley | PGM-AR2 | no # | 25 | 10 | 5 | 3 | 1 |   |
| Austin Smith | PGV-AS1 | no # | 25 | 10 | 5 | 3 | 1 |   |
| Beau Burrows | PGV-BB1 | no # | 25 | 10 | 5 | 3 | 1 |   |
| Brandt Stallings | PGV-BS1 | no # | 25 | 10 | 5 | 3 | 1 |   |
| Brendan Rodgers | PGV-BR1 | no # | 25 | 10 | 5 | 3 | 1 |   |
| Cadyn Grenier | PGV-CG1 | no # | 25 | 10 | 5 | 3 | 1 |   |
| Chris Betts | PGV-CB1 | no # | 25 | 10 | 5 | 3 | 1 |   |
| Christifer Andritsos | PGV-CA1 | no # | 25 | 10 | 5 | 3 | 1 |   |
| Christopher Chatfield | PGV-CC1 | no # | 25 | 10 | 5 | 3 | 1 |   |
| Cornelius Randolph | PGV-CR1 | no # | 25 | 10 | 5 | 3 | 1 |   |
| Daniel Reyes | PGV-DR1 | no # | 25 | 10 | 5 | 3 | 1 |   |
| Dazmon Cameron | PGV-DC1 | no # | 25 | 10 | 5 | 3 | 1 |   |
| Devin Davis | PGV-DD1 | no # | 25 | 10 | 5 | 3 | 1 |   |
| Doak Dozier | PGV-DD2 | no # | 25 | 10 | 5 | 3 | 1 |   |
| Drew Finley | PGV-DF1 | no # | 25 | 10 | 5 | 3 | 1 |   |
| Greg Pickett | PGV-GP1 | no # | 25 | 10 | 5 | 3 | 1 |   |
| Hogan Harris | PGV-HH1 | no # | 25 | 10 | 5 | 3 | 1 |   |
| Isiah Gilliam | PGV-IG1 | no # | 25 | 10 | 5 | 3 | 1 |   |
| Jahmai Jones | PGV-JJ1 | no # | 25 | 10 | 5 | 3 | 1 |   |
| Joe DeMers | PGV-JD1 | no # | 25 | 10 | 5 | 3 | 1 |   |
| John Aiello | PGV-JA1 | no # | 25 | 10 | 5 | 3 | 1 |   |
| Jonathan India | PGV-JI1 | no # | 25 | 10 | 5 | 3 | 1 |   |
| Josh Naylor | PGV-JN1 | no # | 25 | 10 | 5 | 3 | 1 |   |
| Juan Hillman | PGV-JH1 | no # | 25 | 10 | 5 | 3 | 1 |   |
| Justin Hooper | PGV-JH2 | no # | 25 | 10 | 5 | 3 | 1 |   |
| Ke'Bryan Hayes | PGV-KH1 | no # | 25 | 10 | 5 | 3 | 1 |   |
| Kep Brown | PGV-KP1 | no # | 25 | 10 | 5 | 3 | 1 |   |
| Kody Clemens | PGV-KC1 | no # | 25 | 10 | 5 | 3 | 1 |   |
| Kolby Allard | PGV-KA1 | no # | 25 | 10 | 5 | 3 | 1 |   |
| Kyle Dean | PGV-KD1 | no # | 25 | 10 | 5 | 3 | 1 |   |
| Kyle Molnar | PGV-KM1 | no # | 25 | 10 | 5 | 3 | 1 |   |
| Kyle Tucker | PGV-KT1 | no # | 25 | 10 | 5 | 3 | 1 |   |
| Lucas Wakamatsu | PGV-LW1 | no # | 25 | 10 | 5 | 3 | 1 |   |
| Luken Baker | PGV-LB1 | no # | 25 | 10 | 5 | 3 | 1 |   |
| Mike Nikorak | PGV-MN1 | no # | 25 | 10 | 5 | 3 | 1 |   |
| Mitchell Hansen | PGV-MH1 | no # | 25 | 10 | 5 | 3 | 1 |   |
| Nicholas Shumpert | PGV-NS1 | no # | 25 | 10 | 5 | 3 | 1 |   |
| Nick Fortes | PGV-NF1 | no # | 25 | 10 | 5 | 3 | 1 |   |
| Patrick Sandoval | PGV-PS1 | no # | 25 | 10 | 5 | 3 | 1 |   |
| Ryan Cole McKay | PGV-RCM | no # | 25 | 10 | 5 | 3 | 1 |   |
| Ryan Johnson | PGV-RJ1 | no # | 25 | 10 | 5 | 3 | 1 |   |
| Ryan Mountcastle | PGV-RM1 | no # | 25 | 10 | 5 | 3 | 1 |   |
| Tristin English | PGV-TE1 | no # | 25 | 10 | 5 | 3 | 1 |   |
| Triston McKenzie | PGV-TM1 | no # | 25 | 10 | 5 | 3 | 1 |   |
| Wyatt Cross | PGV-WC1 | no # | 25 | 10 | 5 | 3 | 1 |   |
|   |   |   |   |   |   |   |   |   |
|   |   |   |   |   |   |   |   |   |
| Name | Checklist | Silver | Gold | Spectrum Silver | Spectrum Gold |   |   |   |
| Rusney Castillo | A-RC2 | no # | 25 | 5 | 1 |   |   |   |