Leaf Releases Expo Redemption Details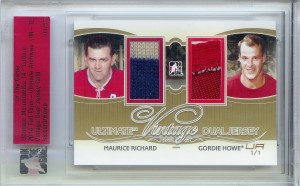 By Stephen Laroche | Beckett Hockey Editor
With the 48th Sportcard & Memorabilia Expo just a little over a week away, hockey collectors are fervently preparing for the semi-annual show and many of them will be taking advantage of the redemption program that will be held at the In The GameLand section of the corporate area.
For the past 15 seasons, In The Game has held a redemption program at their booth for their customers and the tradition will continue following their amalgamation with Leaf Trading Cards. This time, they will be undertaking their largest redemption ever and there will be some additional surprises as well.
What can collectors expect at In The GameLand? Find out after the jump.
The primary focus of the redemption will be related to the soon-to-be-released In The Game Ultimate Memorabilia 14th Edition that will be available from dealers at the Expo. For each pack opened at In The GameLand, collectors will receive a special stamped and slabbed one-of-one Ultimate Archives game-used memorabilia card. Those who are choosing to bust a full four-box case that contains 20 packs will be given two additional redemption cards (22 in total).
The redemption cards themselves are from earlier releases of Ultimate Memorabilia. They will bear a red flip and each card has a foil stamp as well noting that it is part of the Ultimate Archives collection.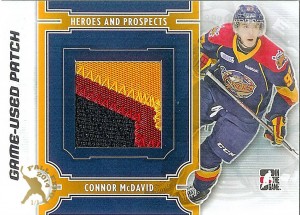 As a special bonus to collectors wishing to purchase older In The Game boxes at the show, many products from the past two seasons have become eligible for a redemption program exclusive to the Expo. It should be noted that only boxes and cases purchased from certified dealers at the show will be accepted for this program as collectors will receive a redemption certificate. The certificate must be presented to a staff member at the In The GameLand booth and they will then receive their one-of-one stamped redemption card from a previously-released product. The list of eligible boxes is as follows:
Eligible 2012-13 In The Game Products
One Redemption Card – Decades: 1990s, Between The Pipes, Motown Madness, Heroes and Prospects
Two Redemption Cards – 2013 Draft Prospects, History of Hockey, Forever Rivals
Three Redemption Cards – Ultimate Memorabilia 12th Edition, Superlative Hockey Volume III
Eligible 2013-14 In The Game Products
One Redemption Card – Between The Pipes, Heroes and Prospects, Enforcers II
Two Redemption Cards – 2014 Draft Prospects, Lord Stanley's Mug, In The Game-Used, StickWork
Three Redemption Cards – Superlative: The First Six
"Because Ultimate is not for everyone because of the price point, this is going to give people at all different entry levels an opportunity to participate," said Leaf's President Brian Gray. "I think our Expo plans in regard to the redemption program and Ultimate releasing there are fantastic and we're going to show off Originals Wrestling. In Canada, we've had a good following for our wrestling product in the past… I have another product we'll likely be showing off there, Q, which is a really upscale high-end product that we're making this year."
In The Game will once again present the Expo's Passport Card and it will feature Hockey Hall of Fame member and Toronto Maple Leafs icon Johnny Bower, who is celebrating his 90th birthday that weekend. In order to receive one, collectors must present two In The Game wrappers along with the coupon found inside the show program to a staff member at In The GameLand. The company also has a special event planned for attendees that will involve the legendary goalie on the first day of the show.
Naturally, either of these promotions is active while supplies last and quantities may be limited. The redemption program is expected to run throughout regular show hours, but traditionally begins half an hour after the doors open.
Stephen Laroche is the editor of Beckett Hockey and Beckett Basketball magazines. Have a comment, question or idea? Send an e-mail to him at SLaroche@beckett.com. Follow him on Twitter @Stephen_Laroche.