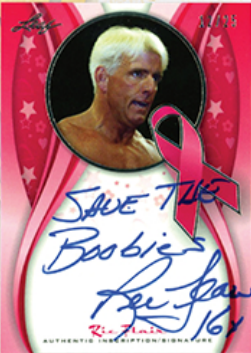 By Susan Lulgjuraj | Beckett Sports Card Monthly Editor
Leaf is taking the fight against breast cancer onto cards in 2013 Leaf Sports Heroes with Pink Ribbon Inscriptions. Leaf is also making a donation to a breast cancer charity in conjunction with the subset, according to Leaf's Brian Gray.
The autograph inscription cards will feature people such as Ric Flair, Damian Lillard and Pete Rose. But the inscriptions are what really stand out.
Ric Flair is not just throwing his support behind the fight against breast cancer, but doing so in a way that should get noticed.
His inscription reads: "Save the Boobies"
"I think just using the color pink is a subtle way to show support," Gray told Beckett Media. "The ribbon coupled with the inscription is a very direct way of stating our support and attempting to improve awareness."
The phrases used on the inscriptions are commonly seen from other organizations looking to promote breast cancer awareness.
Rose's inscription plays off baseball with "Save Second Base."
2013 Leaf Sports Heroes is set to come out at the end of December with six autographs in every box. The product will feature a wide range of athletes from U.S. Olympic standouts to stars of pro wrestling.
Other inscription subsets will include athletes with some of their famous lines or nicknames such as Frank Thomas with "Big Hurt" or Flair with "To be the man, you have to beat the man."
In addition, Leaf has included Team of Dreams Autographs from a number of players that reunited this summer at the Field of Dreams and Victor Oladipo State Pride Autographs.
Susan Lulgjuraj is an editor at Beckett Media. You can email her here with questions, comments or ideas. Follow her on Twitter here. Follow Beckett Media on Facebook and Twitter.