Leaf offers a look into Vince Lombardi Legacy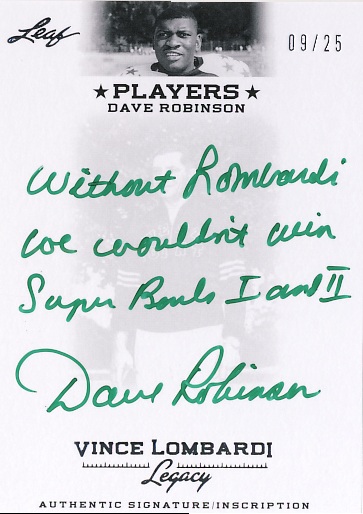 By Susan Lulgjuraj | Contributing Editor
Vince Lombardi's legacy will forever be remembered by football fans – no matter what team you root for.
Three league titles and winning Super Bowls I and II are really just the tip when it comes to Lombardi. The Green Bay Packers coach affected many lives. Some of those memories and sentiments will be captured on card by Leaf in its forthcoming Vince Lombardi Legacy Collection.
Leaf recently released pictures of the inscription autographs that will appear in the product, which does not have a release date yet.
The company reached to out to many of Lombardi's former players to get them to write a message and sign each card. According to Leaf, an inscription card will appear in every pack.
Some of the players included are wide receiver and 1959 NFL Rookie of the Year Boyd Dowler, who wrote: "I played for the greatest team with the greatest coach," and Pro Bowl linebacker Dave Robinson, who wrote: "Without Lombardi we couldn't win Super Bowls I and II."
As Green Bay Packers fans enjoy the current run of their team, they probably won't mind visiting some of Green Bay's great history.
Susan Lulgjuraj is a contributing editor for Beckett Media. You can email Susan here. Follow her on Twitter here.