Leaf gives collectors a shot a Jack Eichel autographs via private signings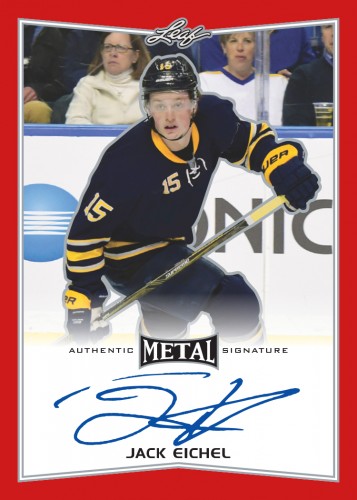 By Stephen Laroche | Beckett Hockey Editor
As most hockey card collectors know, Jack Eichel has an exclusive autograph deal with Leaf Trading Cards – but there is now a chance for them to get their cards produced by other companies of the Buffalo Sabres sophomore inked through an upcoming private signing.
Collectors will have the option to have a autographed sticker applied to their card or can wait until the event is completed to receive a hard-signed autograph.
The cards that collectors submit for the private signing must be licensed by the player, league, or another entity.
For those opting to take the autographed sticker route, the cost is $75.00 each (including return shipping) and the sticker will be applied to their card upon receipt. Those that would prefer to wait for a hard-signed autograph (expected to be in the next 60 to 90 days at most) will pay $105.00 each. In either case, Leaf must affix an Leaf Authentics label to the back of the cards.
Leaf encourages collectors to send in their cards right away. If the collector wants added security, they can also pay an additional $5.00 per card to have them slabbed.
In order to take part in the private signing, collectors will need to send their cards to Leaf at the following address:
Jack Eichel Private Signing
c/o Leaf Trading Cards
3330 Earheart Drive, Ste. 204
Carrollton, TX
75006
The company has also noted that there may be periodic private signing opportunities with Eichel in the future.
Stephen Laroche is the editor of Beckett Hockey, Beckett Basketball, and Beckett Sports Card Monthly magazines. Have a comment, question or idea? Send an e-mail to him at slaroche@beckett.com or follow him on Twitter @Stephen_Laroche.