Leaf bringing signed full-sized football helmets to the market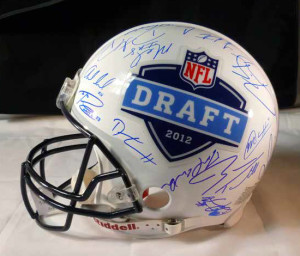 By Susan Lulgjuraj | Beckett Football Editor
Leaf is super-sizing its signed memorabilia line.
The company is set to release full-sized autograph football helmets in late October. Each box will have one full-size helmet signed by current and retired players such as Walter Payton, Drew Brees, Peyton Manning and Dan Marino.
Each helmet is licensed by the NFL, which means helmets will have team or league logos on them.
In addition, to single signatures, Leaf is offering rare helmets including a 2012 NFL Players Association Rookie Photo Shoot helmet signed by more than 20 players including Andrew Luck and Robert Griffin III, a triple-signed Dallas Cowboys helmet with Emmitt Smith, Troy Aikman and Michael Irvin and a very unique item – a Super Bowl helmet signed by Madonna from the year she performed at the halftime show.
Leaf has done signed mini-helmets and signed custom-made jerseys in the past.
Susan Lulgjuraj is an editor at Beckett Media. You can email her here with questions, comments or ideas. Follow her on Twitter here. Follow Beckett Media on Facebook and Twitter.