Leaf announces Johnny Manziel as mystery redemption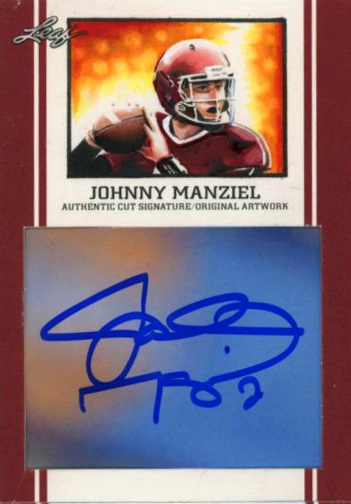 By Susan Lulgjuraj | Beckett Football Editor
Leaf Metal Draft and Leaf Valiant released with a rare mystery redemption.
The company announced Texas A&M quarterback Johnny Manziel – and latest Heisman Trophy Winner – will be the redemption.
The cards include 1-of-1 artwork with a cut signature. As an NCAA athlete, Manziel is not allowed to endorse cards for money. Leaf stated it acquired Manziel's signatures from a third party.
"Leaf wishes to clarify that neither the cards, the use of the signatures included in the cards, nor the artwork, is sanctioned or endorsed by the personality, his university, or any other organization or licensing body," Leaf CEO Brian Gray said in a press release. "The artwork is an original creation protected by the First Amendment."
Manziel threw for 3,706 yards with 26 touchdowns and nine interceptions as a freshman.
Each card has been authenticated by PSA/DNA and each card includes an authentication sticker on back. Each card is also slabbed by Beckett Grading Services.
UPDATE: ESPN's Darren Rovell spoke to Texas A&M's director of compliance where he stated that Manziel informed them of the cards and that he did not authorize these cards to be made.
"He has not knowingly provided his autograph for use in these cards; and he will not receive any compensation from the sale of these cards," David Batson told ESPN. "As for whether Texas A&M or Johnny Manziel must request that Leaf not sell these Mystery Redemption Cards, the answer is no because such a step is not necessary when a photo or painting is sold for private use."
Susan Lulgjuraj is an editor of Beckett Football. You can email her here with questions, comments or ideas. Follow her on Twitter here. Follow Beckett Media on Facebook.