Leaf Announces ITG Draft Prospects Redemption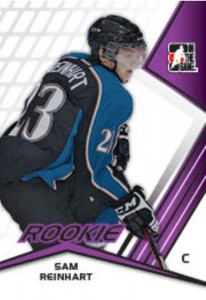 By Stephen Laroche | Beckett Hockey Editor
Leaf Trading Cards has released details regarding a special redemption set targeted to collectors of 2014-15 In The Game Draft Prospects, the first product released after they began producing hockey cards under the In The Game banner.
Once a collector mails in five barcodes that can be found of the bottom of boxes, they will receive a complete set of 15 cards depicting the brightest young stars taken in the 2014 NHL Entry Draft. Some of these players have already made their professional debuts, including Aaron Ekblad, Sam Reinhart and Leon Draisaitl.
"I think that it's an interesting thing and will allow collectors, especially those who want to revisit Draft Prospects now that it's more affordable in the marketplace, a new entry point and I think it gives them an encouraging reason to revist that product," said Leaf's President Brian Gray.
For a complete gallery and further information on this program, please read on after the jump.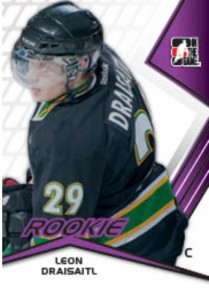 Printed on clear stock, the redemption set is limited to the first 80 collectors that participate and once the supply is gone, the hobby will be notified via Leaf's website and social media channels that the promotion has ended. There is the potential for some recipients to be surprised by rare parallel versions that feature different colors and they will be seriously limited. If a collector does receive a parallel version of the set, the cards will have matching serial numbers that are numbered by hand.
"I think that's interesting from the standpoint that there's a chase within the redemption program," noted Gray. "A lot of people won't be at the Expo. So far, we've only announced the Ultimate redemption for the Expo, but there will be a second, probably the largest and most sweeping one that In The Game has ever done, with a dozen items available at the box level of all price levels for another unique redemption program. We're going to have so much going on at the Expo that we felt like, for all of our other customers out there, we needed to do something to give them an opportunity to participate in some program via mail-in. That was part of the vision on this and to point out that the boxes you open at the Expo must have the barcode because you can't do both."
Leaf also noted that once the barcodes have been removed from boxes, the remainder of the box will not be accepted by them for any other offer, including future show promotions. Additionally, any barcodes the company receives after the 80 sets have been redeemed will not be returned.
One of the things collectors will immediately notice is that the cards are devoid of logos. Gray noted that the company approached this small project cautiously and that Leaf will be indeed continue to utilize CHL logos in future releases.
"We're just beginning the transition of a lot of these things and after talking to Dr. Price, we found out that we could have used the logos. We weren't sure what our rights were on promos, because obviously, it's a promotional item. The absence of logos was more of a precaution because we did not fully understand what our rights were and weren't. We have re-upped our CHL deal. We now have a long-term deal with the CHL… We take precautions because we always want to play it safe and not cause further problems for anyone. I think that when you see the cards in-hand, and this is the same technology that the Ultimate base cards are using, they look outrageous. They are fantastic. I wish we had done autograph cards on this material because it looks so great."
Collectors are advised to send in their barcodes right away as Gray expects a high demand for this redemption program.
"The redemption program is so small, we expect that within a week, the 80 sets will be gone. That's only 400 boxes. That's 20 cases. Once those 80 are exhausted, it's over and you don't get your barcodes back. There's nothing left available. Please keep your eyes on our website as we update when we're getting close to being sold out."
The address for the redemption program is:
Leaf Trading Cards
Attn: Hockey Redemption
3330 Earhart Drive, Suite 204
Carrollton, TX
75006
Stephen Laroche is the editor of Beckett Hockey and Beckett Basketball magazines. Have a comment, question or idea? Send an e-mail to him at SLaroche@beckett.com. Follow him on Twitter @Stephen_Laroche.