Leaf acquires the rights to Sportkings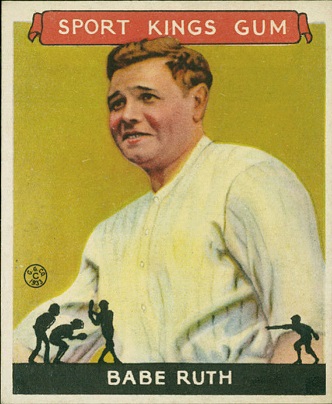 By Susan Lulgjuraj | Beckett Sports Card Monthly Editor
LAS VEGAS – Leaf has acquired the rights to Sportkings.
Leaf CEO Brian Gray told Beckett Media at the 2014 Industry Summit that his company is working on a new release, which is slated to come out around the 2014 National Sports Collector Convention.
"We are getting all new names in the product," Gray told Beckett Media. "We got (Michael) Phelps, he's never been in it before. We got Ichiro in there. We'll also have guys like (Johnny) Manziel and Jadeveon Clowney."
Gray said the product would feature many newer names under a "Future Sportkings" subset.
Sportkings, which was owned by In The Game's Dr. Brian Price, was a re-make of a vintage set. The original appeared in 1933 featuring players from a wide range of sports such as baseball's Ty Cobb and Babe Ruth, football's Jim Thorpe and boxing's Jack Dempsey. The set highlighted skiers, cyclists and wrestler, too.
Last year's offering featured autographed from Bob Griese, Don Shula, Kerri Strug and Tito Ortiz.
Update: Leaf and In The Game officially made the announcement on March 24. Leaf will manufacture a distribute Sportkings.
"In 2008, I had a blank canvas for the revival of this iconic trading card line and I am very proud of what I accomplished," Price said in a release. "The arrangement with Leaf will allow Sportkings to achieve even more in future releases. The list of Sportkings who I have been associated with is a who's who of iconic athletes from around the world, encompassing all sports. I am thankful for their participation, but working with Leaf will open new horizons for player content and that's something I look forward to."
Susan Lulgjuraj is an editor at Beckett Media. You can email her here with questions, comments or ideas. Follow her on Twitter here. Follow Beckett Media on Facebook and Twitter.