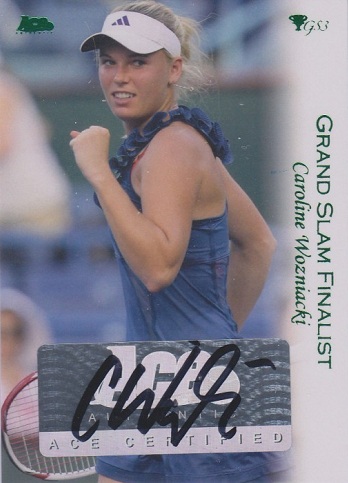 By Susan Lulgjuraj | Beckett Sports Card Monthly Editor
Tennis cards will have a new home.
Leaf Trading Cards announced the purchase of the trading card portion of Ace Authentic, the exclusive source for tennis cards.
Ace Authentic has produced cards since about 2005 and has had some of the world's top players sign autograph and memorabilia deals including Rafael Nadal, Roger Federer and Caroline Wozniacki.
"Tennis is globally one of the top sports in popularity with fans and collectors in nearly 100 countries," Leaf CEO Brian Gray said in a press release. "I am confident Leaf is the right company to take this category to the next level while keeping print runs very limited and collectible."
Many of the tennis stars could also be featured in Leaf's multi-sport releases such as Legends of Sport and Leaf Inscriptions.
One of the most valuable cards from Ace Authentic's history came in the first year of the product. A 2005 Signature Series Grand Slam Champions Dual Autograph/Jersey Roger Federer/Maria Sharapova numbered to 50 has a HI book value of $500. When it comes to book value, Sharapova also owns the next three spots with autographs all valued at $400.
Susan Lulgjuraj is an editor of Beckett Sports Card Monthly. You can email her here with questions, comments or ideas. Follow her on Twitter here.