Lamar Jackson Talks About His Heroes, Football Cards
Even if he hasn't seen a lot of playing time in 2018, Lamar Jackson is positioned to be Baltimore's quarterback of the future. Beckett Media's David Lee spoke with him at the NFLPA Rookie Premiere covering a variety of topics including football cards, players he grew up a fan of and college players to keep an eye on.
Beckett Media: Did you think it would take such a big event to create and sign your first football cards?
Lamar Jackson: Nah, I never knew you had to take the time to write out your signature for all of them. But it's amazing.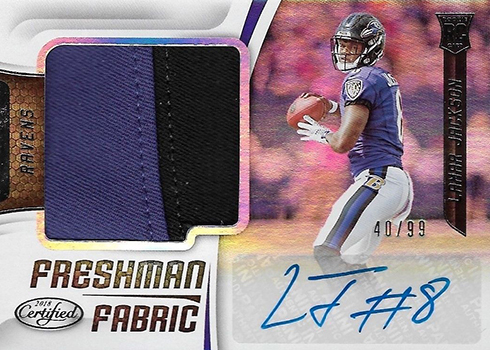 BM: How are your best skills going to help the Ravens most?
LJ: Just focus on making myself better, and that's going to help my team out.
BM: What players did you follow growing up?
LJ: I had my favorite player, Michael Vick. I watched Reggie Bush a lot.
BM: What players are you looking forward to meeting or playing against?
LJ: I would say Cam Newton. I never met him. Jameis Winston, a Heisman brother. Cam, too.
BM: With you and Baker Mayfield, it's got to be cool to have two Heisman winners in this group.
LJ: He's my boy. I'm going to have that picture on my wall and blow it up. Two Heisman winners.
BM: How would you describe yourself to Ravens fans?
LJ: I like to win and try to be great at everything. I hate losing. You should hate losing. I'm humble and a loving person. I love the fans.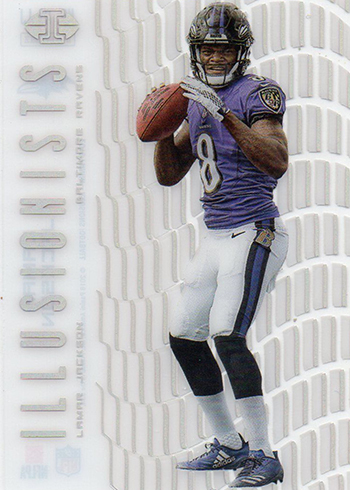 BM: If you could be paired on a football card with any player in history, who would you want to be on there with?
LJ: Wow, that's a great question. I don't have an individual person. It would probably be multiple people. Michael Vick would be one. Cam Newton. Get Randy Moss and Terrell Owens. I'd add some Hall of Famers like Deion Sanders.
BM: Who's someone still at Louisville that collectors should watch out for in the future?
LJ: Jawon Pass, that's the quarterback. He's a great player. He learns fast. He made me a better player watching his growth. Who else? Seth Dawkins, Jaylen Smith, Devante Peete, Dez Fitzpatrick. It would have to be quite a few guys."
BM: What's been your favorite part of the Rookie Premiere?
LJ: Just meeting the guys. I've met some during the draft process and visits with teams. Most of these guys are cool. I haven't seen anyone who's outrageous.
BM: Would you rather have a lot of yards and no touchdowns in a game, or a lot of touchdowns and not many yards?
LJ: I'd rather have the touchdowns. But my teammates are getting the ball. I'd rather score. The yards don't mean anything. If you aren't producing points you're not doing your job."
LJ: Will you try to collect some of your own football cards?
BM: No, that ain't me. When I was a kid I had some Deion Sanders cards and Jerry Rice cards. But people just gave them to me. I really didn't collect cards. I'm not saying people shouldn't. It just wasn't my thing. I played the sport and watched it.