Ladies Continue to Rule Topps Now WWE – Beckett Pricing Insider
WWE Evolution is in the history books and what transpired was a solid first all-woman PPV. The ripple effect of success was felt in the trading card industry, as well.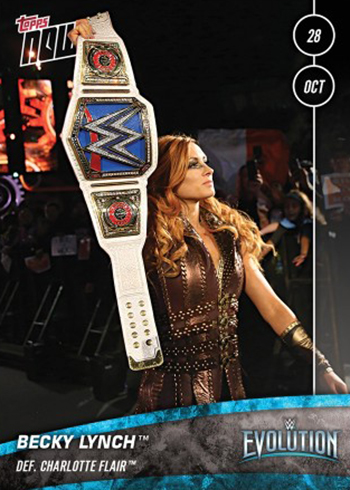 Topps Now released a bundle of six cards devoted to the show, highlighting the many memorable moments that occurred. Here is the checklist along with the final print runs for the print-on-demand cards:
61 Trish Stratus & Lita Def. Mickie James & Alicia Fox – 212
62 Nia Jax Won the Women's Evolution Battle Royal – 139
63 Toni Storm Def. Io Shirai to Win the 2018 Mae Young Classic – 239
64 Shayna Baszler Def. Kairi Sane to Win the NXT Women's Championship – 149
65 Becky Lynch Def. Charlotte Flair – 325
66 Ronda Rousey Def. Nikki Bella – 324
While doing a comparison of this block with all the other blocks for 2018 Topps Now WWE cards, I found some interesting stats. The following breaks down other recent pay-per-views that have had Topps Now cards along with the average print run and most ordered card.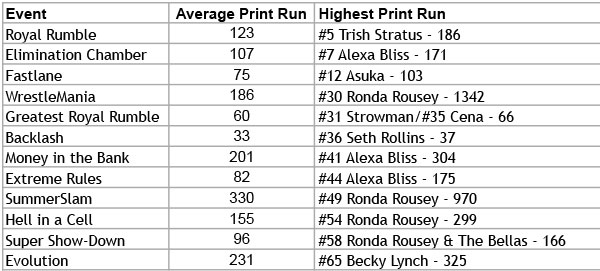 A couple of other interesting tid-bits.
1. Out of 40 cards, only five cards of the men's cards have surpassed 100 copies. That is a success rate of only 14 percent. However, the women have a 96% success rate. The only card on the women's side that has under 100 copies is #19 Naomi Wins First-Ever WrestleMania Women's Battle Royal. It has a print run of 87 copies.
2. The Greatest Royal Rumble event in Saudi Arabia was a men's-exclusive PPV. The comparison in print run and average is pretty significant there, as well. In the Greatest Royal Rumble block, not one card has a print run of over 100 and the set has an average print run of 60 per card. The total print run of this block is 298 copies.
In the Evolution block, all the cards have a print run of over 100. Becky Lynch's total of 325 copies eclipses the total of all the Greatest Royal Rumble cards combined.
3. Ronda Rousey has been on a tear since her debut at WrestleMania, in the ring and on cardboard. However, Evolution marked the first time she hasn't had the highest print run in a block of Topps Now. She had a print run of 324 cards, just one short of Becky Lynch's total.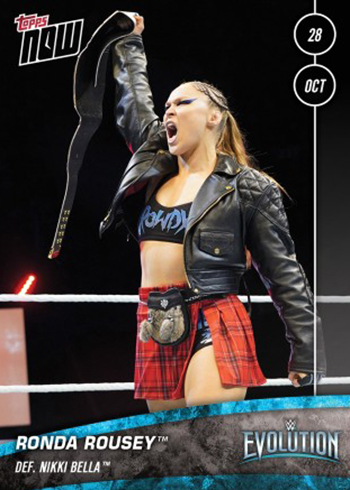 It's pretty clear that this trend isn't just a flash in the pan, but evidence of solid consistency. The women of the WWE are the real deal when it comes to trading cards.