Lack of terrifying trading cards haunts the hobby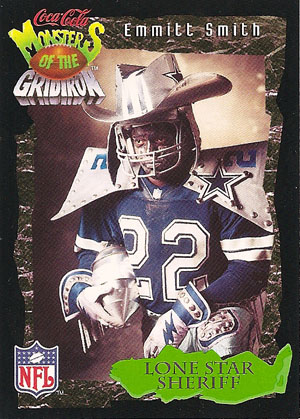 By Andrew Tolentino | Football Editor
The following ran as an editor's note in Beckett Football No. 250, but it's worth another look,  considering all the ghouls, goblins, and other strange creatures roaming the streets tonight.
I just couldn't sleep at night if I didn't make my annual push for the return of the seasonally sensational Monsters of the Gridiron cards.
During the early '90s, Coca-Cola partnered with the NFL to "monsterize" some of football's brightest stars on cardboard. Unfortunately, the frightful fun came to an end after Classic (Scoreboard) released the gridiron ghouls in pinhead form at the 1995 NFL Experience show.
Requiring players to don elaborate skill-themed monster costumes, the process was presumably pretty pricy, to say the least. But now with Photoshop and other digital trickery at our fingertips, wouldn't it be nice to see some company, any company revisiting this treat? 
These are untouchable classics, but I'd like to throw a few contemporary monster names into the hat:
Marion Barber as "The Barbarian"
Tom Brady as "Robo-Brady"
Peyton Manning as "The Dark Horse"
Reggie Bush as Mark Ingram
Ray Lewis as Himself
Feel free comment with your scary suggestions.
Chester McGlockton
A.K.A. "Renegade Raider"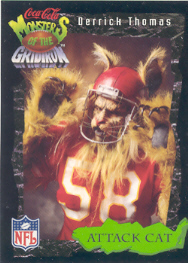 Derrick Thomas
A.K.A. "Attack Cat"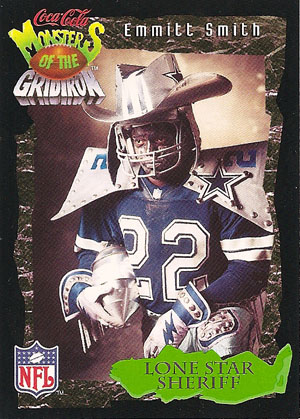 Emmitt Smith
A.K.A. "Lone Star Sherriff"
Junior Seau
A.K.A. "Stealth"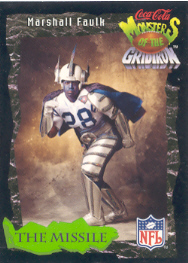 Marshall Faulk
A.K.A. "The Missile"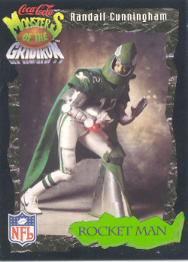 Randall Cunningham
A.K.A. "Rocket Man"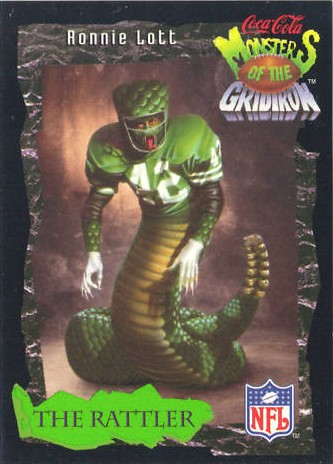 Ronnie Lott
A.K.A. "The Rattler"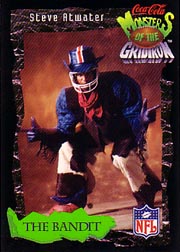 Steve Atwater
A.K.A. "The Bandit"
Loading ...
Loading ...