Kobe Bryant announces retirement – but will it impact his cards?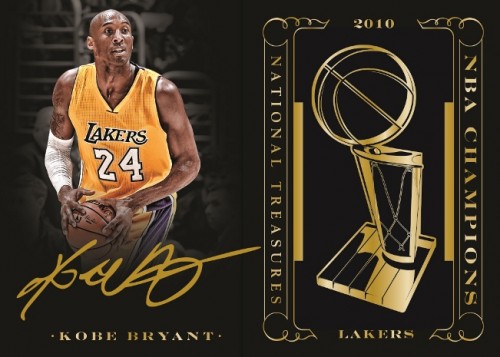 By Stephen Laroche | Beckett Basketball Editor | Commentary
At the end of the 2015-16 NBA schedule, an era will come to a close as the legendary Kobe Bryant will step away from the game after nearly 20 successful years with the Los Angeles Lakers.
The announcement, which came in the form of a memorable letter via the Player's Tribune website that was also handed out to fans at last night's game against the Indiana Pacers, was certainly expected by many fans. Kept out of the lineup due to injuries for much of 2013-14 and 2014-15, his rapid decline comes at a time when the Lakers are struggling on the court and the club is no longer among the league's elite.
Bryant has been a major hobby factor throughout his career, but has always seemed to be either loved or hated by fans and collectors. Those that appreciate his accomplishments cherish his cards, yet there are plenty who were bristled by his behavior on and off the court. These opposing views likely held him back when compared to some of his peers, but there is no denying what he has accomplished. He is on track for the Hall of Fame with five NBA championships, numerous All-NBA nods, MVP honors in the regular season and playoffs, and more. However, is his retirement going to spike a widespread interest in cards?
The answer to that question is no.
Originally drafted 13th overall by the Charlotte Hornets in 1996, Bryant was traded to the Lakers for Vlade Divac a few weeks later and quickly became a hobby sensation. His iconic rookie card from the debut edition of Topps Chrome is still a popular item. At present, he has appeared on over 10,000 cards which have a value of over $679,000.00. These are great numbers, but Bryant has been in the hobby long enough where most collectors that want many of his key cards have gone out and acquired them.
One of the few retired NBA players who truly maintained a lofty status within the hobby after the playing days drew to a close is, of course, Michael Jordan. Bryant is a much different case as his appeal certainly was not nearly as universal, and there is little doubt that his cards and memorabilia will likely soften as he fades into public life.
It seems likely that Panini America will continue to maintain its relationship with Bryant in the coming years, and that would be a decision that makes a great deal of sense. Even with over 2,000 autograph cards on the market, his signatures have traditionally been in high demand. However, if his signing habits change, the secondary market values could react accordingly.  If he maintains the status quo, collectors may stop caring as much about his autograph. However, if he signs less frequently or takes time away from being a part of trading card releases, nostalgia may help them remain a popular item.
Whether you love him or despise him, Bryant deserves recognition for accomplishing so much over 20 years in the pro game and his impact on the hobby should not be forgotten.
Stephen Laroche is the editor of Beckett Hockey, Beckett Basketball, and Beckett Sports Card Monthly magazines. Have a comment, question or idea? Send an e-mail to him at slaroche@beckett.com or follow him on Twitter @Stephen_Laroche.