Kirk Cousins Putting Up Big Numbers on the Field and with His Cards – Beckett Pricing Insider
Kirk Cousins had a huge off-season, landing one of the biggest contracts in NFL history. He signed a three-year deal with the Minnesota Vikings worth $84 million, all of it guaranteed. Looking at the stats, Cousins is quickly proving to be worth the money. From 2015 through 2017 he threw for over 4,000 yards. He was close to hitting 5,000 in 2016. That was with a Redskins team that many would say didn't have a ton of weapons. Now part of a team that was one game away from the Super Bowl last year, Cousins doesn't have that problem anymore.
Cousins has thrown for over 400 yards twice already this season, with 11 touchdowns and only two interceptions.
There are over 2,000 Kirk Cousins cards listed in the Beckett database. He has signed plenty of autographs as well, with over 500 different autographed cards.
Cousins' value has been somewhat of a roller coaster throughout the years. Being part of the same draft class as Andrew Luck, Robert Griffin III and Russell Wilson, he was originally overshadowed. Then Griffin got hurt and Cousins became the default guy in Washington. His values reached a high point in 2016 when he was putting up huge offensive numbers. They dipped in 2017 but they are back on the rise now that he is performing strong with a new team.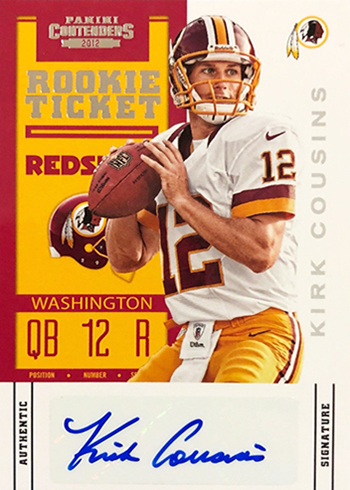 His 2012 Panini Contenders Rookie Cards jumped from a high value of $100 up to $150 in the span of a couple of games. His 2102 National Treasures cards nearly doubled in value in some cases. These are just a couple of examples but there are plenty of others  on the rise. Cousins has even made the Beckett Hot List again after a two-year absence.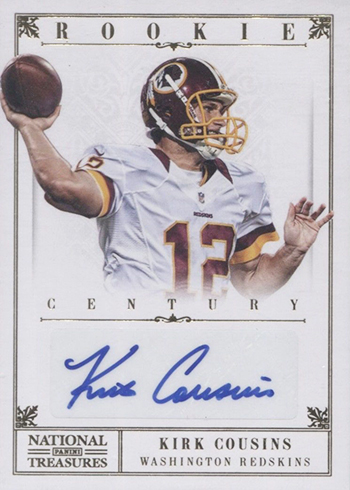 If he can keep producing huge numbers and take Minnesota to the playoffs again, his values should continue to increase.