Kings claim The Cup: New royalty by the numbers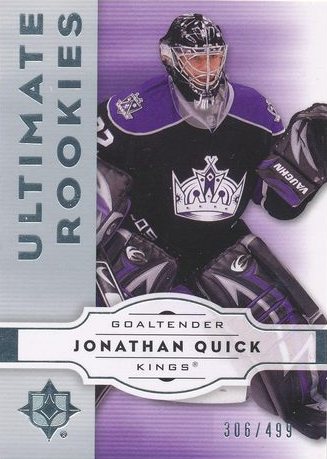 By Andrew Tolentino | Beckett Hockey Editor
For the first time in franchise history, the Los Angeles Kings are Stanley Cup champions.
As the Staples Center in Los Angeles continues to echo from Monday's history-maker, the hobby tips its hat to the newly crowned Kings. Under the leadership of head coach and hockey great Darryl Sutter, the Kings dominated the New Jersey Devils 6-1 in Game 6. A major victory for a major media market team — a potentially powerful popularity booster for the sport itself.
Using the Beckett.com OPG, let's take a look at where the latest Cup kissers stand in the hobby right this second. Expect some spikes in the weeks to come.
Los Angeles Kings Team Stats
17,377 Total cards
$168,886.53 Total value
3,002 Memorabilia cards
800 Rookie Cards
1,838 Autograph cards
Jonathan Quick (Conn Smythe Trophy Winner)
421 Total cards
$4,444.55 Total value
$10.56 Average value
182 Memorabilia cards
3 Rookie Cards
69 Autograph cards
Anze Kopitar
1,235 Total cards
$16,634.14 Total value
$13.47 Average value
573 Memorabilia cards
20 Rookie Cards
289 Autograph cards
Dustin Brown
688 Total cards
$7,713 Total value
$11.21 Average value
251 Memorabilia cards
38 Rookie Cards
108 Autograph cards

Matt Greene
102 Total cards
$255 Total value
$2.50 Average value
0 Memorabilia cards
12 Rookie Cards
1 Autograph card
Simon Gagne
1,898 Total cards
$22,861.19 Total value
$12.04 Average value
669 Memorabilia cards
2 Rookie Cards
309 Autograph cards

Drew Doughty
962 Total cards
$13,142.90 Total value
$13.66 Average value
444 Memorabilia cards
21 Rookie Cards
200 Autograph cards
Mike Richards
1,217 Total cards
$18,090.79 Total value
$14.87 Average value
472 Memorabilia cards
17 Rookie Cards
285 Autograph cards
Rob Scuderi
40 Total cards
$107.55 Total value
$2.69 Average value
0 Memorabilia cards
3 Rookie Cards
0 Autograph cards
————————
Need to stock up on Kings cards to continue the celebration? Buy straight from SoCal with Burbank Sportscards on the Beckett Marketplace.