Kids and the 2016 National Sports Collectors Convention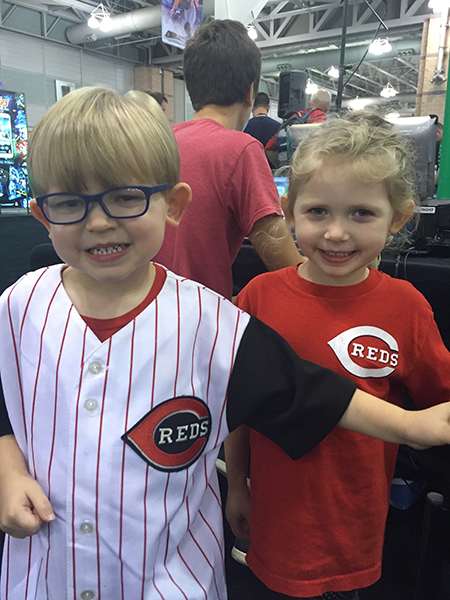 By Ryan Cracknell | Hobby Editor
Fair or not, there's a perception out there that sports cards is an industry dominated by grown men. Even if this is the case, it's far the only demographic in the hobby.
The National is one of the places that embraces families and kids. They may not be the largest group on the show floor or even close. But they are around. Some are tagging along for the ride, others are right in there with their parents, complete with the collecting bug.
Here are some of the things I spotted at the 2016 National that added some family appeal as well as some suggestions on how it might be even better for moms, dads and the little ones in the future.
Free Admission
It starts with free admission for those 12 and under. It used to be that this was only the case with a designated date. Now it's the entire duration of the show.
For families, there are a few benefits to this seemingly small gesture. It means there's no risk in bringing them to the show. If they don't like it, it's not an added expense for parents. That also means more money for cards.
If mom and dad are heading to the show, that might mean the added expense of a babysitter. If the kids are at the show with mom and dad, that's another savings.
But the biggest benefit of free admission is exposure. A child making the rounds on the show floor are going to get a good sense of what's out there. The goal would be to have them get excited, but even if it went the other way and they weren't into cards, the attempt was made.
Break Time
Throughout the course of the week, Panini ran several breaks exclusively for kids. They were given teams in advance and a time to return.
It's amazing how quickly kids grab a seat and sit quietly when cards are involved.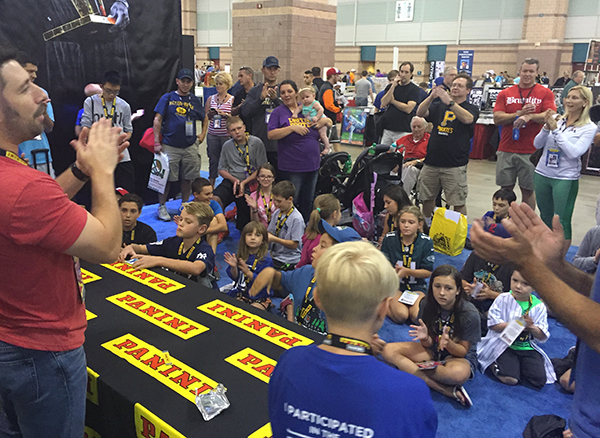 I saw it last year in Chicago and again here in Atlantic City. Children can be captivated by sports cards. Here, it certainly helped that Ultimate Box Breaks was connecting with both the kids and the cards while he was opening them.
Another thing that's cool about these breaks is that they're all rooting for each other. Eyes light up whenever a great player pops up or something fancy surfaces.
When the break is done, the kids get the cards from the team they were given and they head on their way, presumably back out to the show floor.
Although not as formal, I saw something similar at the Ultra Pro booth with Joel from The Loot Locker. He simply gathered together a group of kids, sat them down and gave them some packs.
When a Steph Curry was hit, even a plain base one, the excitement level shot up. For a lot of us, a lesser autograph or jersey card might not even register. Sometimes it's deflating. That wasn't the case with these kids. A couple of them hit signed cards and they were jumping up and down, raising their voices just a touch and politely shoving what they got in their parents' faces.
On a related but different note, teenagers seemed to gather in the breaker pavilion. This is the world a lot of them live in. They were okay hanging out and watching things get ripped as its the hobby world a lot of them reside in today.
Create Your Own Card
It might not have been created just for kids, but a corner of the Topps booth had a station where anyone could appear on their card. Upon grabbing some baseball, wrestling or UFC gear, photos were taken and cards were printed. Topps also uploaded the cards into a Facebook album.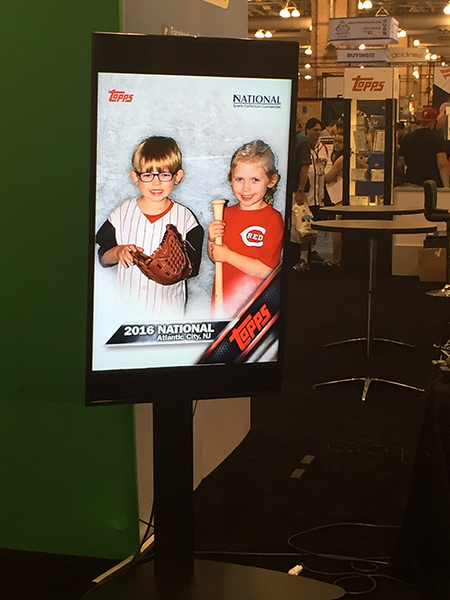 The station offered a break from the action on the show floor. It was also an alternative in case one parent wanted to wait in line for the Topps wrapper redemption.
More importantly, the final cards act as a personalized souvenir from the event. Lots of adults took part, but you'll also see plenty of prospect cards in the mix.
Brady Kahle
Upper Deck having Brady on-hand to raise money for Cards for a Cause showcased the positive effects young collectors can have.
The ten-year old was on hand to raise money for his friend who is fighting cancer. He also raised plenty of awareness for his cause.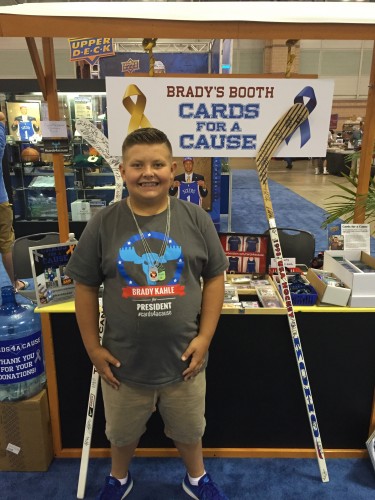 Brady has taken one of his interests and made a lot of good happen to it. That interest just happened to be baseball cards. Over the past few months, the young baseball player has been a role model for all, young and old. It is also an example of how sports cards can take on a larger meaning for a child.
How Can the National Be More Kid Friendly?
The number one thing that the National offers to families is time together. How well the show is received to a youngster will vary based on how much or how little they like collecting to begin with. But a long day of waiting on mom and dad digging through a quarter box can get tiresome very quickly, even for young collectors who are into cards.
Some things do help make the National a good experience for kids but there is definitely room for more.
A busy kid is a happy kid. What about a section with a few interactive stations that could double as a break area for families. Even basic things like card-based coloring sheets and drawing templates could offer a distraction and opportunity to recharge. Currently, there isn't anywhere families can go to stop for a bit.
This area, which doesn't have to be very big could have a handful of interactive stations that make games out of things like sorting cards, taking care of them and identification. This way, break time is doubling as a bit of a primer for the hobby. The emphasis would have to be on fun and not pressure. Kids will only become passionate collectors if they choose to. Ultimately, it can't be forced on them.
If all else fails, a bouncy castle and portable ball pit are always good. And card flipping games. Who doesn't love throwing things around?
Today's children will be the ones who inherit our collections in the future. While the National has some things for kids and families, it's important the event continues to do so and, hopefully, expand even further. No magic bullet exists to make every kid a card fan, but given the importance of the industry to the hobby, the National is a great place to help nurture a joy for collecting.
Comments? Questions? Contact Ryan Cracknell on Twitter @tradercracks.