Kid Collectors of the Week: Caleb and Riley from Richardson, TX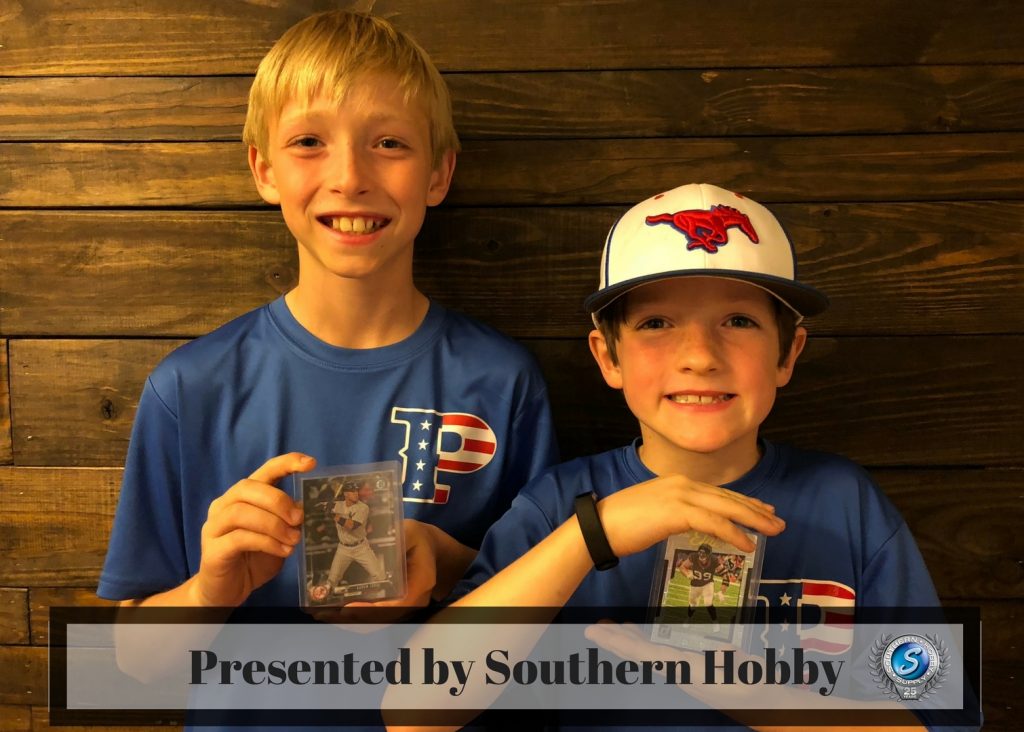 Our Kid Collector of the Week feature will focus on one kid each week from around the country who is deeply involved with The Hobby. Most collectors got involved when they were young and have fond memories of their early years, so we wanted to highlight kids who are just getting their start in collecting.
Kid Collector of the Week is brought to you by 
Southern Hobby
 who shares a passion for inspiring the next generation of card collectors.
This week Caleb (11, left in photo above) and Riley (9, right) from Richardson, TX are the featured Kid Collectors. They love going to their Local Card shop 
Nicks Sports Cards & Memorabilia
in Dallas. Nick's "pay-it-forward" packs encourage kids to do something nice for others.
BM: How did you get involved in The Hobby?
Caleb: My dad put a pack of cards in my lunch box and I got a Jose Altuve card which got me into it.
Riley: My brother got me excited about collecting.
BM: How long have you been collecting?
Caleb: About 9 months.
Riley: 6 months.
BM: What do you collect: baseball, basketball, hockey, football, non-sport, other?
Caleb: Baseball, basketball & some football.
Riley: Baseball, basketball & football.
BM: What is the first card you remember?
Caleb: Jose Altuve.
Riley: Francisco Lindor Topps Chrome.
BM: What is the best card you've ever pulled?
Caleb: LeBron James Revolution Liftoff Card.
Riley: KD! Kevin Durant.
BM: What's your dream card, the one you really really want right now?
Caleb: 2017 Aaron Judge Immaculate collection signed rookie card.
Riley: Aaron Rodgers rookie card.
BM: What is something you think that The Hobby could be doing to get more kids your age involved?
Caleb: Pack giveaways for young kids that encourage us to share packs with friends to get them excited about cards.
Riley: Make hobby boxes cheaper.
BM: What's your favorite part about going to your local card shop?
Caleb: On your first time in the store you get a free grab-bag of cards and a "pay-it-forward" pack. Your dad can give you the pay-it-forward pack if you do something nice for someone else, then come back to the store to share what you did.
Riley: Two things: 1, the people there are always really nice to kids and 2, you get a free pack when you first go there.