Kid Collectors of the Week: Madison and Lauryn of Delaware, OH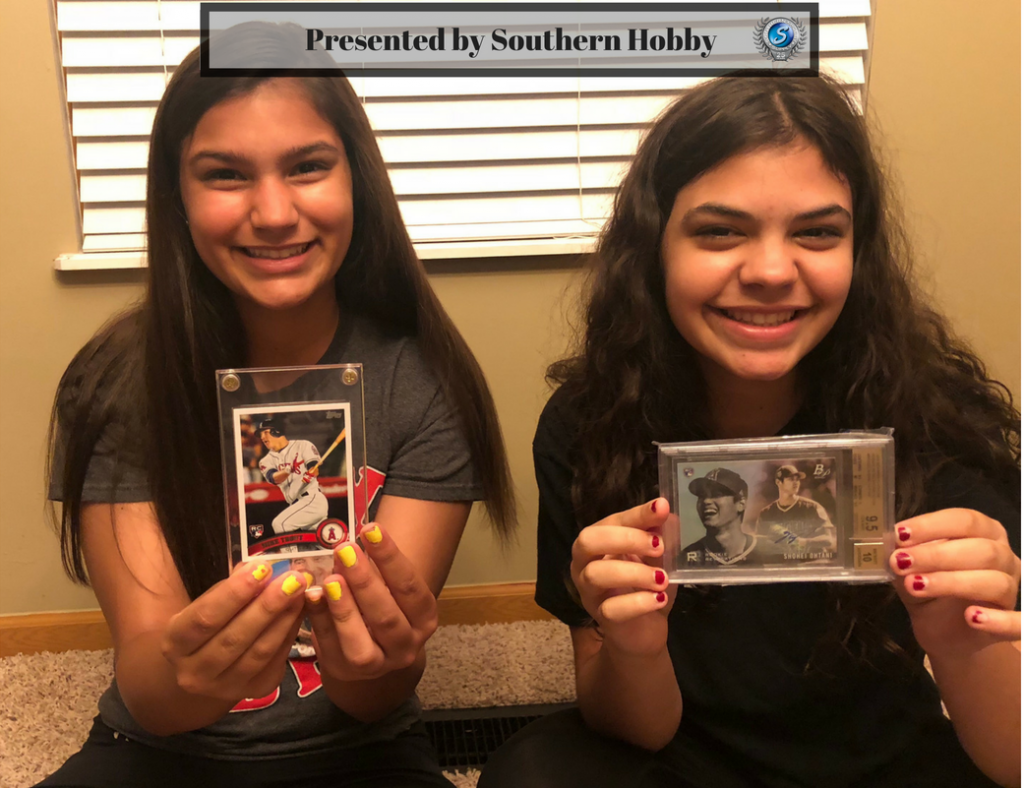 Our Kid Collector of the Week feature will focus on kids from around the country who are deeply involved with The Hobby. Most collectors got involved when they were young and have fond memories of their early years, so we wanted to highlight kids who are just getting their start in collecting.
Kid Collector of the Week is brought to you by Southern Hobby who shares a passion for inspiring the next generation of card collectors.
This week we talked to 15-year-old Madison and 14-year-old Lauryn of Delaware, OH. They just got back from The National Sports Collectors Convention in Cleveland and had a great time. The sisters are both very passionate collectors and according to their dad, "It is their mission to be the faces of teenage girls who collect!" Their favorite LCS is Neuhart Cards, who was our Local Card Shop of the Week recently.
BM: How did you get involved in The Hobby?
Madison:  Watching my dad get all excited about these special cards Topps puts in packs now. Once I learned about all the chase cards I was hooked!
Lauryn: Opening hobby boxes with my dad.
BM: How long have you been collecting?
Madison: A little over one year. My dad just got back into it, so all three of us do it together.
Lauryn: We all started about a year ago, but my dad used to collect for a long time when he was younger.
BM: What do you collect: baseball, basketball, hockey, football, non-sport, other?
Madison: Baseball only, I used to play softball so I can easily relate.
Lauryn: Baseball.
BM: What is the first card you remember?
Madison: 2011 Topps Update Mike Trout #US175 RC.
Lauryn: Same, my dad was obsessed with finding that card!
BM: What is the best card you've ever pulled?
Madison: This year I pulled a Red Foil Mike Trout numbered out of 10 from Bowman Platinum!
Lauryn: Ohtani auto numbered out of 50 from Bowman Platinum. Beckett gave us a 9.5 at the show!
BM: What's your dream card, the one you really really want right now?
Madison:  Any numbered or parallel version of the #US175 Mike Trout.
Lauryn:  Probably another Ohtani auto!
BM: What is something you think that The Hobby could be doing to get more kids your age involved?
Madison: Topps needs to do a commercial with me and my sister in it to show all the cool stuff you can pull out of packs!
Lauryn:  I think Topps should give kids a lot of free packs! Opening hobby boxes is like opening Christmas presents!
BM: What's your favorite part about going to your local card shop?
Madison: Seeing all of the wax! Its so fun going to Neuhart Cards by our house and deciding what to buy!
Lauryn: Buying hobby boxes!
If you know someone who would like to be featured in our Kid Collector of the Week series, send an email to sbedgood@beckett.com.