Kid Collector of the Week: Tommy from Fenton, MI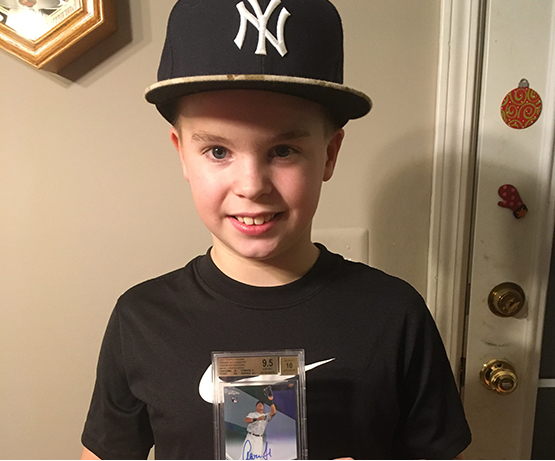 Our Kid Collector of the Week feature will focus on one kid each week from around the country who is deeply involved with The Hobby. Most collectors got involved when they were young and have fond memories of their early years, so we wanted to highlight kids who are just getting their start in collecting.
This week we talked to 9-year-old Tommy Chanter from Fenton, MI. Tommy and his dad frequent Les's Sports Cards in Birch Run, MI. Tommy's father, Brad, tells us that Tommy does household chores to earn money to buy his packs of cards.
"Card collecting has him more into watching sports so he can see the  guys on TV whose cards he has. As a father who collected cards in the 80s,  I couldn't be happier because it has brought us even closer. He loves to see the old cards that I still have," says Brad.
Tommy talked to us about how he got involved in The Hobby, his favorite cards, and how he thinks the collecting world could do a better job of reaching out to kids his age.
B: How did you get involved in The Hobby?
TC: I got involved in collecting when I started playing and watching baseball. It was cool to see guys on tv and have their cards.
B: How long have you been collecting?
TC: I've been collecting for 4 years.
B: What do you collect: baseball, basketball, hockey, football, non-sport, other?
TC: I collect baseball, football, basketball and Pokémon.
B: What is the first card you remember?
TC: First card I remember was a Topps Miguel Cabrera.
B: What is the best card you've ever pulled?
TC: This summer I pulled a Topps Chrome green refractor autographed Aaron Judge numbered 98/99.
B: What's your dream card, the one you really really want right now?
TC: My dream card would be a Tom Brady autographed jersey card.
B: What is something you think that The Hobby could be doing to get more kids your age involved?
TC: I would like to see them make some of the really expensive cost less so kids could afford them.
B: What's your favorite part about going to your local card shop?
T:  I love going to Les's to see if there are any new packs that are out and to see what new cards he has.
---
If you know of a kid who is really involved in collecting, please email Scott Bedgood sbedgood@beckett.com or reach out to us via Facebook or Twitter. We'd love to feature as many as we can. Thanks!