Kid Collector of the Week: Tucker from Newfoundland, Canada
When you click on links to various merchants on this site, like eBay, and make a purchase, this can result in this site earning a commission.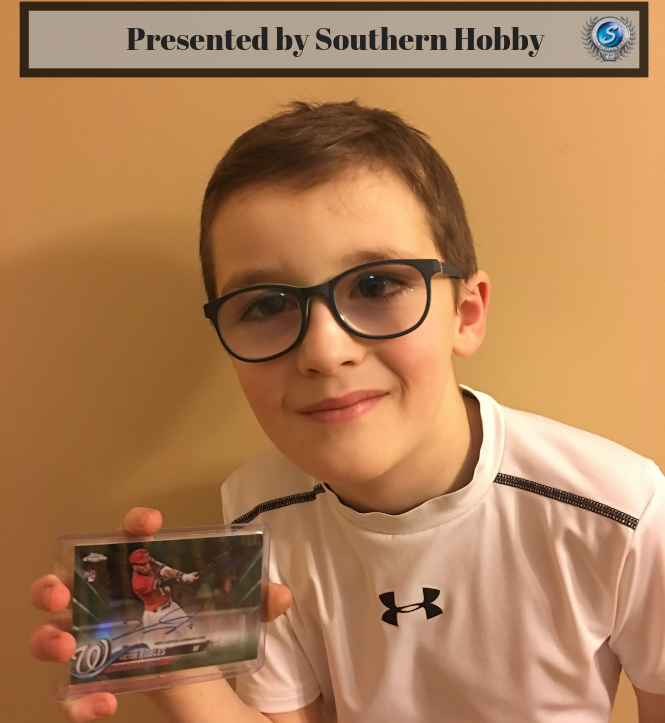 Our Kid Collector of the Week feature focuses on one kid each week from around the country who is deeply involved with The Hobby. Most collectors got involved when they were young and have fond memories of their early years, so we highlight kids who are just getting their start in collecting.
Kid Collector of the Week is brought to you by Southern Hobby who shares a passion for inspiring the next generation of card collectors.
This week's Kid Collector is Tucker from Conception Bay South, Newfoundland, Canada. Tucker's favorite Local Card Shop is Maverick Sports and Collectables in St. John's.
BM: How did you get involved in The Hobby?
Tucker: I saw my dad's collection and thought it was cool and liked to read all the info on the back of the cards. Then one day we went to the local card shop and he bought me my first packs of cards.
BM: How long have you been collecting?
Tucker: I have been collecting almost 2 years.
BM: What do you collect: baseball, basketball, hockey, football, non-sport, other?
Tucker: I collect hockey, baseball and WWE cards.
BM: What is the first card you remember?
Tucker: I got St. John's IceCaps AHL hockey team cards and met the players and got them autographed. Instead of one card, it was a bunch of first cards!
BM: What is the best card you've ever pulled?
Tucker: Best card I ever pulled was out of a 2018 Topps Chrome and it was a Victor Robles Auto Green /99.
BM: What's your dream card, the one you really really want right now?
Tucker: My dream card would be a Wayne Gretzky 1/1 printing plate.
BM: What is something you think that the Hobby could be doing to get more kids your age involved?
Tucker: I think they should have cards that are cheaper to buy. Also the info on the back should be kid related about the player. Make it more fun to collect!
BM: What's your favorite part about going to your local card shop?
Tucker: My favourite part about going to the local card shop is looking in the display case and seeing all the cool cards and hoping when opening the packs I get that I can pull an awesome card!